Planning a wedding can be a daunting experience! Here, get expert advice on what to tackle first.

Photo: Liz Bretz via LuckEleven
Take a little time to enjoy the engagement first. "Congratulations! You're engaged! The temptation to jump immediately into wedding planning is going to be nearly overwhelming. I recommend resisting the temptation and instead, take some time, if only a few weeks, to enjoy the excitement of just being engaged. As you enjoy these early days of being engaged, talk to your betrothed about creating a shared vision for the day. Taking this quiet time to build a vision and priorities will help get you organized for the next steps (budget, venues and dates!)" —Mandy Connor, Owner, Hummingbird Events & Design

Photo: Kelly Dillon via Cape Cod Celebrations
Establish the overall energy and style. "Start by talking to your fiancé about the overall energy and style you want for your wedding, including where do you want to have it? Do you want a large guest count, or would you prefer it to be more intimate? Draw inspiration from places and experiences that are special to you. Discuss with your parents and family their wishes for the wedding weekend, including guests they'd like to invite as well as determining who will be funding the festivities." —Valarie Falvey, Kirkbrides
Figure out your budget and your guest count. "The two most important parameters to set before jumping into wedding planning are your budget and your guest count. Setting your target budget and determining a rough guest list is vital in preparing for your wedding planning journey. If any family members graciously plan to help host all or a portion of your wedding, work with them to determine how much they plan to contribute so that you have an accurate total budget to work from going forward." —Mandy Connor, Owner, Hummingbird Events & Design

Photo: Indwell Weddings via Bridal Bliss + Rock Paper Coin
Focus on the details that matter, especially the fun ones. "When planning your wedding, it's easy to get lost in details that won't matter in the long run, like the color of the seat cushions and the font of the place cards. Couples tell us every day that they loved crafting their wedding ceremony scripts on Provenance and answering the questions about their love story because it helped them feel grounded, connected, and reminded them what's most important on their big day." —Steven Greitzer, CEO, Provenance
Get a planner as soon as possible! "My advice would be to hire a wedding planner as soon as possible so you can ensure that you start your planning on the right track. Booking a venue is one of the most important decisions you'll make in the planning process, and your wedding planner will be able to guide you through that contracting process so nothing gets missed. Your first few decisions are critical, so bring in the professional advice as soon as you can." —Natalie Good, Creative Director, A Good Affair

Photo: Organic Photography via Cape Cod Celebrations
Draft a guest list. "If your head is spinning while trying to figure out all the pieces to the wedding planning puzzle, I always tell couples the first step is to make a draft of your guest list. Your guest list determines so many parts of your wedding day but most importantly, your budget and venue. If your guest list is too large for your dream venue or your budget, then you know you'll have to make cuts or adjust those other elements. Other pieces will start to fall into place once you get an idea of how many people you're hosting. Hiring a wedding planner as your first vendor hire will also help you stay on track of tasks." —Kari Dirksen, CEO & Lead Planner, Feathered Arrow Events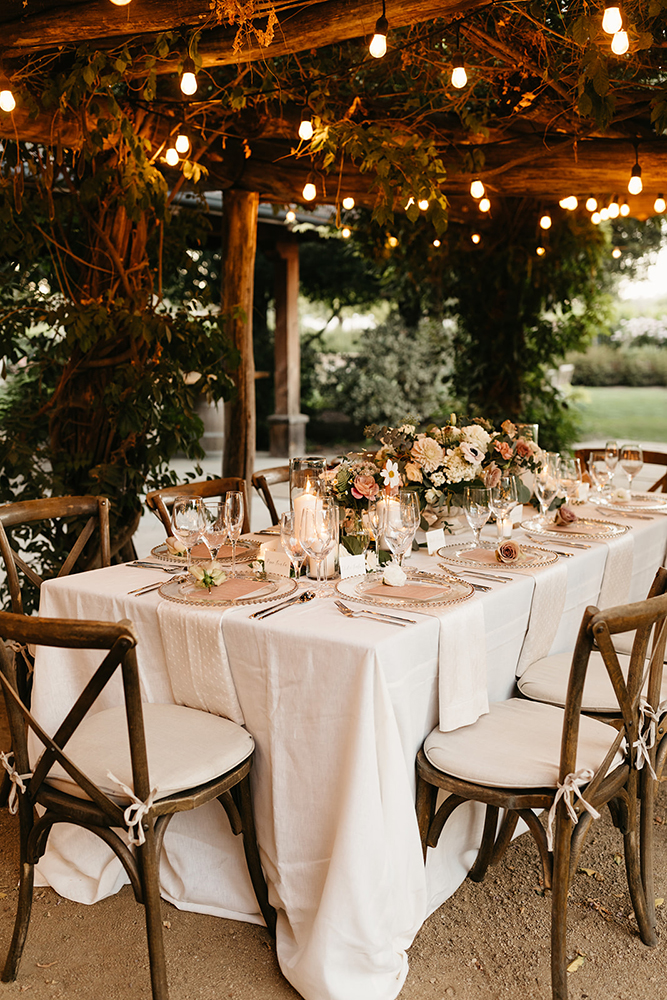 Photo: We Are the Bowsers via Feathered Arrow Events
Create a timeline. "The first thing I always do for my couples when beginning their planning journey is to divide all the tasks up by month. This way, you have a plan of action ahead of you but also only have to tackle a few items at a time, knowing the rest will be completed later on. Start with big ticket items, like budget, venue, and photographer, then make your way to the lower ticket items, like accessories and welcome bags." —Melanie Levin, Owner, LuckEleven Events
Write down all your tasks. "The first thing I recommend doing when first getting started is to make a plan, and write down all the tasks that need to get done as well as when they need to get done. This will help you stay on track without getting overwhelmed by everything you have to do. By making a plan, you can make sure all the important tasks don't slip through the cracks, which can cause stress and unneeded anxiety." —Anna Rodenbeck, Whitehead + Co.
Begin your search for a venue. "Our rule of thumb when searching for a venue is to keep the cost of the venue, catering, and bar at roughly half of your total budget so that the other half can be used for the vendors and decor including florist, invitations, entertainment, transportation, cake and so on." —Valarie Falvey, Kirkbrides

Photo: Stephanie Klotz via Chloe Alise Events
Don't reinvent the wheel when it comes to the wedding ceremony. "Clergy used to handle pretty much every part of every ceremony, and now it can feel like we're on our own if we want to make it feel personalized and special. It's easy to feel lost and to feel like you need to start from scratch. Rather than aimlessly Googling 'how to start writing a wedding ceremony' and coalescing outdated templates, use Provenance's suite of easy-to-use digital tools to customize your wedding ceremony script. You'll have everything in one place, saving you time and stress while ensuring a meaningful and custom ceremony." —Steven Greitzer, CEO, Provenance
Don't overthink the small stuff. "Whether you're on a budget or not, worrying too much about the small details that most of your guests won't even notice, can lead to higher anxiety and higher spending. Take a deep breath, and don't look at Pinterest or Instagram for replications — most are styled shoots or 6-7 figure budget weddings anyways and unattainable to the average couple. Be true to your own ideas, go with your gut, and don't overthink it." —Chloe Skelly, Chloe Alise Events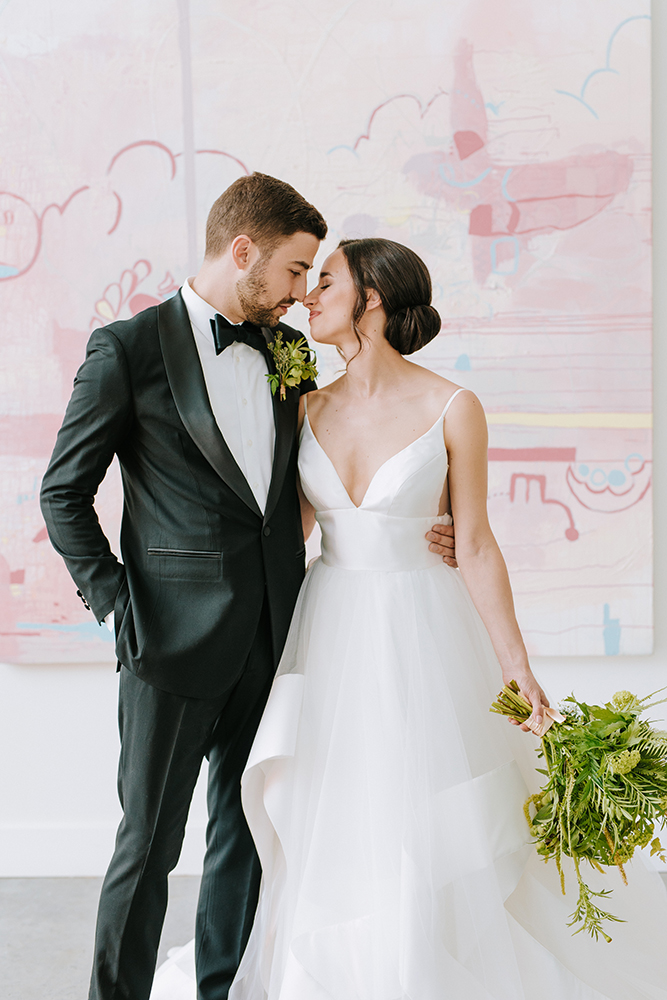 Photo: Ally Schmaling via Hummingbird Events