Celebrity designer Colin Cowie offers insider tips on creating elegant, affordable floral décor.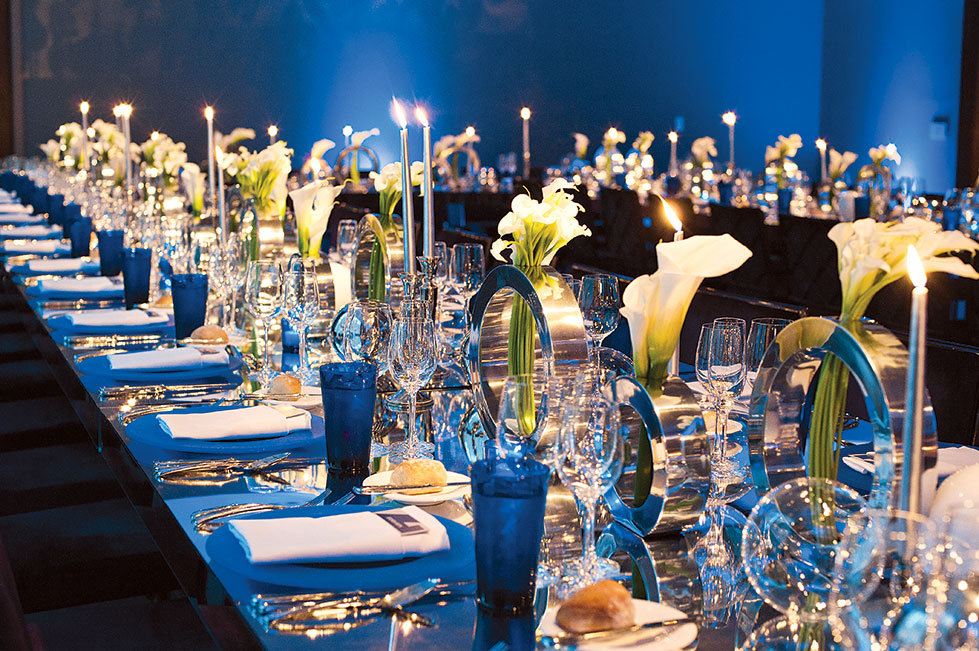 Bridal Guide: Some brides assume that only certain flowers are right for a wedding — and those can be costly. Is it OK to use inexpensive blooms instead of more traditional choices?
Colin Cowie: A flower's cost has nothing to do with its beauty, and there are many options to the traditional roses and orchids.
BG: Which less-expensive choices do you like?
CC: One of my favorites — and probably one of the least expensive flowers — is the carnation. When it's used en masse and on its own (not mixed with any other material), it looks lavish and elegant. Correctly handled, carnations can also be very sculptural. For something more whimsical, use cloudlike baby's breath, again en masse, but not combined with any other bloom. When you set lots of candles around it, it makes a very ethereal statement. To create an interesting ceiling treatment, consider inverted stock or lavender snapdragons hanging from above; both are inexpensive and will create the same effect as very romantic wisteria.
BG: So your rule of thumb for using less-expensive flowers would be...?
CC: Never mix these flowers with other blooms or with filler (greens). Don't try to disguise them: Let your choices stand on their own.
BG: What about varying your table arrangements, so that, for example, you set orchids and roses on the bridal party table, and stick to carnations and daisies on your other tables?
CC: Playing favorites isn't my style. Again, it has nothing to do with the price of flowers as much as it has to do with the look. Don't fill the bridal party table and leave the others sparse. However, red roses on the bridal party table and red carnations on the rest of the tables can provide a seamless look without sacrificing the visual aesthetic. Better yet, integrate by using some arrangements with carnations interspersed amongst the roses, and for the other tables, roses interspersed with the carnations. Always finish off your tables with votives and/or tapers and/or pillar candles.
BG: What sorts of containers work with less-expensive arrangements?
CC: It's not the type of container that affects your budget — it's the size of its opening and the number of flowers needed to fill it. I love the idea of small vessels, packed abundantly with one type of flower per container, to make a lavish statement. For added texture and glamour, you can use votives or tapers, spaced at intervals between the flowers.
BG: Do you recommend using items like rocks, shells, herbs, fruits or vegetables in centerpieces?
CC: I love mixing materials and augmenting the look of my decor, or creating an entire decor look with nonfloral elements, but remember that the color and size of the fruits you select need to work in harmony with your overall theme. To add dimension, fruits can be painted, gold- or silver-leafed or dusted with sparkle. For a rustic Tuscan statement, integrate fragrant herbs like rosemary and lavender and flowering thyme. For an opulent effect, use fruits like fresh plums and grapes. And for a baroque look, try gilding some grapes. For the more contemporary bride, make a dramatic candlescape that includes tapers, pillars, votives. You can also float single, flickering candles in small glass containers filled with water. Remember, beauty isn't about cost — it's about the look and style you make your own! 
Photo Credit: Colin Miller