Things have changed a lot since your parents got hitched! Check out the new and improved ways modern couples are creating unique, thoroughly personal events.
By: Kristen Finello
Ready to start planning your dream day? Your first step: Toss out those notions you may have about how things "should" be done—you know, the traditional rules handed down from generations past that require you to invite all of your parents' friends and serve a fancy sit-down dinner in a hotel ballroom or at a banquet hall.
While it's true that a wedding with those elements will never go out of style, it's okay to change the rules a little, or even a lot, to suit your style as a twenty-first-century couple. Check out the new set of guidelines brides and grooms are following today.
Rule #1 Express yourselves.
The old way: Doing things the way Mom and Dad would like.
The new way: Designing a wedding that's uniquely yours.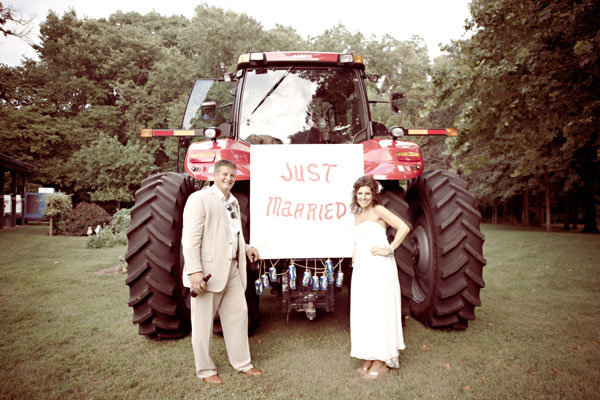 Photo Credit: Corlis Gray Photography
When a couple pays for their own wedding, they're less likely to allow their parents' vision of the big day to eclipse their own. So, when Mom begins to push for a formal affair for 200 at the country club, hold onto your own idea of your dream wedding and remember that you hold the power of the purse. Do you and your future hubby share a love of all things Italian? Have your party at your favorite Italian restaurant (maybe the one where you had your first date). Hire an accordion player to entertain guests as they eat. And ask your baker to design a cake that looks like the Leaning Tower of Pisa. Think the classic white limousine is the only "wedding worthy" vehicle to squire you two around? Nah! Make a Porsche, a golf cart or even a helicopter your mode of transportation; or, rent a trolley or stretch SUV limousine and bring your entire wedding party along for the ride. "For a wedding I planned recently, the groom left the reception on his motorcycle, with his new bride—ballgown and all—in the sidecar," says Susan Southerland, owner of Just Marry!, a wedding-planning company with locations in Orlando and St. Augustine, Florida , and Savannah.
Another very personal idea: Incorporate elements of your cultural heritage into the big day. For instance, Southerland helped plan the wedding of a bride with Vietnamese roots to a groom whose family originally hailed from Ireland. At their ceremony, the flower girl scattered clovers instead of rose petals. The reception menu included classic Irish dishes like potato-leek soup and beef Wellington, as well as traditional Vietnamese selections like lemongrass-infused pork kabobs (prepared by the bride's mother) and spring rolls.
Pages