Thinking about saying "I do" in your own backyard? A wedding at home can be wonderfully intimate and special, but it does require some special planning. Here, industry pros share 7 things to take into consideration.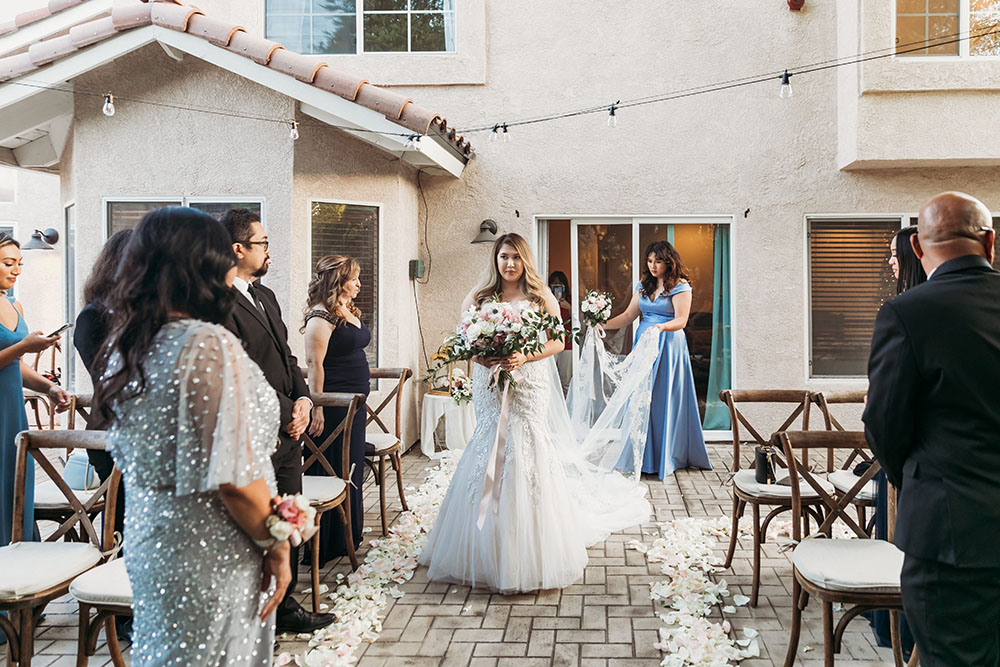 Don't let an at-home wedding mean you're sacrificing on details. "Your wedding is your day, and whether you want a big wedding at a local venue or a small intimate wedding in your backyard, it's your special moment to do it however you want. And as you and your guests may have varying levels of crowd comfort during the pandemic, a controlled backyard wedding might be the way to go. If you're leaning towards a smaller backyard ceremony, that doesn't mean the ceremony needs to feel small. A shorter guest list and homey setting can still feel elegant and special. Dress up the yard with an arbor, lots of flowers, nice chairs, and your favorite music. Make sure your wedding party looks their best in gowns and suits or tuxedos," says Matt Ramirez, Senior Vice President of Marketing, Generation Tux.
Take advantage of the opportunities an at-home wedding has to offer. "A wedding at home can be the most special venue to celebrate with family and friends! Whether it'' a small setting with many intimate areas or a large space to entertain, bring your personal style into the space. Since an at-home wedding will automatically feel more intimate, take advantage of the opportunity to connect further with your guests! Have friends or family members provide homemade desserts for your dessert display, offer up cocktails using your mom's home-grown basil, and invite guests to come back the next day for a farewell pool party with backyard BBQ fare. Embrace the at-home setting by incorporating thoughtful, personal touches that might have felt out of place at a traditional venue," says Kat Platt, Co-Founder & Designer, Bliss-On by Kat Platt.
Appreciate and utilize the freedom you have to choose whatever vendors you want! "I love at-home weddings! They can be more sentimental and stress-free, and you have more freedom when it comes to what vendors you'd like to hire — your vendor choices can be whatever your heart desires. For instance, having less traditional catering, like a food truck, is a fun choice! It;s something you might not be able to have at a "normal" venue, but at home, you make the rules!" says Lisette Gatliff, Lisette OC Photography.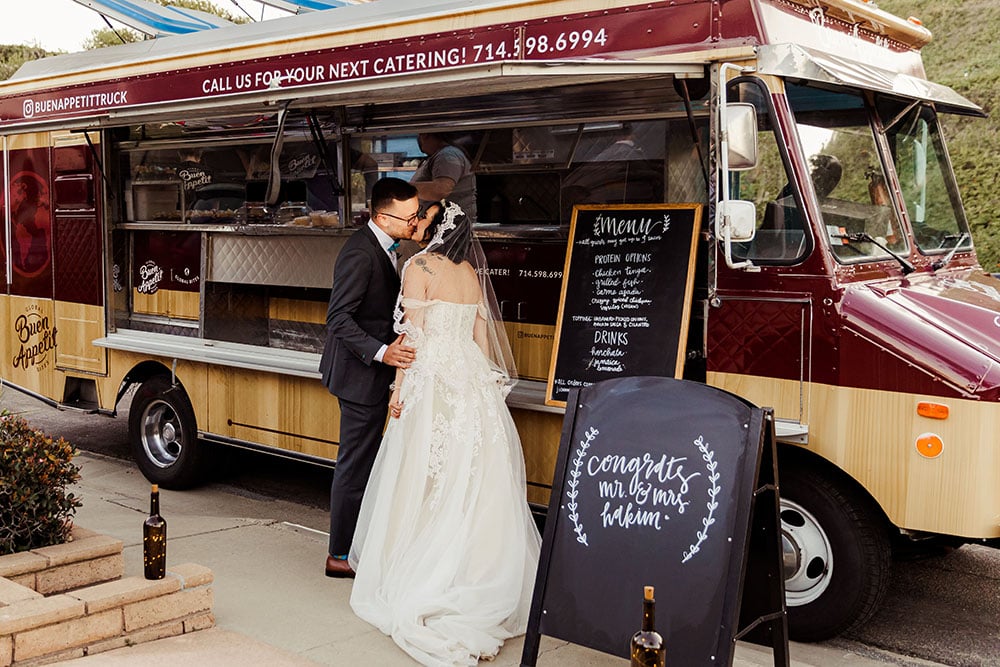 Be sure to pay attention to the logistics. "There tends to be less stress when it comes to planning an at-home wedding, since the guest list is usually smaller, and you have fewer restrictions than you might at a traditional venue. Just make sure you plan the logistics well, like having a layout of the ceremony space with all of the chairs in place. Since you normally probably don't have events like this at your home, you'll want to test things out first to make sure everything will fit together in reality the way you're picturing it in your head," says Gatliff.
Have an open conversation with your family and neighbors. "Something to keep in mind is what parts of the home you'd want to keep off limits, like upstairs bedrooms or your office. This is especially key if your at-home wedding is at a parent or family member's home — if they're being gracious enough to open up their home to your guests for your special day, you want to be sure you're respecting their boundaries so that they can feel comfortable! I'd also suggest talking to neighbors beforehand; the last thing you want is to be surprised by a loud music complaint because the neighbors didn't know a major event was happening in the backyard next door!" says Gatliff.
Have good communication with your vendors. "At-home weddings are still a popular choice for 2021, and I love how creative couples are doing intimate backyard receptions. An important thing to think about is knowing what limitations there may be and communicating those to all the vendors. As a caterer that prepares and finishes our dishes on-site, it is important for us to know if any of the home's kitchen equipment can be used and, if so, an in-person visit to the home would be ideal. Also, if it's a larger wedding and there is not enough space to prepare, catering teams really need to build a private space somewhere conveniently located on the property," says Sarah Kuhlberg, Creative Director, Colette's Catering.
You might want to consider a clean-up crew! "A clean-up crew can be helpful both before and after the wedding! A professional team can help get your home ready for the wedding weekend (and can ensure there's no household clutter, like the dog's toys or your mom's stack of magazines in the background of your wedding photos), and it takes the stress off of you and your family so that instead of worrying about prepping your home for guests, you're getting to enjoy the days leading up to the wedding. Have the team come back after the wedding, and they can help get your home "back to normal" after the weekend's festivities," says Michelle's Catering.