Top tastemakers share all that's new and notable in weddings, from cocktails to flowers, décor, cakes, and more. Here the delicious details.
By: Carol Straley
-AS SEEN IN BRIDAL GUIDE MAGAZINE-
Your Wedding, Your Way

Photo: James and Jess Photography
"Some couples are looking for multi-day celebrations," says Jove Meyer, owner/ creative director of Brooklyn-based Jove Meyer Events. "They're at a location with accommodations and activities for all to enjoy over a weekend or midweek celebration. Others have decided to have smaller wedding ceremonies at home or at their city hall and then have a party on a different day — or not at all. This past year has shown that weddings can really vary, and it is fantastic to see people celebrating authentically and in different ways!"
"We are seeing couples opt for lower guest counts, and as a result are spending more on a cost-per-person rate than in the past," says Shannon Ducker, founder and owner of Shannon Rose Events in Dallas Fort Worth TX. "Our average wedding in 2019 had 250 guests; for 2021 and 2022 the average is now 100 guests. A lot of our couples are choosing to have their wedding on their family property, which allows for an even more intimate experience."
"Couples are ready to party!" says Abi Littles, founder and owner of Weddings by Abi & Co. in Tampa, FL and Nashville, TN. "Prior to the pandemic, couples would invite guests with the expectation that only about 75% would attend. Not anymore. People are eager and willing to travel, so I advise my couples to be more intentional with their guest lists, now that things are opening back up."
The Great Outdoors

Photo: Heather Nan Photography
"We are seeing a huge increase in popularity for outdoor celebrations held in open spaces like parks, private estates, courtyards and more," notes Tyler Speier of Tyler Speier Events in Santa Barbara, CA. "Guests seem to feel more safe outdoors, and couples want their guests to feel comfortable!"
"Outdoor spaces have always been in demand," says Meyer. "But with the pandemic, they have become the most popular option, as they allow for fresh air and greater peace of mind for health and safety while celebrating."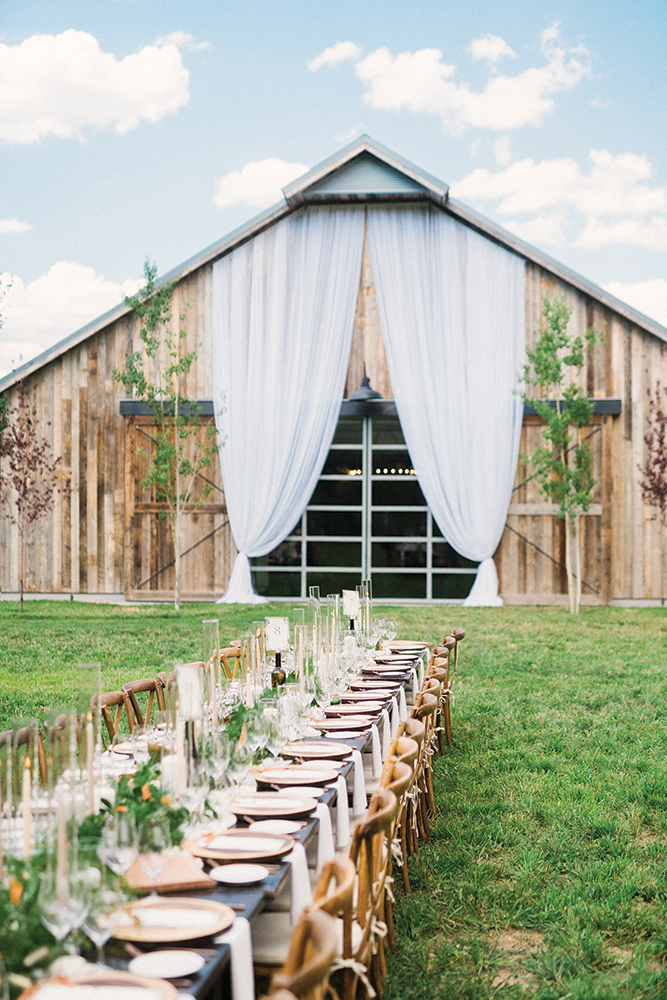 Photo: Gideon Photography
Shannon Ducker concurs. "The majority of our couples prefer their wedding to be held outside, especially in a tent, since it is essentially a blank canvas," she says. "We are finding our couples want to put as much of their story into their wedding as possible, and a tented ceremony or reception is the perfect opportunity to do so, since there are almost no limitations on design and capacity."
"Outdoor spaces allow you to transform the space into what you want, whereas ballrooms typically confine you to walls and what is and is not allowed," says Betsy Krug, event director and co-owner of Rebecca Rose Events, Winston-Salem, NC. "To bring the outdoors in, look for venues with abundant natural light coming in from the windows and doors," she counsels.

Photo: The Day by Ira Lippke
Décor Details
"We are leaning into bold, beautiful color in fun ways," Meyer enthuses. "Couples want to have fun, and color imbues fun into every aspect of the wedding, from stationery, wardrobe and flowers to rentals and food." Tyler Speier is on the same page. "What we all need right now is lots of joy! Think vibrant flowers, patterned linens, romantic watercolor accents...all the fun, colorful details!"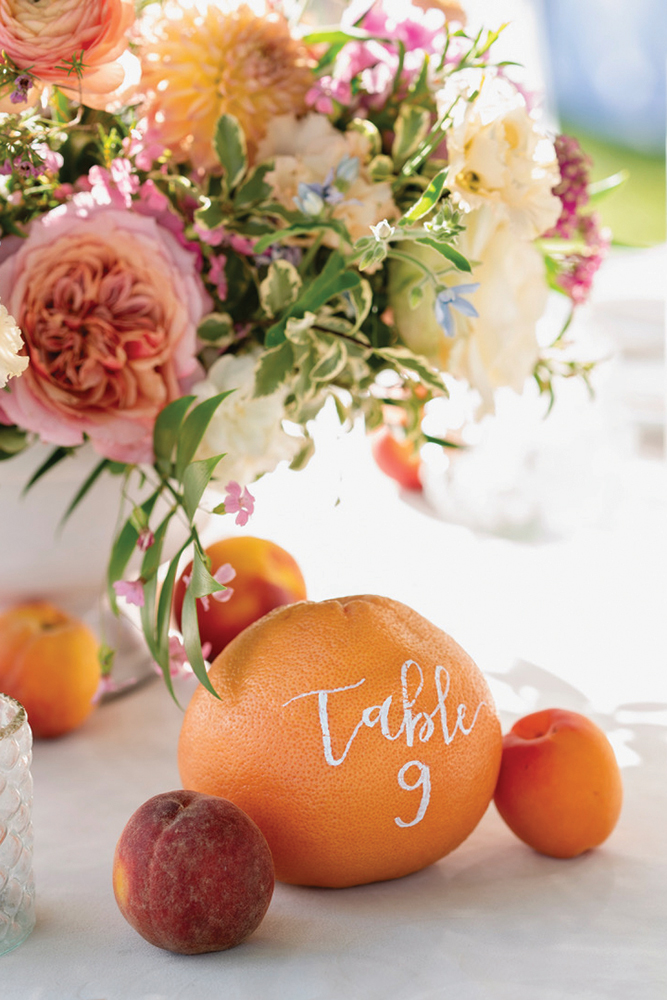 Photo: James and Jess Photography
"The sky's the limit, agrees Becca Atchinson, founding partner and creative director of Rebecca Rose Events, particularly in tabletop decor. "Tinted glassware, textural layers and colorful pattern blending have been trending."
"Lighting is key at a wedding," says Meyer. "It can create atmospheres and also highlight special moments and/or features." Sneh Diwan founder and owner of Diwan by Design based in Jersey City, NJ, sees taper candles having a moment. "They give the room an almost Bridgerton vibe."
Hanging light fixtures are also trending. "Lighting is one of the details that makes the biggest impact, from mingling to dinner to dancing" says Kayla Gantzer, of Southern House Events. "Couples are loving a statement piece over the dance floor or even guest tables."
When it comes to invites, after month after month of digital save-the-dates, invitations and rescheduling, "There has been a definite return to a preference for good old-fashioned mail," says Atchison. Meyer sees couples looking to stationery that represents who they really are. "Stationers are working beyond just paper, working with wood, acrylic, metal and other materials that elevate their craft and the wedding experience for couples and guests alike."

Photo: Kylee Yee
Is there an "it" flower? "It seems everyone is loving white more and more, especially white roses," says Sandra de Ovando, founder and creative director of Ovando Event Design in NYC, Southampton, NY, Palm Beach and Miami, FL. White double oriental lilies are also coming into demand, according to Eva Vessio, creative director of Blondie''s Treehouse in NYC. The appeal lies in the flower's "Uniqueness, luxurious aspect and fragrance." According to Diwan, "Orchids are coming back in a big way, from the voluptuous to tiny, delicate blooms. And not just in classic white — We're seeing vivid colors such as yellow and pink."

Photo: Lance Nicoll Photography
 Both Vessio and de Ovando sing the praises of carnations. Celebrated as the "flower of love," the simple blossom is heaven-sent for budget-conscious couples. Often less than a dollar a stem, carnations are not only affordable, but "abundant, fragrant and colorful," says de Ovando. "I always recommend blooming plants," de Ovando says. "They provide abundance and color, and they can be used both at the event itself and as parting gifts."

Photo: Heather Nan Photography
Play On!
Live music performances are happening! Jove Meyer notes: "Classical strings playing pop tunes are on the rise — thank you, Bridgerton! — and are playing for ceremony, cocktail hour and dinner."
"We enjoy placing different groups or music options throughout the party to engage guests and help with the flow of the event," says Betsy Krug. "We might program string musicians for the ceremony, contemporary music for cocktail hour and an incredible vocal with instrumentation for dinner. Once it's time for the dance party, a full band or DJ is ideal!"

Photo: Corbin Gurkin Photography
Not everyone is ready for the return to a packed dance floor. "These couples are extending cocktail hour and dinner, and adding other activities for guests to enjoy," says Meyer. "From photo booths to artists, mixologists, sundae bars, games and/or musical performances, there are many ways to fill the event with fun!" Kayla Gantzer, owner and creative director of Southern House Events in Charleston, SC, is thrilled to see ."..couples go all out with fun interactive experiences in lieu of packed dance floors: everything from professional fire breathers and dancers to customized 'couple' trivia games. I'm also seeing more couples opt for choreographed first dances that really play to the guests to get them laughing and clapping along."
Party Time
"I absolutely love the wedding weekend trend and the new focus on multiple celebrations instead of just one," says Kayla Gantzer. "This is a great way for couples to share more time with their families and friends." Michelle Cousins, owner, lead designer and planner at Michelle Leo Events in Utah, concurs. "With 95% of our clientele celebrating destination weddings, our most popular package is our full-service wedding weekend, which covers everything from welcome cocktail parties, rehearsal dinners, wedding-day activities and post-wedding events. People are going big and hosting well more than one event."
"With full weekend weddings we are seeing larger welcome parties," says Meyer, "with dinner and an activity after, from outdoor movies to game nights and bonfires. So much fun!" "These parties are more laid-back than other weekend festivities," Ducker says, "and ensure guests feel welcomed and appreciated as soon as they arrive." Plus, "Farewell brunches are a delightful way to end the weekend." Diwan says. "After a weekend of celebrating, some guests prefer to unwind before hitting the road," she continues. "Booking spa treatments for some post-wedding R and R has been a big hit. For guests who can't stay for brunch, caterers prepare beautifully crafted to-go lunch boxes as a thoughtful send-off."
Food and Drink

Photo: Gideon Photography
Covid safety continues to be top of mind. "Chefs and caterers are covering meals to add an extra layer of safety," says AJ Williams, founder and creative director of AJ Events based in Boston and the greater New England area. AJ's favorite culinary accessory: the glass cloche, a dome-shaped covering for a meal that's removed before serving. "We love using them, as they are statement pieces that add a wow factor to the dining experience."
"French service is on the rise," says Meyer. "As guests are served by a server with gloves and a mask, it is a safer way to go than true family style, but it feels just as special and communal."
AJ Williams loves "...a cocktail hour alternative that is not only Covid-friendly, but memorable for your guests: roaming food carts for serving creative hors d'oeuvres and cocktails. Guests won't have to line up at a buffet or bar: everything comes to them."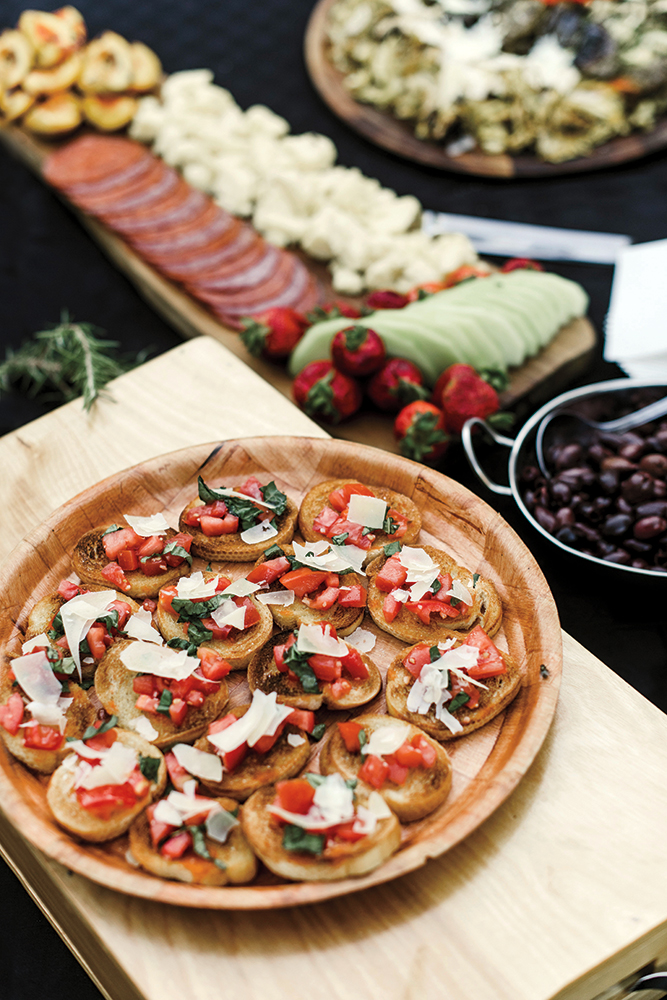 Photo: Ellie Koleen
The "mocktail" is squarely in the spotlight. Jove Meyer is delighted that "...couples are including mocktails in their bar packages, so all guests can drink and feel special, not just those who drink alcohol. The specialty drink game has been elevated, with fun twists from pictures of the couple floating on top of the drinks and edible bubbles, to floral ice cubes and/or flaming or smoking drinks."

Photo: Ellie Koleen
"Couples still want wedding cakes," Jove continues. "But some are also exploring cheesecakes, ice-cream cakes, cookie cakes, brownie cakes or foregoing cakes altogether and just including their favorite desserts. Cake artists are upping the game, making magic with sugar flowers, hand-painted moments and stunning details! "Michelle Cousins has a different take. "Cake is low on the priority list f or many of our clients. Most are opting for a variety of desserts ranging from savory and sweet, and putting a bigger emphasis on late-night snacks than wedding cake." Sneh Diwan sees it both ways. "Couples are less inclined to do a cake unless the venue offers it. They might want a cake for a photo op, but tiny desserts are preferred. That said, there is a trend for naked cakes with fresh flowers or gradients in color or with more textured details, like ruffles, so that the cakes have more dimension."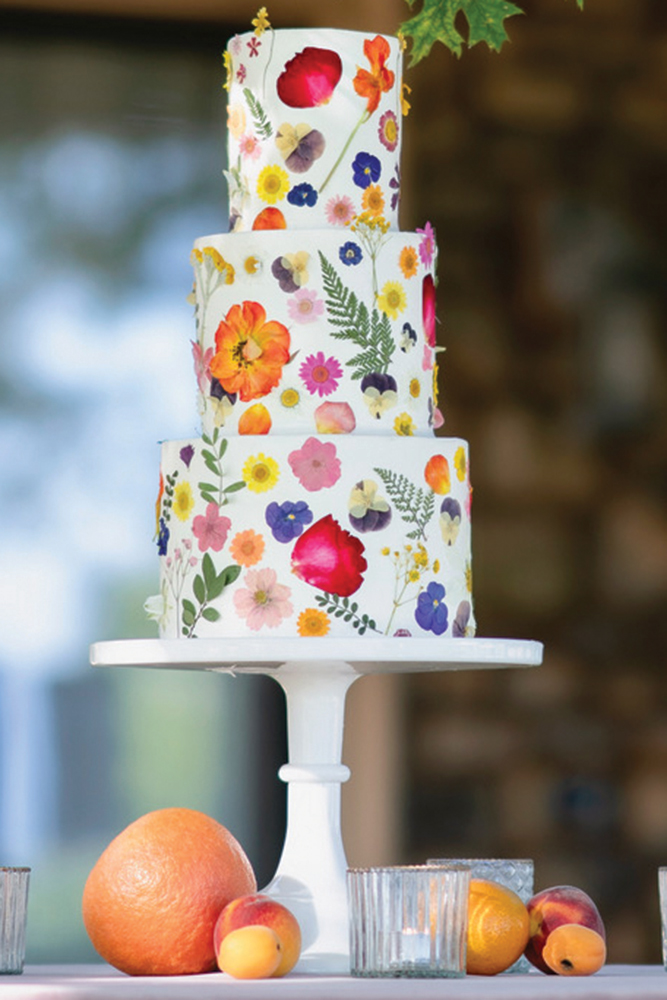 Photo: Lindsey Boice Photography
Role Play
With the pandemic sparking the need for new traditions that bring loved ones closer together, the role of the wedding officiant has evolved. "As couples are looking to weave more personalization throughout their entire wedding, I'm seeing more friends and family stepping up to take on this significant role," says Gantzer. The roles of flower girls and ring bearers are also getting a refresh. Says Gantzer: "Instead of selecting a niece or nephew for these traditional roles, couples are looking to spotlight their hilarious groomsman or their sweet grandparents. It's such a fun way to add some light-heartedness to the beginning of your ceremony."

Photo: Laura Watson Photography