So many apps! So little time! How to use technology to plan your big day.
By: Debra Witt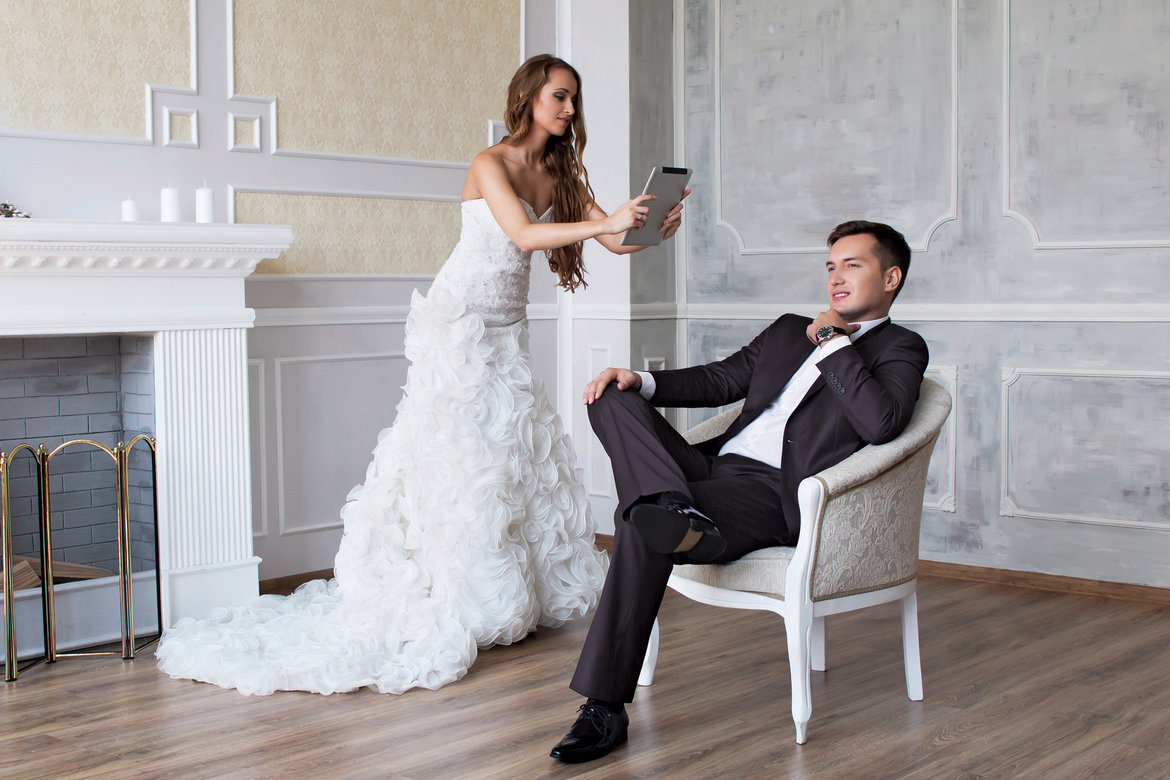 All the bells, whistles, and utter coolness of the digital world can never replace the importance of visiting wedding venues in person or having an actual conversation with vendors you're trusting to carry out your dream day. There's also nothing like seeing a budget or contracts in black and white. Or, for that matter, the fun of ripping out and saving magazine pages that inspire. Still, there's no denying that today's engaged couples are increasingly relying on everything from apps to social media to help them arrive at the aisle their way.
Take Melissa and Alec Graham. When the New York City couple got engaged in 2014, Melissa's first wedding-related move was to create a Pinterest board to help her settle on a color palette for their April 2015 wedding in Austin, Texas. The planning is unfolding in similar fashion for Sarah Hunt, who at press time was getting ready for her September 2015 nuptials to Ian Espinosa in Tustin, California. She's relying on Wunderlist, a productivity app (think to-do lists and projects organizer), to keep her on track. Hunt also made Pinterest boards for each of her vendors.
"Planning my wedding using apps and websites was a pretty natural extension for me," says Hunt. "I work primarily on a computer so one of my major requirements for any vendor was that they be email, internet and texting friendly."
As Sarah, Melissa, and other couples interviewed for this story discovered, the appeal of digital tools is their potential to streamline the planning process. But they aren't necessarily hassle free. We asked couples and wedding pros to share the best ways to incorporate new technology in the planning process.
1. Gather Ideas and Inspiration
One of the main draws of the internet and social media for brides-to-be is the mind-boggling number of creative ideas it puts at their fingertips. To avoid becoming overwhelmed by pretty pictures and clever touches, New York City–based planning pro Shawn Rabideau suggests approaching sites like Pinterest and Instagram in a methodical way. 
First, ask yourself, What do I like about this particular image? The answer will help you pinpoint your likes and dislikes, so that you can better articulate your wishes to, say, the caterer or invitation designer. As you gather more images, look for common threads — color, texture, mood — to help you stay on stylistic track. Next, categorize. Set up separate boards, albums and inspiration folders for things like your tabletop decorations, wedding-party attire or day-of makeup looks. Finally, be selective about whom you share these ideas with or invite to follow your boards. "Decide early on whose opinion matters to you," says Rabideau.
Related tech tool we like: Feedly.com makes it easy to subscribe to and organize your favorite wedding blogs.
2. Manage the Details
There are so many great digital tools to help couples get organized," says Rob Farrow, CEO of Aisle Planner, a digital service for professional wedding planners. "Give yourself enough time to find and use the technology in a way that works for you, for the way you plan and for the way you communicate."
For example, Kristine Martel, a second-year resident in family medicine, and Anthony Cece, a marketing manager, who live in Ann Arbor, Michigan, relied heavily on the Google suite of apps and programs rather than wedding-specific tools to help them plan their June 2015 wedding, which took place several hours away in Traverse City. "We both work long hours, and often have opposite schedules, and our wedding was taking place out of town," says Anthony, "so seeking an electronic solution that we were already familiar with for our planning needs seemed an obvious choice."
Related tech tools we like:
• Trello lets users set up wedding-related boards with flexible workflow templates that can be customized to your planning timeline. You can store receipts, invoices, due dates, and upload documents and images from Dropbox, Google Drive and more.
• Evernote is a broad-use app that syncs with your computer calendar and allows you to take notes, make lists and collect and share digital details for your wedding projects. You can even capture, share, organize and search Post-it Notes within the app.
• Cozi lets users manage wedding-related appointments with a centralized, online calendar that's shared with your partner.
• OneNote is like a digital wedding-planning binder that is easily searchable and allows you to insert spreadsheets, images, checklists and take notes on the go.
• Facetime and Skype or other video-chatting services are valuable "peace-of-mind" planning tools for distances both near and far. "We found Facetime super helpful as we could not make it to Traverse City prior to our wedding," notes Anthony. "I used Skype to interview a nearby wedding videographer because we were both too busy to meet in person," says Stefania Sainato, Bridal Guide's senior web producer.
• AllSeated goes way beyond typical spreadsheet planning. For example, use your venue's floor plan to create a chart, then import your guest list, dragging, dropping and reassigning seats and tables as needed. 
Pages