Reconnect with your fiancé this season with these fun date ideas.
By: Kristen Klein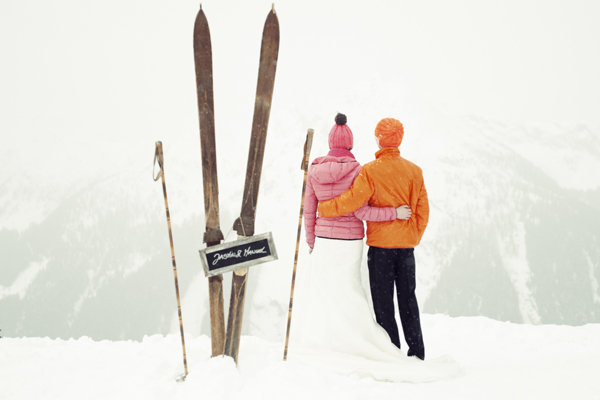 Photo Credit: Ladies and Lord
As we head into the holiday season, planning your wedding may be the last thing on your mind... and that's perfectly okay! Give yourself permission to take a break from the nitty-gritty, headache-inducing details of the big day, and focus instead on nurturing what's really important — your relationship with your soon-to-be husband or wife. Here are 20 fun date-night ideas to indulge in this winter. 
Get Heated in the Kitchen
Love watching baking competitions on TV? Challenge your SO to a bake off, then invite your friends and family over for some impartial judging. It's a fun way to release some tension (baking is therapeutic!) and enjoy the holiday season with your loved ones.
Hit the Slopes 
Whether you're a ski master or a total novice, taking a lesson together can be a great bonding experience. Plus, what could be better than snuggling in front of the lodge's fireplace after a long, hard day on the slopes?
Grab a Snow Tube 
If skiing isn't your thing, you can still hit the slopes — with a tube instead. You can race your way down the mountain, or cozy up in a tube built for two.
Lace Up Your Ice Skates
Hit the ice hand-in-hand for a romantic date perfect for the season. Don't forget to enjoy some hot cocoa after!
Watch a Christmas Lights Show
Get in the holiday spirit with a magical light show. Find a local drive-thru display; take an Uber through it so you can both really appreciate the show. Or search for a nearby house that puts on a show. Can't find any organized lights attractions? You can also just drive around and take in the sights.
Visit Your Local Theater
Take advantage of your county theater for an inexpensive night out. Most will plan some kind of holiday-related show, so it's also a great way to get in the holiday spirit. Or search for a dance studio putting on a production of The Nutcracker.
Have a Movie Night 
The end of the year is prime time for big-budget Oscar-hopeful movies to hit theaters. Take advantage of peak movie season (and the warmth indoors!) for a cozy date night.
Go Sledding
When the snow hits, have some good ol' fashioned fun by grabbing a sled and heading to the nearest hill.
Volunteer
It is the season of giving, after all. Find a cause you both believe in, and spend some time together while helping out.
Get Crafty
Design your own holiday décor! You don't have to be Picasso to create a painting worth displaying. Sign up for a paint night at a local studio, where they walk you through it step by step.
Have a Game Night
Break out the board games for a night of classic fun at home, or head to a nearby arcade to try your hand at Space Invaders.
Play Tourist
Bundle up and play tourist in your nearest city. Spend the day wandering around the museums, landmarks, and taking in the holiday decorations. End the day with a romantic carriage ride.
Try Indoor Skydiving
Let your sense of adventure guide you to your nearest indoor skydiving experience. Not only is it safer than actually skydiving, but you won't have to face the frigid outdoor temperatures.
Explore a Botanical Garden
After all the leaves fall to the ground, there's still one place you can take in the beauty of nature — a botanical garden. Step inside one of the indoor conservatories or pavilions to take in the sights without suffering in the cold.
Jump at a Trampoline Park
Get your heart rates up with a fun activity that doubles as a workout. Check if your local trampoline park has adults-only hours; Sky Zone, for example, has "glow" parties, where lasers, music, and black lights transform the park into a jumping dance club.
Fondue Date Night
If you already live together, cooking dinner together doesn't seem like anything special – but a fondue date night is a different story. Take your time, and enjoy each other's company throughout this lengthy meal.
Go on a Mall Adventure
In the age of online shopping, actually visiting a mall can feel outdated; but many malls are stepping up their game by adding stores you've never even heard of and adding unique options, like antique stores and independent boutiques. Indulge in your competitive side with a scavenger hunt, or challenge each other to pick out the best Christmas present under $20.
Have a Photo Session
Most couples try to plan their engagement photos during warmer weather, but there's something so charming about a winter session. Plus, many photographers offer "holiday mini" sessions this time of year, so you can score a good deal on a small package.
Find Your New Favorite Drink
Hot buttered rum, mulled wine, spiked hot cocoa… there are so many delicious adult beverages perfect for the season. Indulge in a libation-fueled night in, and challenge each other to develop the best combinations.
Go Hot Tubbing
There's something so satisfying about relaxing in a hot tub surrounded by snow. If you're not lucky enough to have your own hot tub, consider checking into a nearby hotel and making a mini vacation. Or, for a cheaper and easier option, kick back in a candlelit bubble bath together at home.