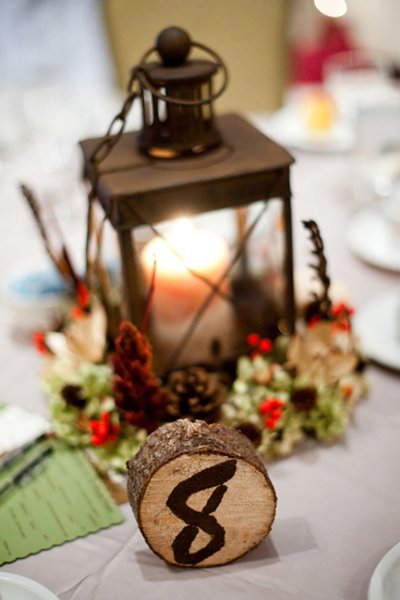 Photo by: Rachel Peters Photography on Every Last Detail via Lover.ly
Tip of the Day: Bring the outdoors in with budget-friendly wooden circles or coasters. These items are ultra-versatile and can be used as table numbers, pedestals for pillar candles on your guest tables and more. This look is fabulous for fall weddings, especially if you're having an enchanted forest theme (which is huge right now).
Create DIY wooden décor as a fun project with your groom. If you have access to anyone's fallen or cut tree branches, take a look at the branch first to make sure it doesn't have any mold or insects. Then, you'll need to have all of the approved branches cut to your desired circle size. If you're not familiar with woodworking, ask a friend or family member who owns saws or cutting machines for help, since those tools are necessary to create uniform sizes and smooth cuts (with no jagged edges).
You can either use the wood circles "raw" — which creates a woodsy scent — or coat them with a clear varnish.
Plus, Wedding Reception Ideas for Any Budget. Visit sharonnaylor.net for more tips and advice.