Determining the size of your wedding depends on your budget, personality, and social circle. But no matter how many guests you'll invite, it will be a blast! Here, wedding planners break down the pros and cons of each size category, along with tips on how to make your event memorable.
By: Stefania Sainato
Super-Sized Bash
Do you and your fiancé come from huge families and have an even larger circle of friends? Do you thrive in large groups and being the center of attention? Is being surrounded by everyone who's ever supported you throughout your life, all in one room, imperative to you? If you answered yes to any (or all) of the above questions, then a bigger-is-better wedding approach is right up your alley! Bobbi Rice Weddings tells us that this is the wedding size they tend to work with the most. "Although the bride may not get to say hello to everyone, a great time is usually had by all! Photo booth shenanigans and laughter abound, there's lots of dancing until the wee hours of the morning, and awesome candids are captured."
If you have friends and relatives coming in from out of town, put together welcome bags with creature comforts and fun trinkets. "Make sure you let your guests know how appreciative you are that they have come to celebrate with you!" Flaherty says. Another unique alternative instead of welcome gifts at the hotel is to send a package to each guest one week before in the mail, which builds anticipation for your event.

Photo Credit: Kelly Cronin Photography
Have guests "meet" beforehand using Guesterly.com, which compiles mini-booklets that function just like a yearbook would, with fun facts and photos for each guest in attendance. "When your wedding is huge, it helps to foster a sense of connection amongst your guests, Plus, there's no need for introductions at cocktail hour since everyone will know each other already!" Kolanović-Šolaja says.
Large weddings are perfect for highlighting traditional cultural elements. Cloud Nove Events worked with a Greek couple this year who more than 250 guests at their wedding: "Whether the guests were Greek or not, they loved breaking the plates on the dance floor!" In particular, cultural processions such as the Indian baraat (where the groom makes his way to the ceremony on an elephant or horse), the Latin Hora Loca (Spanish for "crazy hour"), and The Second Line (a New Orleans tradition) benefit from more guests.
Provide a few different areas devoted to a particular activity so that everyone can find their niche at the wedding. "A fabulous dance band will keep the party going in the middle. A lounge area with coffee and tea nearby offers a haven for older guests — and those who'd like to relax and chat. Interactive guest books in the form of photo booths or large canvases add another element to the grand affair," Millican says.

Photo Credit: Front Room Photography
Props are always a hit once the dancing gets going. Consider filling a colorful laundry basket or trunk with items from the dollar store and costumes. The sillier and more colorful the better (think neon green feather boa, rubber horse head mask, cowboy hats, etc.). You could also distribute glow sticks or glow stick jewelry.

Photo Credit: Michael Farmer Photography
Don't neglect the little guys (and gals). If you have a big wedding, you will likely have guests with children. Consider hiring a few babysitters so that the parents can enjoy themselves without stressing. Also, let's face it — a five-hour reception can be exhausting, especially for a child. "Don't forget that children want to have fun, too! Activity boxes make the younger guests feel special and can occupy their time," Nickel says. She suggests creating one style, so there is no fighting amongst the kiddos. If you're going to have a diverse age spread, come up with one kit for younger children and another for older kids. (P.S. If you're having coloring books, consider designating an entire table for kids that's covered in construction paper.)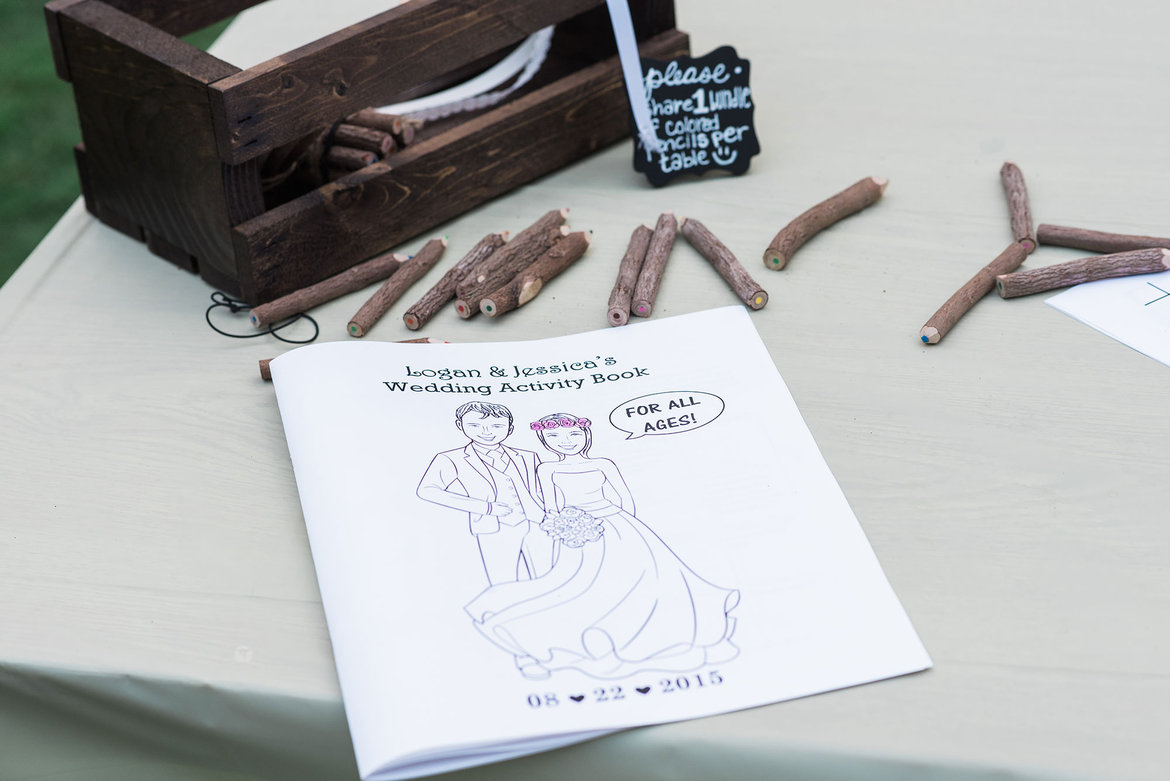 Photo Credit: B. Jones Photography
Pages