Determining the size of your wedding depends on your budget, personality, and social circle. But no matter how many guests you'll invite, it will be a blast! Here, wedding planners break down the pros and cons of each size category, along with tips on how to make your event memorable.
By: Stefania Sainato
Reflect who you are as a couple in your wedding choices and interject some fun surprises along the way. "How you decide to share your playful side with your family and friends will vary based on the size of your wedding," says Cindy Stonehouse from Stonehouse Events.
Movie buffs could insert their favorite movie titles into table numbers or display their favorite quotes from films on cocktail hour tables. On a larger scale, you can include a popcorn-flavored table for your guest's enjoyment. Do you both love to dance? Create a choreographed first dance, or if you're having a bigger event, hire a group of dancers to teach your guests a few steps. One of Stonehouse's clients even hired a flash mob along with choir singers to surprise his bride. The opportunities for personalization are endless.

Photo Credit: Ivonne Carlton Photography
Intimate Wedding
"One of the most difficult decisions that engaged couples face is who to invite to their big day. It's exciting to think about celebrating with all of the people in your life, but there are many benefits to planning an intimate wedding with a smaller guest list," says Lindsey Norton from L. Brook Events. Budget is a another significant consideration — each guest adds up considerably when you factor in the cost associated with providing a wedding meal, drinks, centerpieces, favors, etc. A smaller event can be just as rewarding and even offer more wiggle room for creativity. "Throwing an intimate wedding is for the couple who wants a more relaxed ambiance. They have a smaller family and close-knit group of friends, and that's all they need to celebrate their big day," says Cristen Faherty from Cristen & Co.
Choose a location that is meaningful to you and your fiancé. Unlike bigger celebrations, you don't have to limit your search to venues that can accommodate a certain number of people. Consider hosting your wedding in a memorable and non-traditional setting, such as your favorite restaurant, a family property, or a villa rental in a place where you love to vacation; a smaller guest list makes each of these options more feasible and manageable.

Photo Credit: Mink Photography
Come up with a dress code to match your theme, whether it's country-chic, wedding colors only, masquerade, black-tie, or an all-white party. "A smaller guest list may help with guest attire compliance if you're requesting something special, and will make your photos spectacular," say the pros at Cloud Nove Events. Another fun take is to ask all of your girlfriends or young female relatives to be your "something blue" and wear dresses in that chosen color.
You can stretch your budget so much further with fewer guests. "You can unleash your inner Martha Stewart and put more money into your décor, food, and drink when you are serving fewer people," says Kristen Jensen from Sugar Rush Events. If your top priority is creating an unforgettable dining experience, then you can serve a decadent six-course meal with top-notch cocktails or wine. "One fun surprise that would definitely make an impression on your guests would be to serve your guests at the close of dinner with their own mini wedding cake made of their favorite cake flavor. No one will be hovering around the wedding cake that evening waiting to see the flavor of the next layer!" say the pros at Bobbi Rice Weddings. Can't get enough of flowers? Feature a luxe tabletop display with all of your favorite blooms. Or perhaps you want to jet off to a tropical locale for your "I dos." A smaller wedding means you can spend more on things you may not have originally thought you could.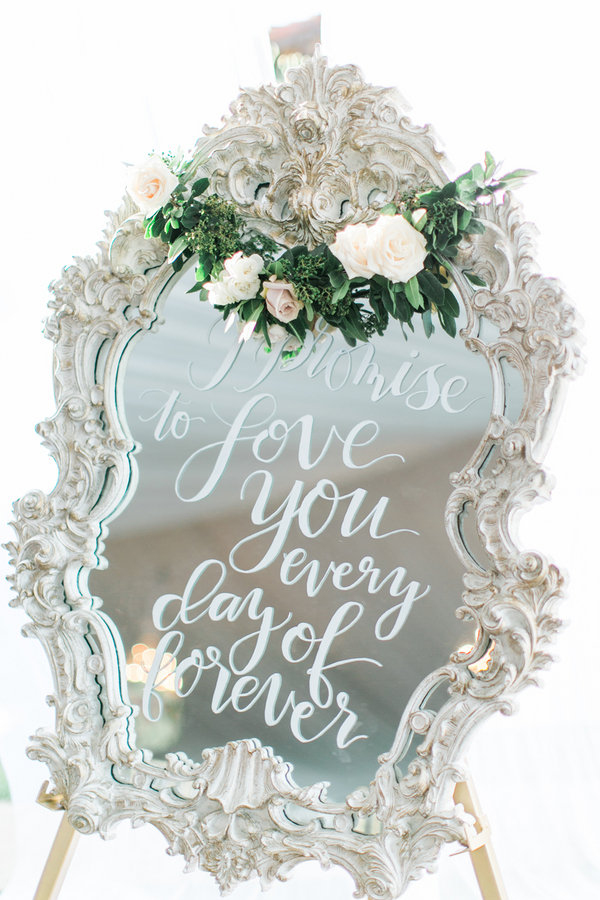 Photo Credits: Troy Grover Photographers
A smaller wedding may also lend itself to more spontaneity since you don't need to create a wedding-day timeline for speeches and formalities as strictly as you would with a larger gathering. You get to dance, mingle and sit with everyone at your wedding. "With a smaller guest count comes more time to talk to each of your guests, rather than just squeezing in a few minutes saying 'hello' and 'thank you so much for coming'," says Mandy Millican from Modern Whimsy Events. She suggests incorporating an after-dinner lounge and dessert time, where you can have full conversations with your loved ones on your special day.
Go all-out with personalization. Since only your nearest and dearest will be in attendance, you can put more time into the special little details that matter most to you and your future spouse. For example, you could create an escort card arrangement made up of thoughtful notes for each guest or display a photo wall with your favorite memories. Sugar Rush Events recently designed a wedding at Cornerstone Gardens where they had guests' names placed on each plate charger to welcome them to their seats. Also, elements like party favors (such as photo frames of you and each guest) may be cost and time-prohibitive for a large wedding, but feasible for a smaller one.

Photo Credit: Fairy Tale Photography
Pages