Photo: Christie Jester Photography via Bridal Bliss
Pros
1. Guests with kids are more likely to attend. "It's likely that a good majority of your guests will have children that need to be attended to, and if there are no feasible options for someone to supervise the kids at home, the adults may not be able to make it. This is especially true in destination weddings, where parents might not be as comfortable leaving the kids behind," says Jessica Flores, Founder of Wedding Sitter. If you do decide to invite kids, "Think about hiring on-site help for the younger guests, so the parents and kids can both enjoy themselves." 
2. There are lots of creative ways to keep kids entertained. "Providing a child-friendly atmosphere at a wedding has never been easier, as there are tons of creative ideas out there for entertaining the young — and young-at-heart," says Jenna Miller, Creative Director of Here Comes the Guide. "Whether you set up lawn games, crafts and coloring at a kids table, or have the DJ mix in some kid-friendly tunes to get the dance floor going, you can rest assured that the kids at your wedding will have a blast. And if you can swing it, there are amazing childcare companies out there, such as Happily Ever Laughter in Northern California. They actually send fairytale characters to keep children enchanted with whimsical activities so the grown-ups can sit back and relax."
3. Consider the style of your wedding. "The style of your wedding may be the best indicator of whether or not to invite children. Kids create a light, playful, unexpected atmosphere and offer the opportunity to design a kids area featuring your favorite childhood toys. Inviting children will add a fun element to a relaxed, casual wedding day," says Karese, Owner of Detailed Floral Design. "If your style is more elegant and sophisticated, it might be better to parents to leave children at home to preserve the ambiance and formality. There is no right or wrong; it completely depends on the overall feeling and atmosphere you envision for your big day."
4. Kids can add a level of fun and playfulness to your wedding vibe. "Kids can lighten up the room and add a certain level of playfulness and whimsy to any event. If you are going to include kids at your wedding reception, they are your guests as well, so put as much thought into their entertainment as the adults," says Nora Sheils, Founder of Bridal Bliss and Co-Founder of Rock Paper Coin. "Design a kid-friendly program that serves double duty as a coloring book to keep them entertained at your ceremony. During the reception, plan for sitters to set up a room with movies, video games, arts and crafts, or the like so parents can enjoy the festivities knowing their kiddos are in good hands."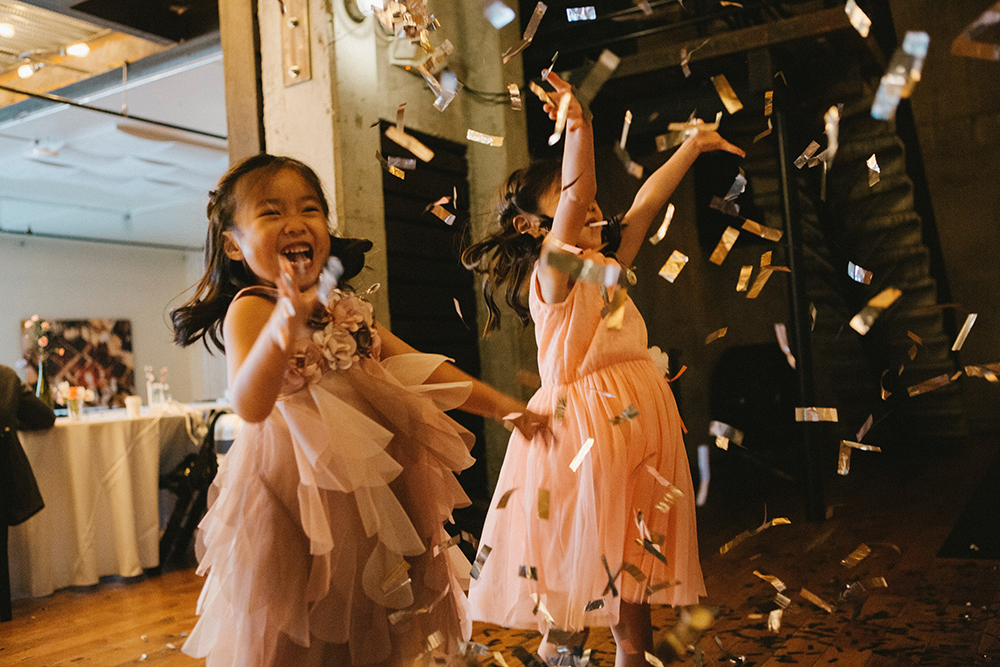 Photo: Studio 19 Photography via Bridal Bliss
Cons
1. Tantrums tend to come at the most inopportune times. "From your vows and first dance to the most endearing speeches, weddings are full of meaningful moments... which gives children plenty of opportunities to 'chime in,'" says Miller. "If you decide to invite children to your wedding, it's best to adopt a go-with-the-flow attitude. View any unexpected meltdowns as funny additions to your wedding video that you'll laugh at later. You can even communicate to your parent-friends that it untimely tantrums do occur, you'd appreciate them swiftly escorting their little one to another part of the venue."
"Don't underestimate the power of nap time, and bribes are 100% acceptable. Waking up thirty minutes before showtime to get into your outfit and saving photos for post-ceremony? Yes. Cookie after getting down the aisle? Also yes. Please enjoy this photo of Ashley + Ryan's daughter, Kennedy with an itch she just had to scratch," says Ashley Lachney, Owner of Alston Mayger Events.

Photo: Leesha King via Alston Mayger Events
2. Kids add to the guest count...which adds to the budget. "No matter how small the guest count is, they're still going to add to your bottom line. The number of attendees at your wedding will determine not only the size of your venue, but also how much food you'll have to provide. If your budget is already tight, that's a good enough reason to rein in the guest list to adults-only," says Miller.
3. Kids can lead to compromising on your wedding vision. "If your heart is set on a reception that is not suitable for children and you do not want the parents to have to leave early or watch their children during the event, or if there are just too many children that they would take up a large portion of your wedding, then it would be reasonable to make it an adults' only affair. Ultimately, this is your party and it's up to you what suits you and your partner the best," says Valarie Falvey of Kirkbrides Wedding Planning.
4. Keep in mind where parents' attention will be. "Their parents will probably be focused on the kids rather than the festivities, and will likely have to leave early for bedtime. Kids can be a distraction and take over the dance floor," says Sheils. "Also consider the extra costs — creating kid-friendly room with entertainment, sitters, etc. can be a significant added cost, but many times a necessary cost." 

Photo: Deyla Huss Photography via Bridal Bliss