With guest lists shrinking due to the pandemic, it's become harder than ever to determine your guest list. Here, wedding industry pros share their best advice for pruning the list.
By: Kristen Klein

Photo: Vanessa Hicks Photography
"Remember that this is your wedding. And you are not required to invite anyone, to be honest!," says Vanessa Hicks of Vanessa Hicks Photography. "Who do you want to see in the audience on your most special day? That's who should be there."
Follow the one-year rule
The pandemic has made some friendships stronger — and unfortunately caused others fade into the background. Think about who you have reached out to over this past year, which friends you missed dearly and, conversely, which friends where the distance is not make the heart grow fonder. "If you're wavering on which friends to invite, I usually suggest that couples go by the rule if you haven't talked to that friend in over a year or more, you most likely don't need to invite them to your wedding," says Kari Dirksen, CEO + Lead Planner of Feathered Arrow.
 "I always encourage my couples to invite those who have supported, upheld, and helped grow their relationship together," says Ashley Lachney of Alston Mayger Events. And don't stress about reciprocal invitations; remember that everyone's wedding situation is different. Your friend's 300-guest wedding isn't comparable to your microwedding! "For friends who invited you to their wedding, don't feel obligated to invite them if you have lost touch," says Lizzy Liz Chan of Lizzy Liz Events.

Photo: Lauren Gabrielle Photography via Kirkbrides Wedding Planning & Design
Make cuts by group
Organize your potential guest list into categories. To avoid hurt feelings, it's easiest to make large cuts by groups. "Consider essential groups of friends when deciding who to invite, as inviting one friend may necessitate inviting an entire group of 10 more people," says Valarie Falvey of Kirkbrides Wedding Planning & Design. "For family, it should be consistent on both sides — will you limit to first cousins only, or extend beyond there?"
Don't split up couples
If you've never met your friend's significant other, do they still need to get an invite? Proper etiquette says yes, even when you're working with a limited guest list, says Lachney. Couples should always be treated as a unit. But if your friend is single, a "plus one" is no longer commonplace. 
Set boundaries with your parents
One of the most common struggles comes from parents insisting on inviting people who didn't quite make it onto your own A-list. "If your parents are paying and have demanded a little extra control over the invites, you have two options. Have an honest conversation about who you want in the room where it happens and why, or gently refuse the money and pay for the wedding yourselves. 'No pay, no say' as they say," says Lachney.
Make it kid-free
Kids can add a lot of fun (and cuteness) to the wedding, but trimming anyone under the age of 18 is a simple way to cut back on your guest count. "Often times, couples will make the wedding adults only to cut back on costs and to allow their friends and family to have fun and be kid free," says Dirksen.

Photo: Christy Cassano Photography via Bridal Bliss
Think twice about coworkers
If you talk about your wedding at work a lot, you may feel obligated to invite your coworkers; but "if there is any chance you may switch jobs during the year or longer period of planning, hold off on sending save the dates to work-only friends, and instead make the final decision when invitations are finalized," advises Falvey. "That way, it won't be awkward to greet your former coworker, for example, who you haven't seen or talked to in 8 months." 
Put a price tag on it
"Your guest list is the biggest factor that drives your budget — the more guests you have the more space, meals, flower arrangements, transportation you will need. When you are putting together your guest list, be sure that your budget will be able to accommodate the number of people you hoping to have celebrate with you!" says Jamie & Stephanie of Cape Cod Celebrations. 
"Our general advice when it comes to a guest list is asking yourself: would I invite this person into my home for a $500 dinner and unlimited drinks? If you aren't close enough to do that, then you probably aren't close enough to invite them to your wedding that is likely going to cost at least that per guest. Focusing on the cost per person is a great way to quickly narrow down your list!" says Vikki and Shannon from All You Need is Love Events.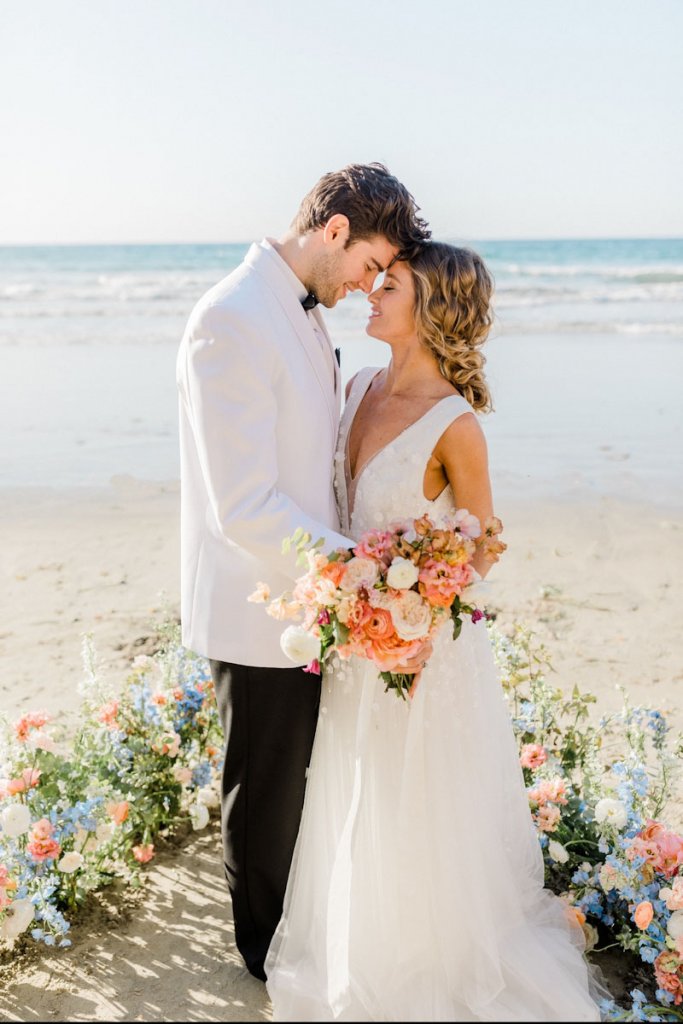 Photo: Vanessa Hicks Photography