Couples married from 1 to 50 years reveal the secret to a successful marriage. Plus, an inside look at a vow renewal in Aruba that will have you wanting to say "I do" all over again.
By: Mary Gillen
It was a warm and windy day on Eagle Beach in Aruba, and over 200 couples were gathered to renew their wedding vows in what would be deemed the largest vow renewal in the Carribean. I was there with my brand new husband, covering the event for BG and "renewing" our vows from just four days earlier (shhh, don't tell anyone, the wedding was supposed to be a secret) LOL. I set off to interview some of the happy couples to hear what marriage is really like over the years, and one piece of advice that they would give engaged couples or newlyweds. Here are their honest and unfiltered answers.  Plus, more details on the romantic vow renewal!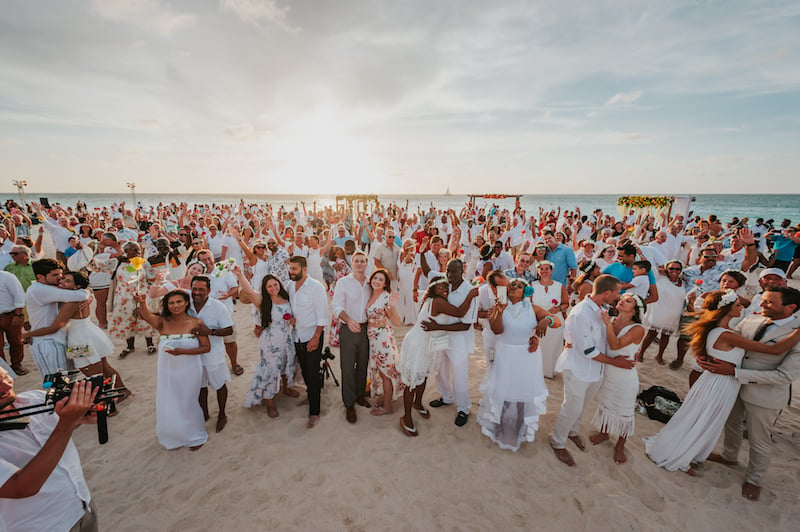 Kristi & Eric: Married 1 year
"Don't go to bed angry. Love each other more every day. Always be honest with each other."
Ashley & JP Rosenbaum: Married 5 years
"Over the years things change, especially when you have children. Be open to change – you just have to decide to grow together or you'll grow apart."
Lydia & Doug McLaughlin: Married 12 years
Advice for couples getting married: "It's all about love! Remember why you are getting married, even if things are messed up (like the wind!) it doesn't matter."
Jane & Andrew: Married 9 years, together for 22
"Always be there for each other. Stick through everything, thick and thin."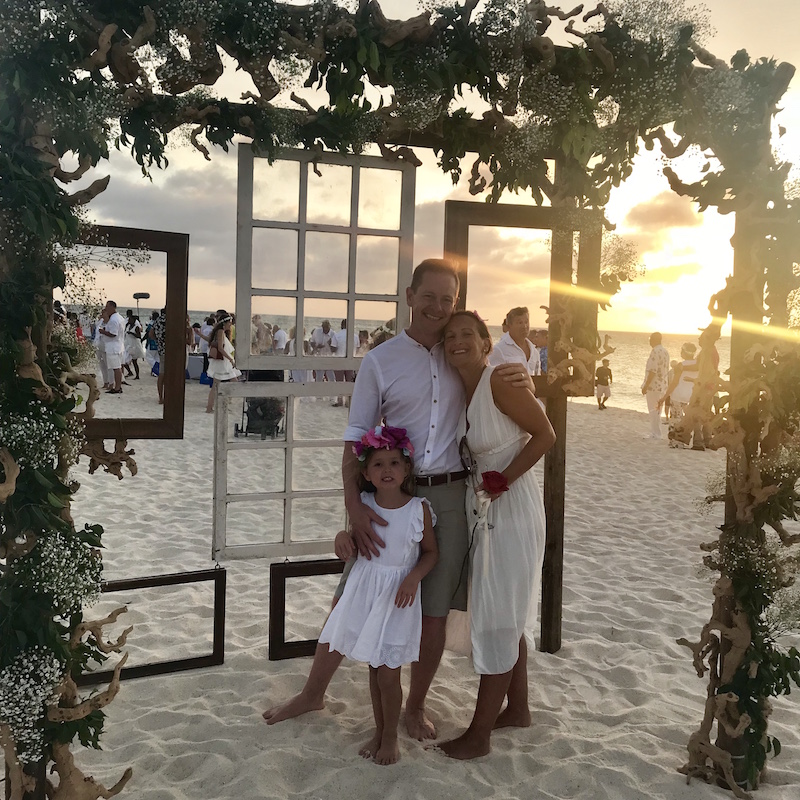 Indra & Jerry: Married 35 years
"The joy and happiness in marriage is proportionate to the effort that you put into it. There is always going to be differences of opinion, what matters is how you go about resolving these differences. As you get older, grow closer. Change is inevitable but change together. Always focus on the priority – each other's happiness. Love is giving and not expecting anything in return, and you'll have an abundance in return. Make your dreams come true, it's a wonderful life. Enjoy it!"
Brenda & Joe: Married 36 years
"Always have respect for each other and the vows you've taken. 'Til' death do us part' should be taken seriously."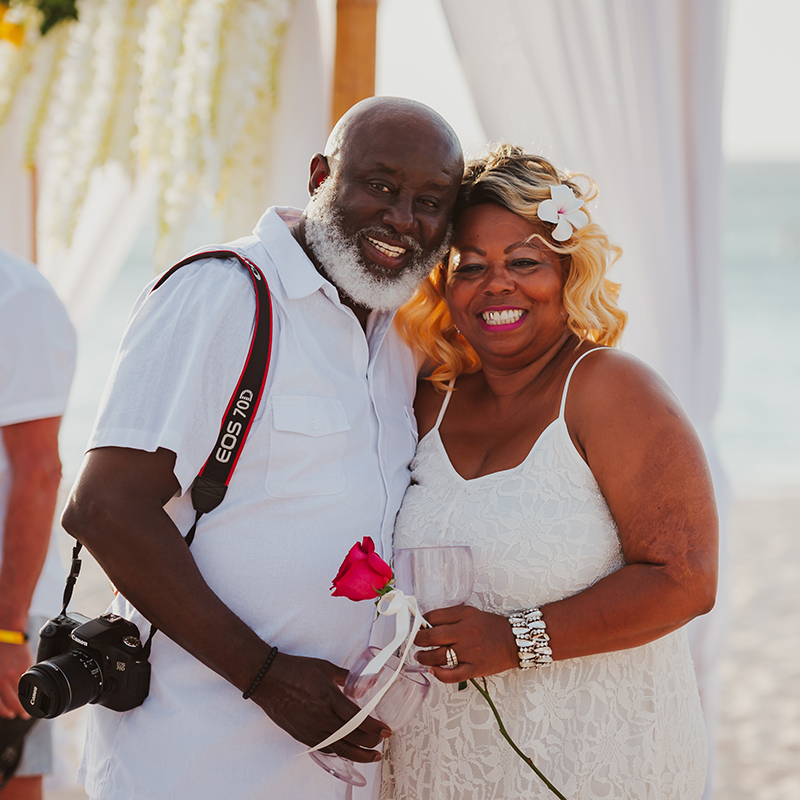 Virginia & Leo: Married 50 years
"When you are upset about something, don't let it fester, talk it out. Never go to bed angry. Also, don't forget to have fun!"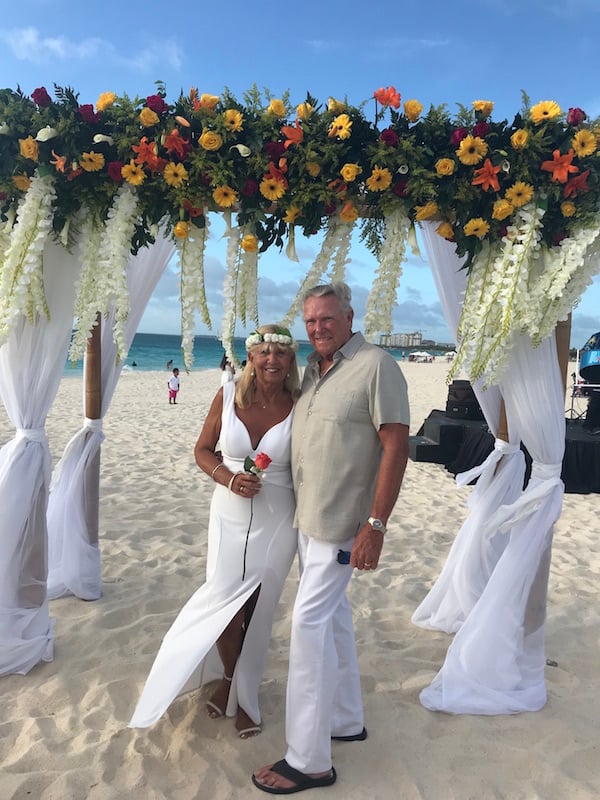 The vow renewal was a beautiful event. It was an amazing feeling to share our love and excitement with other happy couples. From the very beginning, the charming hostess, Michelle Brooks, got the crowd cheering and the officiant Andrew Osbourne's heartfelt words left everyone with giddy smiles and happy tears. As the sun set over the turquoise sea, Mr. Osbourne invited us to seal our love with a kiss, and you could literally feel the love in the air.
After a few more photos under the stunning arches, we were ready to party! The steel drum band played a mix of Caribbean music and a group of local carnival dancers dazzled us with their moves and bright costumes. Then, a more contemporary band started playing modern jams with an island spin. The champagne flowed and lite bites were served. We danced under the stars, laughing about what an incredible whirlwind week we had, and how we should do this every year. Before boarding the bus we grabbed our certificates and the traditional wedding party favor, "bolo preto" (black cake). Bolo preto is known to never go bad, what a perfect symbol of everlasting love!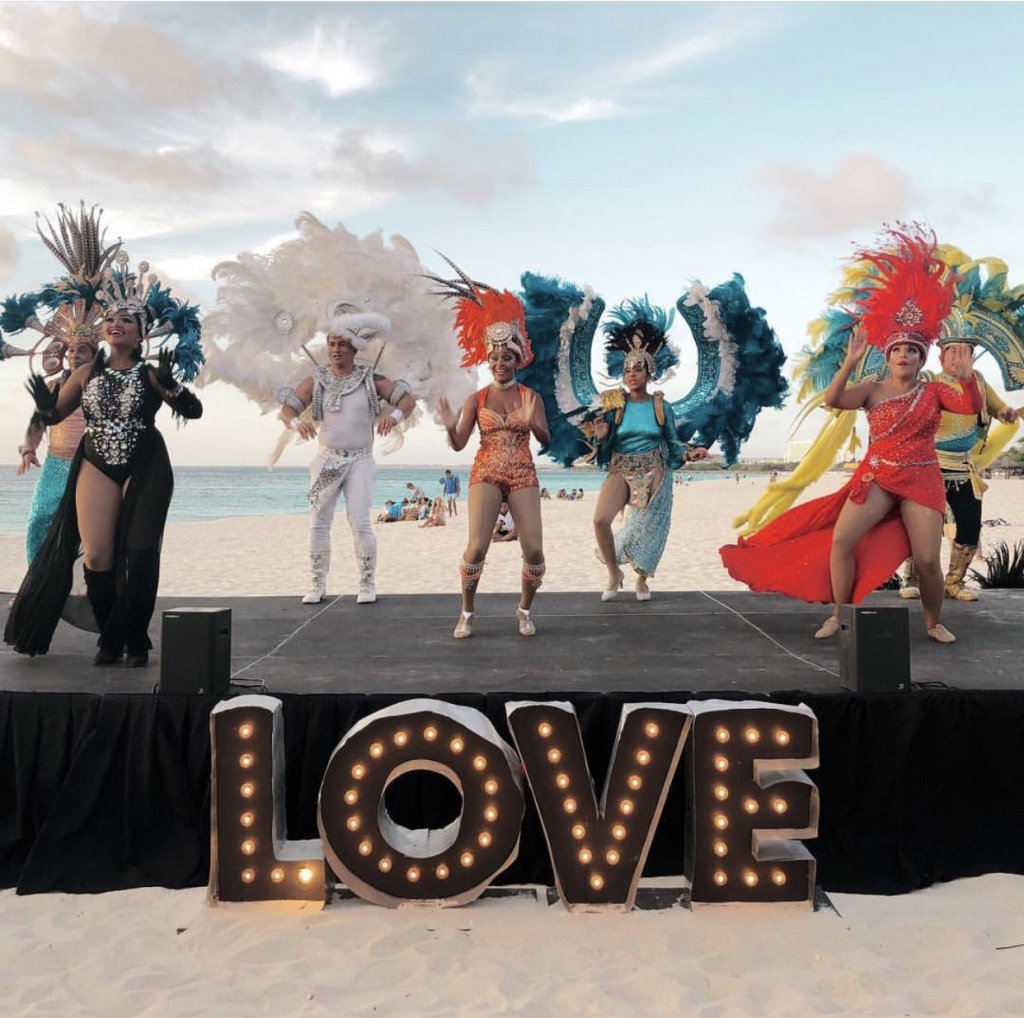 Whether you are planning a destination wedding, honeymoon, or are ready to renew your vows, Aruba should definitely be at the top of your list! Head to aruba.com to start booking!