When we think of weddings, we tend to veer on the side of positive relationships — family, friends, and loved ones all coming together to support a couple's love story. What we don't like to admit is that having so many people with varied personalities and histories means that weddings can become a breeding ground for drama.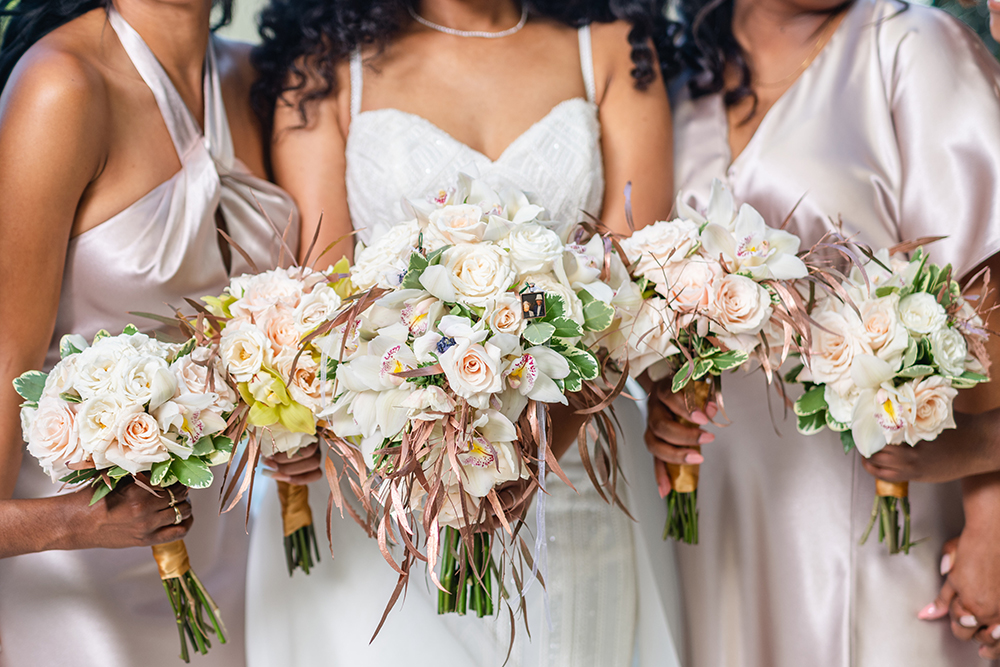 Photo: Pharris Photo 
The unfortunate truth is that most couples will experience drama at some point during their wedding planning, festivities, and aftermath. However, careful planning and crisis management can keep any situation at bay, resulting in a fun and enjoyable wedding for as many people as possible. We asked some industry experts for their top advice regarding drama in the wedding party.
"When conflict arises within the wedding party, remember the character and track record of the individual creating conflict. Hopefully, the couple only selected their wedding party to include the most supportive, long-lasting friendships in their life that champion the relationship and choices of the couple. Most likely, wedding party members are old college roommates, childhood friends, or siblings. These people have seen a member of the couple at their worst moments, and the couple extending compassion and grace while maintaining boundaries is valuable amidst conflict." —Sarah Jobe, Twickenham House & Hall
"Stay out of disagreements unless you are directly involved. Try not to choose sides when two of your friends disagree. They are adults and should be expected to handle disagreements respectfully and come to a conclusion without dragging you into the drama. Set clear boundaries if one or more of your friends try to pull you in and take a side. If some of the members of the wedding party bring drama, continue to focus on the celebration and minimize the distraction. Remember, each person is responsible for their own actions and emotions. Just because they are your friend or close family does not mean you are responsible for their happiness. As long as you are being fair and considering their needs to ensure everyone is comfortable, you can allow anyone bringing drama to work it out themselves." —Mary Angelini, Key Moment Films
"Leverage your person of honor! Barring circumstances where your person of honor is in the midst of the drama, couples can opt to delegate the problem-solving to their person of honor. Weddings are incredibly stressful in their own right, so being able to lean on those meant to support when challenging moments creep through the process can be invaluable to couples. Further, by delegating the conflict resolution to someone else, the couple stands a better chance at maintaining their close relationships with their party members throughout the process and beyond the wedding day as well." —Melissa Diaz, Dhalia Events LLC
"The sooner you have a group conversation, the better. Grab your partner and trusted people alongside you to have a conversation about what is really going on. There is usually something either under the surface or, in some cases, much deeper going on. Attempt to get to the root of the issue so that everyone can have the opportunity to resolve their feelings or disagreements before your wedding day. If it happens on the wedding day, consider a full separation of those involved and ask them nicely to stay away from each other. There is no need for you to be dropping everything on your day to keep others from fighting! Additionally, if you have a point person on the wedding day to help with the situation, call them." —Jen Sulak, Weirdo Weddings
"Your wedding party is not a stand-in for a wedding planner. Many couples want to save money, but giving each of your attendants coordination tasks on the day of is not the way to approach your big day. Think about it — no one wants to let their close friend down, and chances are high that attendants will take on your requests even if they don't feel comfortable because they want to make sure you're happy. Instead of imposing on your friends, hire a professional to remain accountable throughout the event. Keep business and pleasure separate. A friend is a friend, not your planner." —Kimberly Sisti, SISTI & CO.
"As soon as the drama starts, nip it in the bud! Make sure that you talk about problems that surface with your wedding party openly, honestly, and with respect for everyone's feelings. Make it clear that you want to resolve the drama before it becomes a huge misunderstanding. Remain positive, don't point fingers or talk behind others' backs, and deal with conflicts calmly. Remember, these are special people in your life, which is why you choose them." —Joan Wyndrum O'Hear, Blooms by the Box
"Communication is the lifeblood of your engagement journey. Get ahead of potential issues by provoking meaningful dialogue with your bridal party early on — think pre-emptive care for problem prevention! If any hiccups or sensations arise, don't ignore them; take a minute and chat it through to keep drama at bay throughout the planning process." —Jacqueline Vizcaino, Tinted Events Design and Planning
"When talking with your wedding party to be a part of your festivities, be clear with them about expectations. Sometimes all the travel, attire, and events are way too much! However, there is so much guilt involved that friends and family feel obligated and then put themselves in a bad place financially, leading to unnecessary drama." —Nora Sheils, Rock Paper Coin, Bridal Bliss
"Drama should be addressed. You cannot sweep it under the rug or act like it's not there. Focus on reconciliation. It's important to recognize whatever the drama is. However, you don't have to dwell on it. When you acknowledge the drama, there can't be any fake positivity, even if you feel like it's not valid for this person to be upset. Acknowledging the drama doesn't mean you have to take a side. It also doesn't mean you have to act like it's not happening." —Alicia Igess Jones, Alicia Igess Jones
"Couples may choose to forgo a bridal party completely in order to avoid just this. If you know that the people you would pick would not get along, or cause problems or drama along the way, skip the bridal party altogether. Wedding planning is stress full enough without the added burden of a drama-causing bridal party." —Lilia Shatnaya, Plume and Stone Invitation Studio
Though it may not be fun, it's important to consider what could go wrong during your wedding and prepare accordingly. If the drama has already begun, it's important to communicate early and effectively to make sure your wedding is a safe and positive experience for all involved.