Where will you get married? If you're one of the many couples planning a wedding far from where you live, this is information you'll need.
By: Lisa Marie Rovito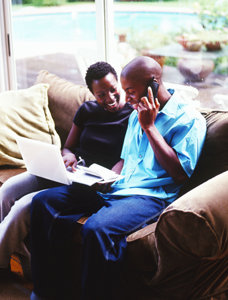 First long-distance wedding tip: Chill. Panicking about details when you're not physically there to oversee them will not get you anywhere. The good news is that many brides who have planned weddings from afar say it can actually reduce stress. How? You're compelled to make decisions quickly, no dwelling or second-guessing. Ready to start? Here's the plan:
Make a "here or there" list.
Write out what can be done from where you are and what will need to be arranged where you plan to wed. Do as much as you can where you live - choose your dress, accessories, bridesmaid dresses, invitations, favors, etc. Things that must be booked there (florist, caterer, makeup and hair stylists, etc.) will need to be done on weekend trips or through great communication. Send or e-mail pictures of your ideal bouquet, hairstyles, etc., to your vendors as you come across them.
Know what you want.
Zeroing in on a specific style, ambience or color scheme you prefer will smooth the process and aid efficiency. At the same time, you'll need to be flexible and work with what's available at that location. As a side note, many photographers travel and some cake designers ship—though the costs can be prohibitive.
Keep it simple.
Minimalism will make things easier for both you and your vendors. This doesn't mean you have to use paper plates and plastic utensils. But it does mean sticking to, say, the white linens your site offers, because you can't be there to nitpick over color swatches.
Online saves time.
No Regrets:
Long-Distance Planning Tips
Marianne Weiman-Nelson of Special Occasions in Los Angeles offers her top tips for planning from afar.
• Law and order. Different states and countries have different laws and restrictions regarding marriage. Familiarize yourself with those of your destination.
• Save the date. If you're traveling for your wedding, chances are some of your guests are, too. A save-the-date package, with a map and details on flights, hotels and restaurants, can be sent out months before the actual invitations.
• Make mock-ups. Forward photos or pictures of things you like to vendors. You can even have a local florist do a centerpiece to your specifications, then send a picture of it to your actual florist. Have her send a picture back of her own creation based on it.
More and more, vendors of all sorts are maintaining their own web sites with photos, options and even price lists. For those without web sites, call and request brochures and detailed information. Bands usually offer sample cassettes or videos. Once you're in the contract stage, faxes will be a lifesaver.
Point of contact.
Having at least one ready-and-willing point person in the locale in which you're hosting the wedding is obviously going to ease stress. Chances are your mom would love to screen floral designers, and your dad wouldn't mind booking the limos. (If your point person has a digital camera, he or she can e-mail you top picks.) If you've got a gaggle of friends back home, delegate! But if you're marrying in the Caribbean, for example, and you don't know a soul, seek out a consultant to walk you through the planning step by step and do the major legwork. Many resorts have pros on-site.
Schedule appointments.
If you're able to make a trip or two to the location, book appointments in close proximity. You'll want to meet all vendors in person. To save time, meet only with the absolute finalists, and call their references beforehand.
Make quick, but not rash, decisions.
Time is of the essence, and you'll need to act quickly—and with confidence. Choose vendors you've been referred to, met with and like, then trust your decision and their professionalism. Once you've committed, don't assume you can just show up on the big day. Follow up with your vendors often to prevent any unpleasant surprises.
Let it go.
Even before all the details are in place, you'll need to come to grips with the fact that there's no room for perfectionism in long-distance planning. No wedding is ever perfect—even one you host in your own backyard! Treat your inner control freak to a trip to the spa or a nice lunch with friends once in a while. Basically, do whatever you need to do to stay calm. Before you travel to your locale, think: Hey, I've done my best. And now that we're here, let's enjoy it.