David Tutera, star of WEtv's "My Fair Wedding," muses on wedding planning yesterday….and today.
By: David Tutera
What do Rita Wilson, Michael J. Fox, Ellen Barkin and Kevin Bacon have in common? They all had weddings 25 years ago! Not only have some of their marriages gone through changes, so have nuptials overall. Weddings used to be very safe and for the most part, traditional — AKA boring! Gone are the days of super-traditional weddings with no personality or elements of surprise. Today's couples are thinking outside the box, as they should. Breaking the rules doesn't mean there still isn't a formula to follow, but rather more opportunities to add your own personal style.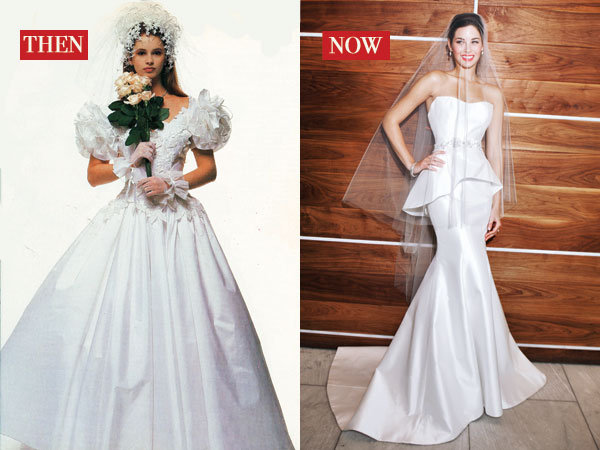 Photo Credits: Anthony North (left); Jennifer Robbins (right)
They say there are only two things that are for sure in life: taxes and death. Well, I'm going to add a third—and that's budgets. I've never been very good with that word, but it isn't going to go away and we are all faced with it, especially when it comes to weddings. Twenty-five years ago, the average wedding was between $5,000 and $10,000. Today, it's closer to $30,000. It used to be a given that the bride's parents would pay for the wedding, but now many groom's parents or even the couples themselves pay for or split the costs. The one thing that hasn't changed is that whoever is paying usually has the most opinions as well!
One of the biggest changes in weddings, thankfully, is in the dress itself. Wedding gowns come in thousands of styles, fabrics and colors. Did you know there are about 200 shades of white? Plus, today's bride is just as likely to walk down the aisle in a pale pink gown (or grey, purple or red, for that matter). And while 25 years ago, a bride might change into a "going away" dress or suit, today's brides are changing into party dresses—just to be able to be comfortable and make a bigger statement. Bridesmaids' dresses are more fun and fashionable, too, and many brides are choosing dresses for their attendants that can actually be worn again—it's not a myth anymore!
Wedding and event design, which is where I got my start, is forever changing. The '80s were flashy and shiny, the '90s were over the top with florals everywhere, and now, it's as far as the imagination can take you. I pride myself in creating one-of-a-kind weddings and always pushing myself creatively as an artist and designer. On "My Fair Wedding," as well as with my private clients, I'm constantly surprised by my brides' outrageous ideas and requests, and love to put my own spin and style into them to make their dreams come true. It's a constant reminder that I love what I do.
Technology has also evolved by leaps and bounds. Photographers no longer have to develop film and "hope" to see amazing photos in the end. Results can be seen immediately; later, photos can be finessed and manipulated into masterful works of art (thank you, Photoshop!). You know how the saying goes, "You're only as good as the tools you have." Well, bravo for the digital age!
Wedding registries are also an entirely new beast of their own. It's no longer just about getting your wedding china and silver—couples are now registering for everything from items at Lowe's and Home Depot to charities and honeymoons to everything in between. If you can buy it, you can register for it!
The most important change I've been able to experience and see throughout my own 25 years of experience is how unique and personal these celebrations have become. And this is as it should be. Hopefully it's the one—and only one—day that will remain every couple's dream. I remember my own wedding like it was yesterday (now almost 10 years ago) and there's not one thing that I would change. It only makes me impatient for the next big thing—a huge anniversary celebration!
► Plus, take a look back at weddings through the ages, from the early 1900s through today.