David Tutera sits down with BG.com to dish on his wedding trend predictions for the upcoming season.
It's all about expecting the unexpected! More and more brides are looking for modern spins on tried-and-true traditions. They're realizing that sometimes it's more fun to blend sophisticated styles with daring details—and I couldn't agree more! I've rounded up a few of my favorite ideas for fall/winter—let them inspire you to come up with exciting new ways to pleasantly surprise your guests. 
Bold Invitations
Ivory or cream-colored invites are taking a back seat to richly hued card stocks that express the couple's vibrant personality and originality. Think bronze, copper, and golden hues; earthy blends of burgundy, sienna, and chocolate brown; and deep shades of purple. Black and white silhouettes are also gaining popularity.
Wardrobe Changes
Brides who want the best of both worlds will continue to wear not one, but two wedding gowns—an elaborate ball gown or form-fitting sheath for the ceremony and a shorter, sassier party dress to dance in at the reception. The latest trend, however, is to nix the party dress in lieu of a second glamorous gown. That's two stunningly elegant and interchangeable ensembles—or three if you're Kim Kardashian!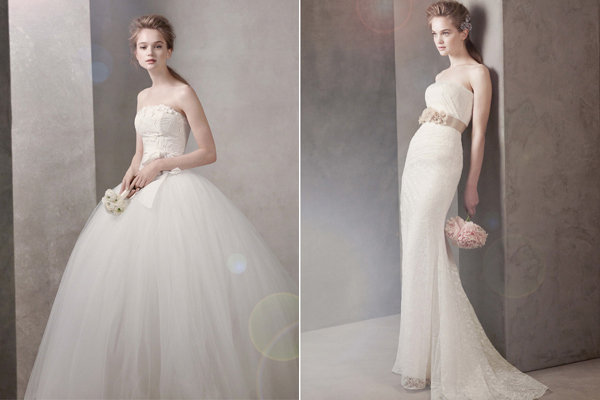 Shocking-Blue Shoes
For brides whose "something blue" refers to what they'll wear on their feet. The hue of choice will not be a subtle powder blue or periwinkle but, rather, footwear in a more unexpected shade of teal, turquoise, or indigo.
Photo Credit: Hoffer Photography
Embellished Bouquets
Bridal bouquets will get an upgrade with the addition of crystals, vintage brooches, and other pieces of jewelry that transform personal flowers into gorgeous accessories. In addition, traditional blooms—such as roses, calla lilies, and hydrangeas—will be replaced by dramatic arrangements of wildflowers and fragrant herbs.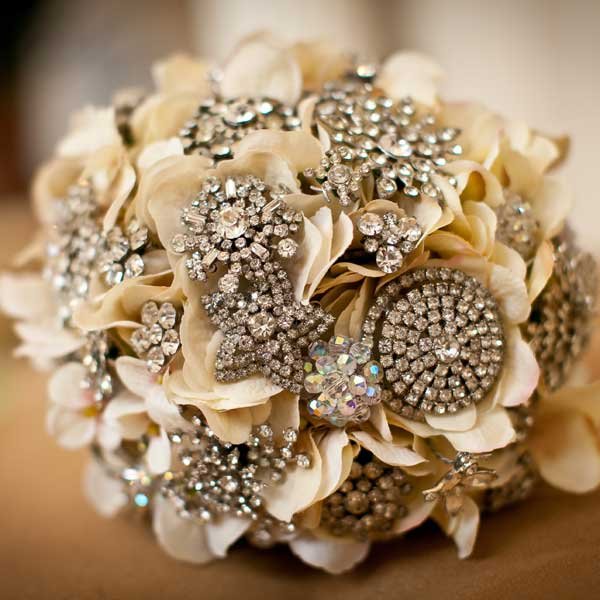 Photo Credit: Timecut Studios
Memorable Music
The bride and groom will think beyond the standard love songs for the recessional music and their first dance. Song choices will be quirky, playful, and upbeat—alternative or indie selections that guests will be sure to remember long after the last dance of the night.
Photo Credit: Leah McCormick
The Color Red
My forecast for bridal fashion and overall color scheme revolves around radiant red. Whether on the bride (accenting on her gown), on the bridesmaids, or on the tables (as in red napkins, candles, and centerpieces), this bold hue is guaranteed to be hot, hot, hot.

Photo Credit: Meg Hamilton of Rodeo & Co.
Cultural Cuisine
Couples will continue to incorporate their family traditions, ethnicities, and cultures in their wedding—as they should!—but these elements will be more apparent than ever in the food selections. Especially for couples who come from different backgrounds, caterers will work with you to design a menu that is a fusion of two or more cultures. Asian and Spanish? Sure! Italian and Moroccan with a bit of Greek influence? Why not? Take your guests on a culinary journey that simultaneously tells your wedding story!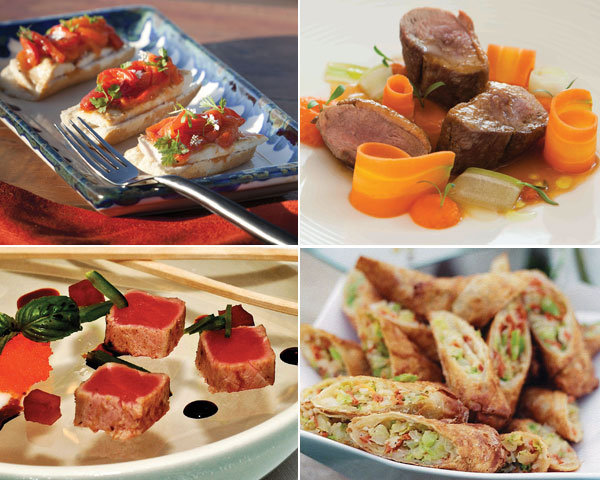 Photo Credit: Clockwise from top left: Courtesy of Rosenwood Hotels & Resorts, Courtesy of The St. Regis Mexico City, Elizabeth Messina, Courtesy of Occidental Hotels & Resorts