David Tutera shares a peek of the planning details for a lavish, romantic affair.
By: Kristen Finello
"I wanted to create a wildly romantic look, so I chose a color palette of cream and varying shades of pink with silver and gold accents," says David Tutera. "Pink is always associated with romance, and the neutral tones lend a sense of sophistication and luxury. Sparkly elements, such as the beaded overlays on the tables and the crystal candelabras and centerpiece bowls, made the room shimmer and feel like a fantasy. The overall result was both romantic and opulent."
Dreamy Decor
"To create a luxurious feel, I chose floor-length cream linens for the reception tables and topped them with formal beaded overlays. We seated guests at a mix of round and extra-long rectangular tables. On the round tables, the centerpieces were stunning, extra-tall crystal candelabras bursting with roses, calla lilies, sweet peas, flowering branches, gardenias, viburnum and hydrangeas. Votive and pillar candles arranged around the base of the candelabras illuminated the tabletops and emphasized the wonderful texture of the floral arrangements. On the long tables, a series of crystal bowls, filled with pink and white roses, viburnum and gardenias, stretched down the center. Tall, tapered candlesticks and white votives and pillar candles added a glow.
Grand urns with matching pedestals were placed around the room to create a cozy feel in the large space. Like some of the centerpieces, the urns showcased lavish arrangements of roses, calla lilies, flowering branches, sweet peas, tulips, orchids, gardenias, viburnum, and hydrangeas. The flowers were wonderfully fragrant, filling the room with a fresh aroma and giving it a dreamy feel. For a final touch, we arranged the guest tables to form a series of x's and o's throughout the ballroom—a subtle hint of 'hugs and kisses.' It was a secret message between the bride and groom, expressing their love story."
A Memorable Menu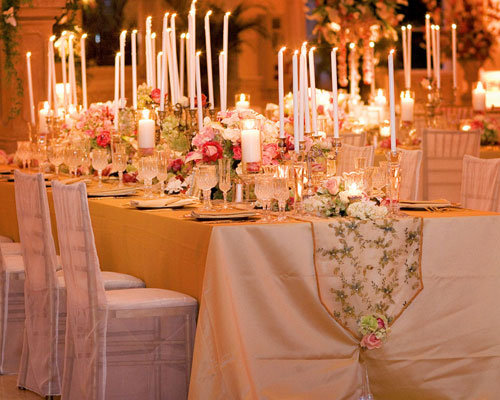 "We wanted the food to be as decadent as the decor. To achieve that we offered passed hors d' oeuvres including green tea, smoked salmon, lobster medallions, caviar blini and truffle ravioli in champagne sauce. We also featured dishes such as chilled fresh vegetable gazpacho, ahi tuna with wasabi and mango, seared scallops with asparagus and roasted lamb with risotto. The overall menu was elegant yet light—the perfect complement to a romantic fantasy reception. When it came to drinks, no expense was spared and guests were treated to the finest champagne."
A Captivating Cake
"The cake was a stunning, three-tier fondant confection adorned with dark chocolate swirls, sugar flowers and delicate butterflies that were handmade from baker's sugar. For an ultraromantic presentation, I dressed the cake table with a sheer overlay accented with hand-sewn silk-flower petals. Then I tucked fresh hydrangeas under the cake so it seemed to be floating atop a bed of flowers."
That Special Twist
"As the guests left the reception, they were treated to a special favor: classic New York City pretzels from the bride and groom's hometown. It was an adorable, personal touch—and a big hit with guests!"
Photography Courtesy of Maring Lifestyle Photography