David Tutera, star of WEtv's "My Fair Wedding," tells you how to treat and care for these precious members of the wedding party
By: David Tutera
When you select your bridesmaids—whether one or a dozen—you are choosing people you truly care about, who share a deep connection with you. And just as your bridesmaids have specific wedding responsibilities, you my dear bride, have a responsibility to your girls.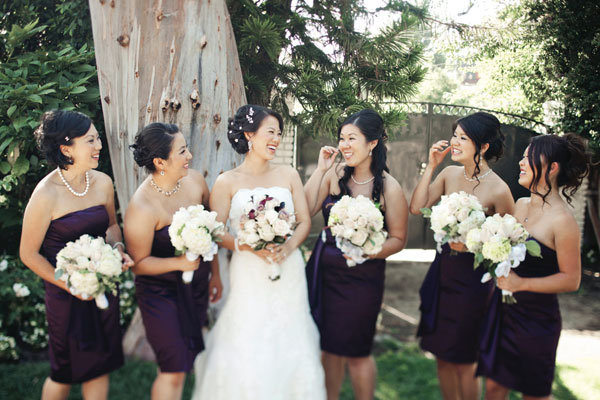 Choose Wisely
Now is not the time to make any bridal-party decisions you may regret. If you are choosing between someone you knew in college and a new sibling-in-law, remember that a part of your new life as a spouse-to-be is to put family first—including his. Your friends may not be there forever, but your sister-in-law will be. So if you are pressured to choose a family member (even if you would rather not), bend. You will thank me later when she's not giving you the look over the Thanksgiving dinner table, still upset that you did not give her the honor of wearing the lavender dress or ask her to fluff your train. That your first priority is your new family is something everyone will totally understand. 
Be Upfront
Once you've decided on your bridal party, ask each potential 'maid individually. Ask with kindness and respect. This will set the tone for the wedding planning to come, and serve as a preview to how the experience will play out for all of you. Clearly lay out the groundwork as you see it. A bridesmaid can't just show up one day and be in the wedding! Have all your information in place, so there will be no uncomfortable moments as the months unfold. Are you, my bride, paying for the bridemaids' attire? If not, what will your bridesmaids be expected to lay out for the fabulous dresses you have your eye on? What about hair and makeup services on the big day? If you're thinking about a bridal shower and/or bachelorette party, who in the party will be taking the lead in handling all the details and logistics—and what are the financial expectations? 
Be Nice
My grandmother always said, "Treat others the way you would like to be treated,"—and that is precisely what you, dear bride, should be doing for your bridesmaids. Get off to a good start with a fun and festive dinner or spa get-together. Bridesmaids' gifts are always appreciated, especially when they are unique to each girl. Include your 'maids in planning details, but let them breathe. Okay, so maybe the tasting you just had wasn't quite up to snuff, or the flowers you had your heart set on are out of season. Go ahead and vent to your bridesmaids for a moment, then move on. They are members of your bridal party, and while they are a support system, they are not your indentured servants! 
Universal Truths
It should go without saying that you should look for bridesmaids' dresses that flatter all body types, as opposed to looks more at home on a runway. Take individual style into account, rather than insisting on a cookie-cutter approach to hair and makeup come wedding day. Finally, always remember that your girls are giving up a significant amount of time to be in your bridal party. So make it count in the best way possible. 
David's rule of thumb: Don't overburden your 'maids with too many tasks. You've chosen them because they are special to you, so treat them with love.
Photo credit: Sarah Kathleen Photography