How to handle sticky situations with grace, including what to do when you can't afford to buy the dress that the bride wants, you're the only bridesmaid who isn't close with the rest of the girls, and more.
By: Sharon Naylor
Dilemma: You're being asked for your opinion way too often, and you don't know how to handle the endless barrage of text and email chains.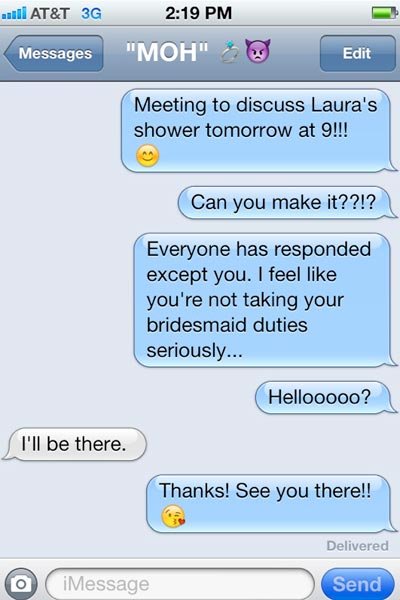 Problem Solved:
Before you get upset, consider that the maid of honor is probably just trying to include everyone. Maybe she was previously a bridesmaid who had a steamroller MOH to answer to, and she vowed never to be that way. Remind yourself that you're lucky to get asked for your opinion when so many other bridesmaids are just told what to do.
If her messages are coming in way too frequently, or she expects an answer during inopportune times (e.g. while you're at work), then you'll have to diplomatically suggest a change in her behavior.
What to say: "You're working really hard on the wedding and doing a great job of including us all. But with so many emails coming in, I don't want to risk missing any important ones. Would it be possible to plan an in-person meeting with the rest of the girls to go over everything? Or, can we do one planning email per week, with all of the details laid out? That will be easier for us to track, and you won't have to field as many response messages, either." That's far nicer than saying, "Hey, I'm too busy for your messages every hour, so rein it in, okay?"
Hopefully, she'll agree that it would be far easier to do a once-a-week email and once-a-month meeting plan, and your problem will be solved! If not, she might just be a hyper-planner who operates this way in everything she does, and you'll just have to accept it for the limited time that you have to deal with her.
Pages