How to handle sticky situations with grace, including what to do when you can't afford to buy the dress that the bride wants, you're the only bridesmaid who isn't close with the rest of the girls, and more.
By: Sharon Naylor
Dilemma: You're asked to help pay for the bridal shower or bachelorette party, and the requested amount for your contribution is much higher than what you expected.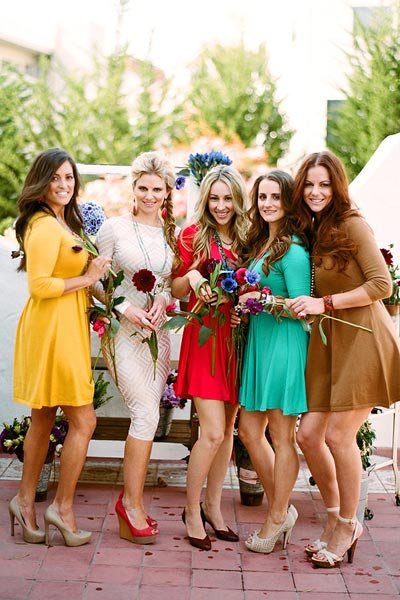 Photo Credit: Lane Dittoe from Bridal Musings via Lover.ly
Problem Solved: 
Don't complain to the other bridesmaids about the exorbitant party cost—it's bound to get back to the maid of honor and/or bride eventually. Contact the MOH only, without copying the other bridesmaids on your message.
What to say: "(Insert bride's name here) deserves an amazing shower, but I can't afford to contribute (insert $X amount here) for (insert restaurant name here). Can I help you find another great venue that's less expensive? Or, can we possibly plan a brunch instead of dinner, to help cut down on costs?"
Don't go into detail about all of your financial crutches, especially any upcoming vacations, because no one will sympathize with you when you have a big Aruba trip coming up. Just stick to the goal at hand.
Another solution: Offer to do the labor-intensive tasks—writing out invitations, making favors, baking desserts, etc—in exchange for knocking some money off your share. The bridesmaids may see it as a worthwhile deal, so they don't have to spend their weekends slaving over party plans and DIY projects. This makes you a valuable member of their team, rather than a complainer who doesn't want to pitch in. 
Pages