Get expert advice, tips, and trends to survive your bridal party duties and come out smiling.
By: Sharon Naylor


A is for ALTERATIONS: Pippa's bum wouldn't be worldwide news if she hadn't had her dress altered to perfectly suit her shape! Make sure you hire a top-notch alterations expert to work their magic on your dress' fit.
Photo courtesy of Monique Lhuillier

B is for BRUNCH: It's the new, hot bridal shower style, with guests meeting up at 11 am for a flute of complimentary champs and a decadent brunch spread, including a fabulous dessert bar. Plus, the early start-time lets guests have most of their Sunday to themselves.
Photo courtesy of Feastivities Events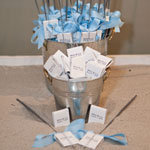 C is for CRAFTS: This DIY trend is getting even more fabulous and beginner-friendly with imported and eco-friendly papers, antique beads, embossing and easy-to-use kits.
Photo courtesy of Nikki Cole Photography
D is for DESSERT BARS: Send guests home from the shower with their choice of candies, truffles, macaroons (especially popular right now), fudge squares, flavored Rice Krispie Treats, alcohol-infused cupcakes and more sweet bites.
Photo courtesy of Bella Cupcake Couture
E is for EYEBROW SHAPING: Waxing or shaping at a pro salon is quite inexpensive and a must-do to look your bridal best. Expert-shaped brows make your eyes look wider and brighter, and give you celebrity style. But always go pro – DIY brow-work can leave you with mismatched commas and a confused expression that can take months to grow out.

Photo courtesy of Swarovski
Pages