Wedding planner extraordinaire Shawn Rabideau shows you how to throw an event fit for a star.
By: Sharon Naylor
You might know Shawn Rabideau, the mastermind behind Shawn Rabideau Events & Design, as the inspiring wedding planner from Bethenny Getting Married? and Bethenny Ever After. Bethenny picked him for a reason – he's got brilliant ideas! Which is why I asked him to share his VIP-style advice with you, the bridesmaid who doesn't want to throw just any old bridal shower. Check out his best tips for hosting a trendy outdoor soirée to make your bride-to-be feel like a star.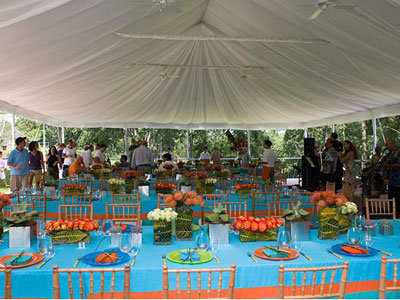 Sharon Naylor: Thanks so much for sharing your event-planning style with our BG bridesmaids, Shawn. Outdoor bridal showers are really picking up steam lately! Besides being trendy, they're a great way to satisfy a bride who wanted to have an outdoor wedding, but couldn't for whatever reason. Shawn, are more brides requesting an outdoor fête when giving their wish lists to the maid of honor and bridesmaids?
Shawn Rabideau: I would say that in New York City, most brides would love to have an outdoor affair, but outdoor spaces are limited. Therefore, they usually just choose a place with a view.
SN: Rooftop venues have amazing views and lend a city-chic feel to any party. I'm sure that they are in high demand in cities, as well as in areas overlooking parks or gardens.
SR:  In other communities, where brides and bridal parties may have the option of hosting an outdoor affair, they certainly do try to host their bridal showers outside. But, most tend be cautious and prefer a venue that gives them the comfort of throwing the reception indoors, while maybe cocktails are served outside. This gives them the best of both worlds and, most importantly, a "rain plan."
SN: Everyone worries so much about the weather when it comes to planning an outdoor party, and that's why a smart Plan B is essential. To switch gears, what are some of the pros of hosting a bridal shower outdoors?
 SR: As a planner, I always make weather a top priority on my list, no matter what kind of outdoor affair I am planning. One should always have a backup plan for the "what if" moment. However, don't dwell on the fact that the weather could be bad. Focus on the good and the fun…throwing an outdoor bridal shower has its rewards, especially if done in the spring months. The flowers are in bloom, the sun shines brightly and it takes you out of a standard restaurant or party hall and allows you to experience something different.
SN: Which kinds of locations are perfect for an outdoor bridal shower?
SR: There are so many great options for outdoor bridal showers. Restaurants with outdoor patios, country clubs, botanical gardens, parks, etc. It certainly depends where you live. I know families that live outside the city but make a special trip to have their bridal shower on a rooftop here in Manhattan. You get amazing views and you get to be outside! I say be creative and research what outdoor resources there are in your community.
SN: Which types of locations sound like a great idea but might present annoying challenges? For example, beaches are breezy and sand can fall in your food, plus parks might not provide enough privacy. What types of locales should our bridesmaids avoid?
Pages