Find out what your favorite bridesmaid guru is up to next!
Sharon Naylor is the best-selling author of over 35 wedding books, the iVillage Wedding expert and blogger, host of "Here Come the Moms" on Wedding Podcast Network, the Bridal Guide budget expert with a new e-mail-a-day feature, contributing editor to Southern Bride, contributor to the top bridal magazines, a frequent guest on Martha Stewart Weddings Sirius Satellite Radio program, a featured guest expert on such shows as Good Morning America, ABC News, Get Married, I Do! with The Knot, Lifetime and many more.
Publisher's Weekly recently named three of her newest wedding books as among the best wedding titles of the year, and her books on bridal showers, etiquette, budget planning, personalizing your wedding, bridesmaid advice, and tips for the moms have all sat at the #1 spot on Amazon.com's best-sellers in wedding books and Kindle downloads.
In recent news, she is the Wedding Advice Guru for Weddzilla.com, joining bridal industry luminaries such as Ron Ben-Israel, Bridal Guide's Diane Forden, Buff Fitness expert Sue Fleming, US Weekly style expert Steve Kemble and award-winning invitations expert Lisa 'Ceci' Johnson. She is also working with Bed Bath & Beyond as a special contributor to their bridal registry section's articles collection. She currently serves as a honeymoon and destination wedding spokesperson for Caneel Bay resort, named by Travel & Leisure as one of the best resorts and best beaches in the world. And her comedic, wedding-themed novel It's My Wedding Too is currently under consideration for big-screen adaptation.
Sharon's bridal and travel articles have been syndicated by Creators Syndicate, appearing in thousands of media outlets across the country and the world, and her video segments are in-demand by Fortune 500 companies and wedding industry entrepreneurs. She is a favorite celebrity guest blogger at Gorgeously Green, Wishpot, iVillage Weddings and many other industry sites.
She has been featured in InStyle Weddings, Modern Bride, Brides, Bridal Guide, Glamour, Marie Claire, Self, Shape, Redbook, The Wall Street Journal and many other top publications.
The latest from Sharon Naylor: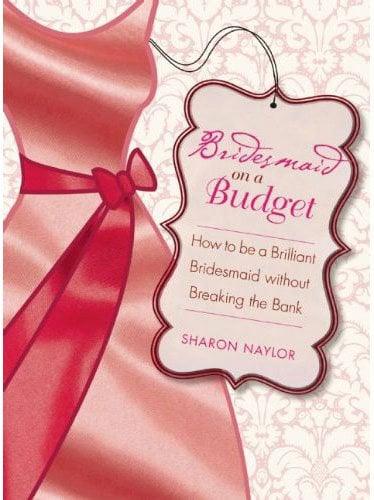 Bridesmaid on a Budget
How to Be a Brilliant Bridesmaid without Breaking the Bank
In Bridesmaid on a Budget, Sharon offers women advice on how to beat the system. Inside are tips on where to find the best, most affordable dresses and accessories; planning fantastic (but low-cost) showers and bachelorette parties; giving a great wedding gift without emptying your pocketbook; minimizing the extra expenses of a destination wedding; and more. For the almost 10 million women per year who become one, Bridesmaid on a Budget is an indispensable guide to being a brilliant bridesmaid—without breaking the bank. Learn more >>
Become a fan of Sharon Naylor on Facebook and follow her on Twitter! And remember to visit sharonnaylor.net for more wedding tips and advice.