We asked some veteran bridesmaids how they really feel about weddings, the dress, the rest of the party, everything. Here's what they had to say.
By: Kelly James-Enger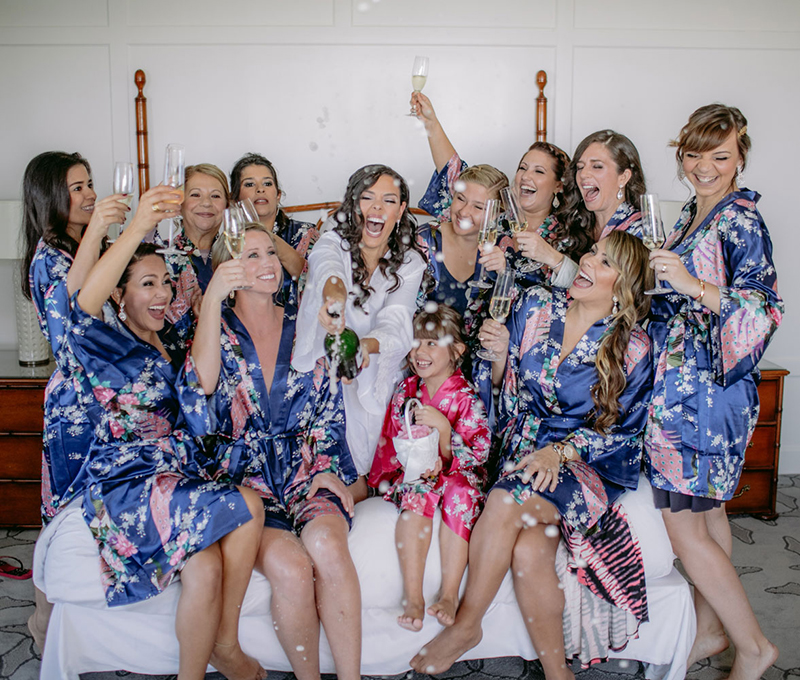 Photo Credit: Clane Gessel
She may be your sister. Your college roommate. Your best friend from childhood. Your favorite cousin. Whoever she is, you've asked her to stand by your side as you exchange wedding vows with the man you love. And you've also asked her to stand by your side in bridal-salon dressing rooms, and attend showers and parties, and address invitations, and dance with a virtual stranger. She has become your bridesmaid.
She's honored, flattered, excited — and worried about the time, the money, the dress… But since she's not likely to tell you these things, at least not directly, we asked her to dish the dirt with us. In interviews with veteran bridesmaids, we found out what they really think about being your honor attendants, and what you can do to make it better for everyone.
What They Love…
Nearly all bridesmaids are touched to be asked to stand up for you. "This may sound hokey, but I do consider it an honor to be a bridesmaid," says Kris Rattini, 27. "I may have shared in many moments in the bride's life, but it's flattering that she wants me to be there for the biggest moment of all. As a bridesmaid, you get a different perspective of the wedding — VIP perspective, if you will."
"You feel very much a part of their day," agrees Christine Schirmer, 25, who's been in 6 weddings in the past 10 years. "You feel like this is a very wonderful thing for these two people, and you feel blessed that they have asked you to be a part of it."
Some women point out the advantages to bridesmaid status. Cindy Guzman, who loves to boogie, says the dancing opportunities at weddings are endless. "And the best part, if you're single, is that everyone checks out the bridesmaids!" laughs Cindy, 35, who has been in three weddings. "Of course, it has its downside. At one wedding, one of the bride's vertically challenged co-workers decided that he especially enjoyed dancing with me—the bridesmaid dress I was wearing was very low cut and his face was exactly at chest level!"
Not every bridesmaid is thrilled to be a member of the party. Jessica Davidson*, 32, felt uncomfortable when her boss, whom she hardly knew, asked her to be in her wedding. "I guess she didn't have many friends to ask," says Jessica, "but she was my boss! The whole thing felt strange."
Jennifer Kauss, 31, holds the distinction of having been a bridesmaid and having stood up for a male pal as his "best man." "It was kind of the debate of the day," says Jennifer, "whether I was the best woman, best co-person or whatever!"
The Flip Side
The greatest drawback for many bridesmaids is the financial investment they inevitably make, particularly when the wedding is out of town. "That requires ordering a dress, buying a plane ticket, staying in a hotel and throwing a shower, so a lot of times it is a big expense," says Debi Pomerantz, 33, who's about to be in her tenth (!) wedding. "One of those times, I was just out of school. It was more of a financial burden than anything else. But I didn't feel like I could say, 'Hey, this isn't something that I want to do.'"
Brides may be so caught up in their plans that they don't realize the financial costs involved, says Leslie Parrott, family therapist and co-author, with her husband, Les Parrott, of Getting Ready for the Wedding. "When you're getting married, everything is about you. You may not always appreciate the price your friends are paying — literally — to be involved, or that they have their own responsibilities, too."
Those costs can add up quickly. "I was in a wedding in Houston, where they do things very elaborately," says Jessica. "The dress was $400, and then I had to have certain earrings and dyed-to-match shoes—and buy a wedding present, plane tickets and stay in a hotel. It cost at least $900."
To save their bridesmaids' budgets, some brides opt for less expensive dresses — or look for sales or closeouts so they can get them at a big discount. When she got married, Kris Rattini picked up the hotel-room bills as a gift for her bridesmaids. "I figured that they'd already spent enough money on dresses and shoes and stuff," says Kris. "They had to take time away from work and school to attend the rehearsal. To compensate for the time burden, I wanted to relieve the financial burden."
Pages