-AS SEEN IN BRIDAL GUIDE MAGAZINE-
Aquarius (Jan 20 - Feb 8)
Creative Aquarians are on the forefront of what's next. Their style antennae draws them towards a new classic or twist on traditional: Bespoke gold interlocking ring by Retrouvaí.
Pisces (Feb 19 - Mar 20)
The last sign of the zodiac is the calm, nurturing Pisces. Deeply intuitive, they're soulful creatives: Marquise diamond in recycled gold by Pamela Love.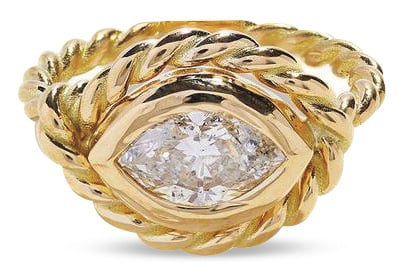 Aries (Mar 21 - Apr 19)
A bold, all-or-nothing Aries will love a ring that stands out: Three-stone diamond ring in platinum by Forevermark x Micaela.
Taurus (Apr 20 - May 20) 
Über-romantic and grounded, Taureans love pieces that are a mix of luxe and sentimental: Bezel-set emerald and diamonds in 18k gold by Andria Rogers.
Gemini (May 21 - June 20)
Geminis are expressive, playful, and thrive on their duality: Linked white- and yellow-gold bands with diamond in micro-pavé prongs by Spinelli Kilcollin.
Cancer (June 21 - July 22)
Known for their caring natures and sensitive hearts, Cancers are drawn to sensual, timeless rings: Pear-cut diamond with pavé halo by Kay Jewelers' Monique Lhuillier Bliss.
Leo (July 23 - Aug 22)
A lion ruled by the sun, Leos are bold leaders not afraid to live outside the box: Bespoke pink sapphire, diamond, and rose-gold ring by Jemma Wynne.
Virgo (Aug 23 - Sept 22)
Virgos have a sharp attention to detail and are the type-A planners that appreciate the practicality of the classics: Claw-set round diamond with cathedral-style shoulders and pavé diamond halo by Bahdos.
Libra (Sept 23 - Oct 22)
Balance keepers, Libras are known for being loyal partners that exude grace and serenity: Bicolor sapphire between two rose-cut diamonds by ManiaMania.
Scorpio (Oct 23 - Nov 21)
Passionate and mysterious, Scorpios are alluring, but won't open up until they've fallen for you: One-of-a-kind claw-set grey diamond in yellow-gold by Michelle Oh.
Sagittarius (Nov 22 - Dec 21)
The extroverted, optimistic Sagittarius is free-spirited and full of personality, opting for the unexpected: Bezel-set diamond with blue enamel halo by Alison Lou.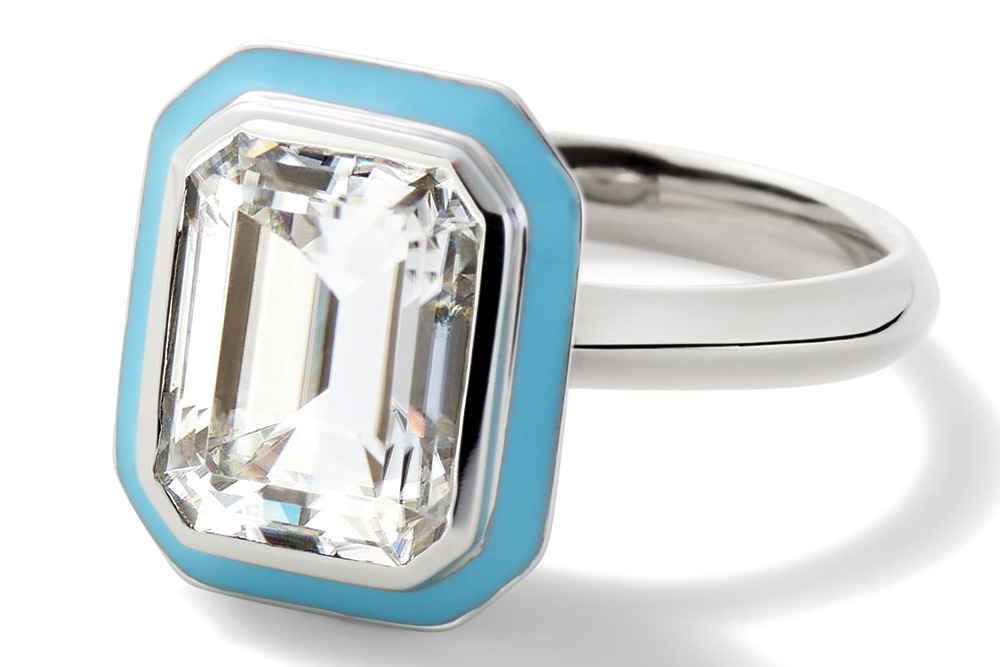 Capricorn (Dec 22 - Jan 19)
Capricorns are resourceful and down-to-earth. They cling to tradition and enjoy pieces that have a story to tell: Authentic Victorian era five-stone ring with Old European-cut diamonds from Trumpet & Horn.