Plan your best day ever—for less—with our "Money Issue!" You'll find gorgeous gowns under $1,000, budget breakdowns, and expert tips for cutting costs, not style.
 If you've already started dress shopping you know that wedding fashions have never been more beautiful and versatile. And we have a dress you'll love no matter your style whether it's short 'n sweet or classically romantic… 
chic and sophisticated or playfully avant garde.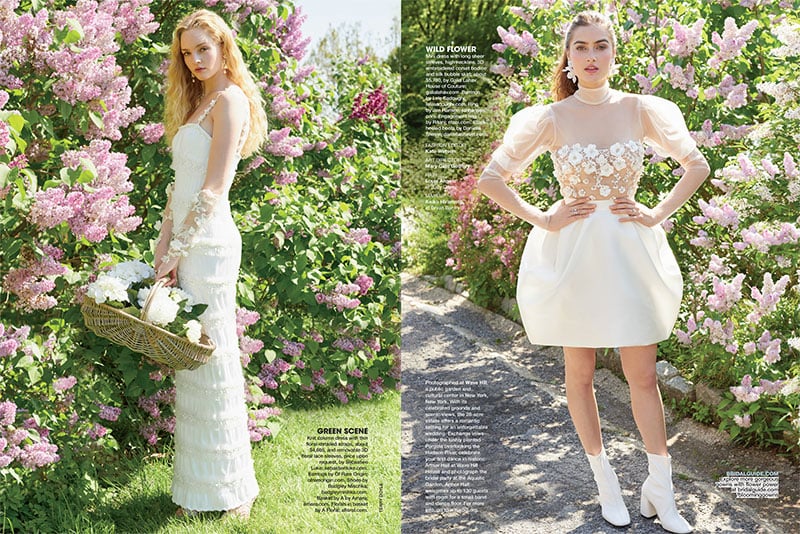 Runway Report highlights top looks from the latest bridal shows including on-trend sheer, sexy dresses and gowns detailed with flirty, feminine ruffles.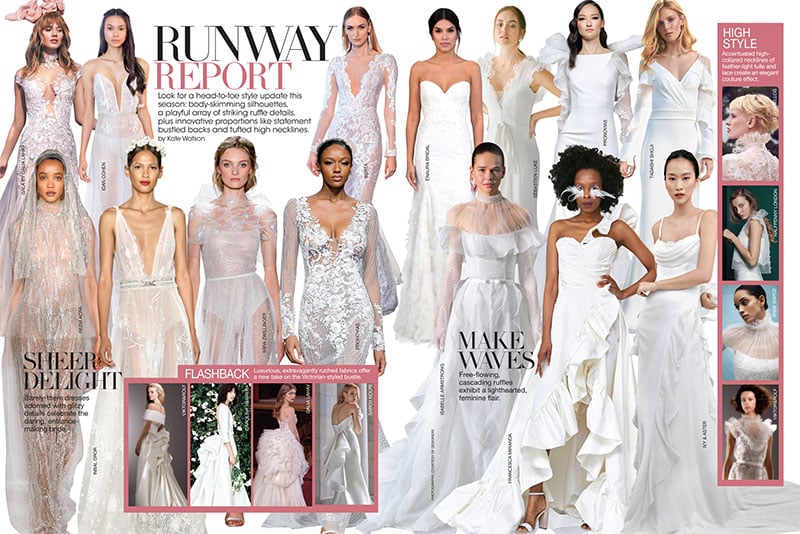 More fabulous fashions, accessories and themed reception ideas are featured on our Style File: Brides pages. You'll be walking on air in these dreamy, ethereal looks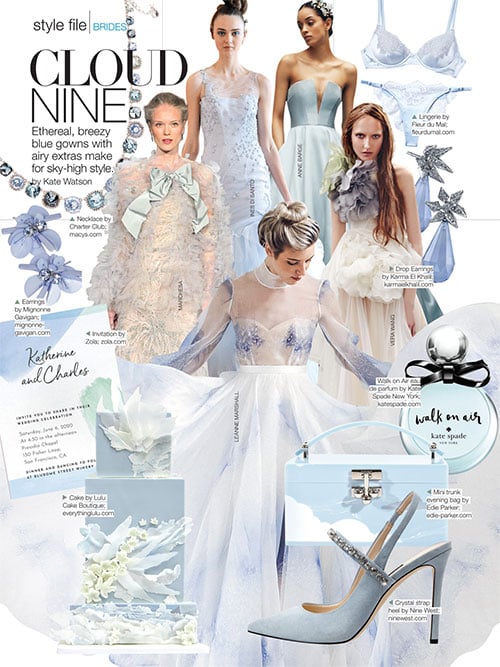 and be white-carpet ready in sleek silhouettes.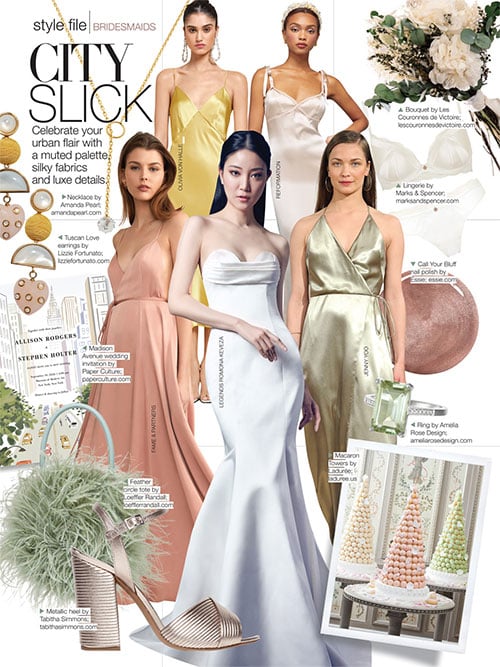 Be sure to check out dress-shopping tips from Mara Urshel of Kleinfeld Bridal whose "Say Yes to the Dress!" advice will help make your search even easier.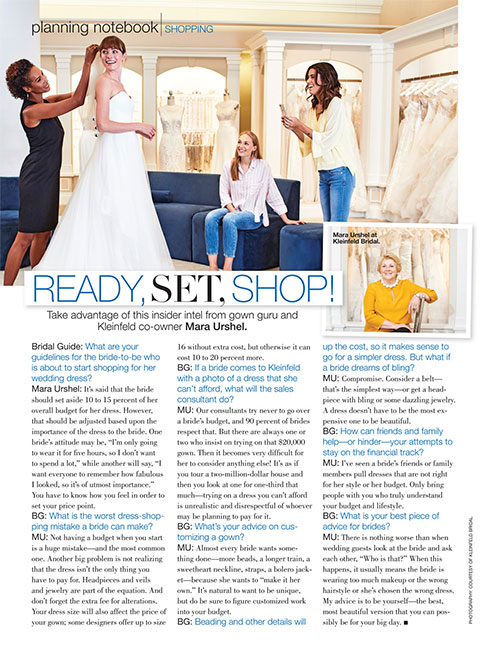 For busy brides on-the-go (and to stretch your dollars even further) look for multitasking beauty products that take you from pre-wedding celebrations to the honeymoon and beyond.
We also asked top beauty pros to give us their best advice for hair and makeup trials. You'll want to get the most from these initial meetings to ensure your big-day look is absolutely gorgeous.
Don't let wedding planning stress get the best of you. Just follow our "golden rules" to avoid unnecessary angst and have a celebration that's everything you imagined.
Wondering how much weddings really cost and how to allocate your budget? We asked pros from across the country to give us budget breakdowns along with tips on how to keep spending in check.
With so many choices available, selecting wedding colors can be a daunting task. We found three spectacular celebrations in very different palettes to inspire your color choices.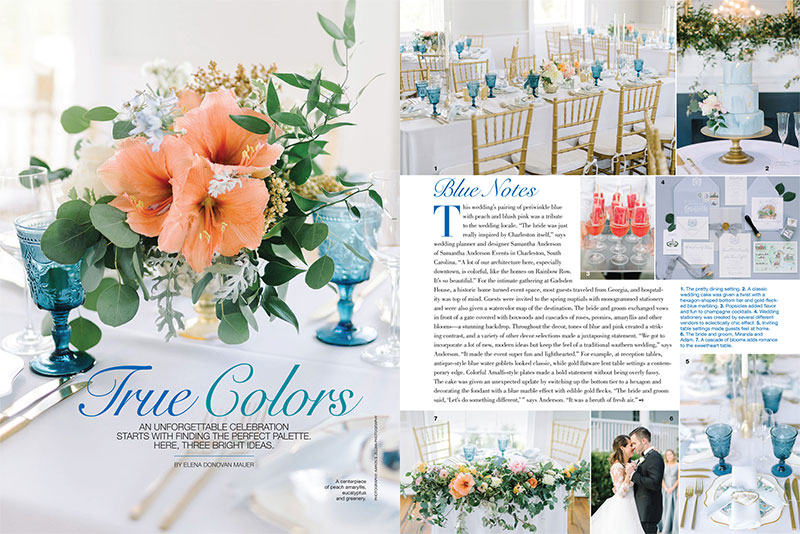 The perfect honeymoon is every couple's dream and in this issue you'll find some of the best getaways for newlyweds. If you like sightseeing, shopping and nights out on the town but he prefers a more laid-back vacay why not double the fun with a two-in-one honeymoon? Spend a few days in an urban spot followed by a nearby stay in a more serene setting. Promise: You'll both be happy!
Mexico's beach resort towns are legendary but the unique charms of its inland colonial town, San Miguel De Allende, captivate all who visit. Picturesque architecture, cobblestone streets, romantic restaurants, and fabulous hotels guarantee an unforgettable honeymoon.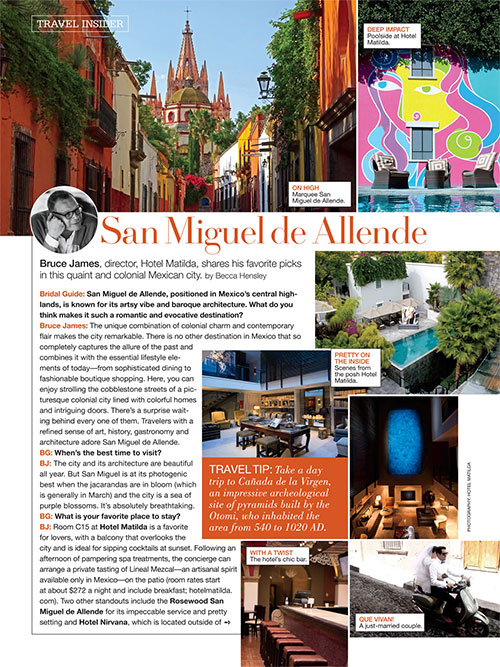 For those who crave the "island life" complete with turquoise waters, languid, sun-filled days and luxe accommodations, consider a bucket-list trip to the Maldives in the Indian Ocean. The over-water bungalows, state-of-the-art spas and Insta-worthy views will have you and your new husband instantly enchanted.
And if you're planning a destination wedding, check out our "Weddings Away" story. Not everyone can be like Megan Markle and wed a real prince but you can feel like royalty at any one of these fairy-tale castles and chateaus.
This is just a sampling of the fantastic stories in the November/December issue. You'll also find rings for your horoscope sign, workouts for your dress style, a watercolor-themed celebration, real weddings, "pink" gift and registry items that donate a portion of sales proceeds to breast cancer research and honeymoon resorts that give back to their communities. Enjoy the issue and let us know how we can help make this time of your life even more magical.