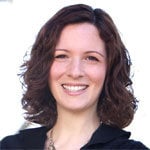 Guest blogger: Kate Harrison, creator of greenbrideguide.com.
After planning her own green wedding in 2007, Kate wrote the best-selling green wedding book, The Green Bride Guide: How to Plan an Earth-Friendly Wedding on Any Budget (Sourcebooks, 2008). In 2009, she founded greenbrideguide.com to help couples use their weddings to promote social and environmental change while supporting the local green economy. Kate has a JD in Environmental Law and a Master's from Yale in Environmental Policy.
Many brides take a hands-on approach to their wedding details, but it's easy to become overwhelmed in the process. If you decide to DIY, make sure that you pick and choose your projects wisely, keeping your skill set in mind, and focus on details that take center stage in a small but memorable way — without breaking the bank. In keeping with the old less-is-more maxim, here are five stress-free (and eco-friendly!) DIY projects for your green wedding.
1. Chalk it Up to Creativity

Photo Credit: Bowties and Bliss
Chalkboard décor is increasing in popularity, primarily because it's so easy and versatile. Signs are always a fun idea, but DIY Chalkboard Flower Pots are a great way to say "thank you" to your guests. Put a pot at each place setting, or have them handed out at reception. You can also paint table numbers on each pot and have your guests pick them up where they would normally find their escort cards.
Make sure that you use non-toxic, VOC-free, and allergen-safe chalkboard paint when creating your chalkboard flower pots. You can even make your own chalkboard paint using a few simple ingredients.
2. All Signs Point to "Yes!"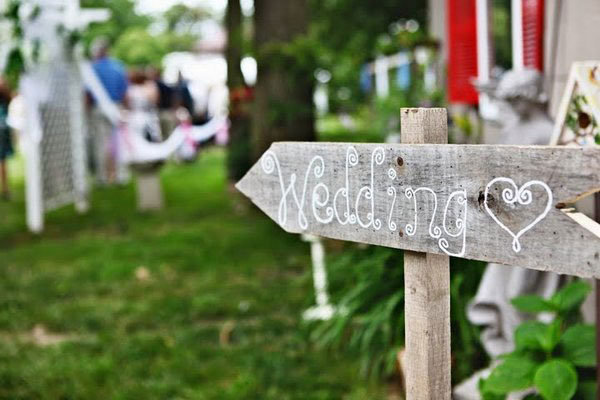 Image Credit: Ruffled
Using reclaimed wood for DIY wedding signs is an easy endeavor and only takes a small amount of time. If you already have non-toxic paint at your disposal, this project won't cost you a cent. Get creative with your signs by writing funny sayings, or keep it sweet and simple with a heartfelt message. You can also make a one-of-a-kind sign for your save-the-date.
Signs are a great way to keep your guests organized and headed in the right direction. They can also lighten the mood as funny photo booth props.
3. A Tisket, a Tasket … an Eco-Friendly Basket

Image Credit: StudioDIY
Guests love watching the flower girl and ring bearer walk down the aisle. While all eyes are on the little ones, show off your DIY prowess with a beautiful flower basket. This is one item that is worth spending some time on, since it will be photographed often and admired by all.
There are a lot of eco-friendly options. Line the basket with moss, fill it with organic flowers, and send your little flower girl on her way. You can also use bamboo and repurposed fabrics to add an eco-friendly touch. If you're extra ambitious, you can create a ring pillow using the same leftover materials.
4. Cute as a Button

Image Credit: Green Bride Guide
Reinvent your wedding décor with buttons from your sewing stash. They can be used to create button garlands, bouquets, even boutonnières. Create button-themed centerpieces or incorporate buttons into your bridesmaids jewelry, flowers, or shoes.
You can go all out with a sewing-themed wedding or merely a few subtle button touches. Look for unique vintage finds or buttons made from earth friendly materials, such as shell, wood, stone, and recycled glass.
5. Elegant and Earth-Friendly Escort Cards

Photo Credit: SparklingSugarCookie/Etsy
Gone are the days when escort cards served only as a way for guests to find their seats. DIY escort cards can be interactive and innovative in a multitude of ways. Bake cookies ahead of time and freeze them. You can bake different cookies for different tables or write table numbers on them in icing. If you make cupcakes, create your own pennant flags out of two toothpicks and some recycled paper for a trendy topper.
Looking for other DIY escort card ideas? Try vintage maps leading you to your destination, antique finds with old skeleton keys, or an old Hollywood glam movie theme with antique film reels or boxes of fresh organic popcorn.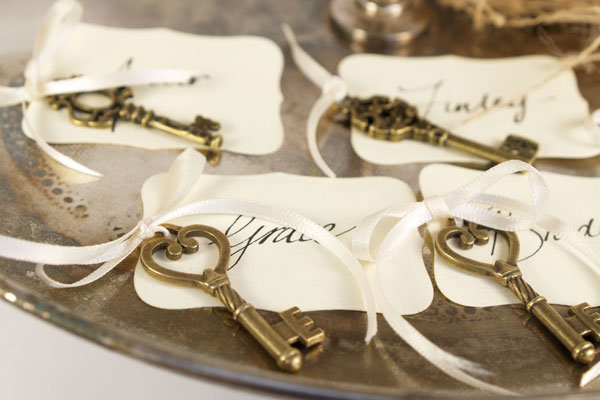 Image Credit: Fairy Folk Weddings
Tell us: What DIY projects do you plan on tackling for your wedding?
—Kate Harrison