Not sure if you should go with a travel agent or book the trip yourself? Find out why asking for honeymoon planning help may not be such a bad idea.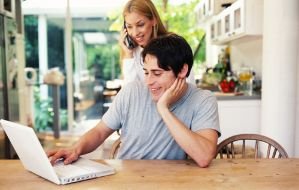 Think about it: Your honeymoon is not some spur-of-the-moment road trip or come-what-may Spring Break jaunt.
This is a vacation that, hopefully, the two of you will cherish for a lifetime. Whether you've never left your hometown or you've got a passport crammed with exotic stamps, you'll want to make sure everything is perfect.
So, how do you know if you need help? Well, if one of you is the type of detail-oriented person who likes to do research and find information, then you probably won't need an agent. You can do all of your own air, hotel and sightseeing research on the Internet, as well as in guidebooks, newspapers and magazines.
If neither of you has the time or energy to become informed and make smart, well-thought-out decisions, however, a good agent can save the day. But finding the right one can be tricky. Ask friends and family members for suggestions, and check with the American Society of Travel Agents (astanet.com; 703-739-2782) for a list of certified members in your area.
If you're planning to take a cruise, the Cruise Lines International Association (cruising.org; 212-921-0066) can give you a list of agents who specialize in vacations at sea. When you come across an agent who seems well-traveled and knowledgeable, be sure to ask about charges so you know up front what the service will cost.