Find out how travel insurance can prevent your hard-earned dollars from blowing away.
By: Sherri Eisenberg
Elizabeth and Jason Moretz were enjoying their honeymoon at the Sandals Resort in St. Lucia, when her parents called: the couple's Bloomington home had been burglarized, and they needed to return right away to deal with the damages. Fortunately, Elizabeth and Jason had purchased travel insurance from Travel Guard, and so they received a refund of $2,900 to cover the last-minute tickets and the vacation days they missed. Nobody plans to have an unlucky experience like this one on their honeymoon, but the unexpected—a hurricane, a blizzard, a family illness—can happen at any time, which is why travel insurance can bring you peace of mind. In fact, travel insurance doesn't only protect against major disasters: It can even cover minor problems like rental-car damage and lost luggage. Expect to pay anywhere from five to 10 percent of the total cost of your trip—a relatively small amount when you consider that this may be one of the most expensive vacations you've ever taken. Here, some information that you need to know.
What's Covered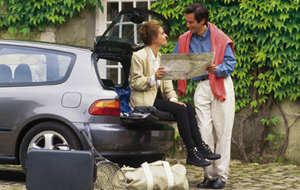 Most travel insurance policies cover trip cancellation, trip interruption and trip delays. This means that if something out of your control forces you to cancel your honeymoon or to go home early, the insurance will refund the cost of your lost vacation days, as well as cover the cost of those last-minute flights home. Or if, say, your flight has been delayed due to bad weather, and you need a hotel room, you'll be reimbursed for that expense. Also, if your luggage is lost, you'll be covered for replacement items. Even if your bag is simply delayed in transit, you'll be covered for the cost of a new swimsuit so you can hit the beach. Travel insurance also covers emergency medical expenses should you get sick or injured while you're away. "A lot of Americans have the misconception that their health insurance travels with them out of the country," explains Dan McGinnity, spokesperson for Travel Guard, which is based in Stevens Point, Wisconsin. "Often, out of the country, they have either no insurance or much higher deductibles—and medical evacuation is never covered." With travel insurance, you'll be reimbursed for doctor's visits, medicine, even helicopter evacuation. You'll also be covered should an immediate family member fall ill and you need to head home. One caveat: Check your insurer's definition of "immediate family" before you book.
What's Not Covered
Travel insurance does not cover trips that are canceled as part of a "change of heart." For example, if you cancel your wedding, and you want to cancel your honeymoon, too, you will not be reimbursed. Or, if you want to switch your honeymoon destination, you won't be reimbursed for that, either. Also, while an act of terrorism is a legitimate reason to file a claim, most companies will cover you only if the attack took place at your honeymoon destination within 30 days of your trip.
Shop for Insurance Now
Many insurance providers have a list of travel companies they deem "at risk" for financial default, and won't cover you could you book your trip with one of these companies and it goes out of business. For example, Travel Guard's list includes United Airlines, US Airways, National Car Rental, Alamo Car Rental and First European Cruises. Ask your insurance provider for a list before you book your trip if you're planning to buy insurance.
Where to Get It
You can purchase your insurance from an insurance company like Travel Guard (travelguard.com) or Access America (accessamerica.com), which is called a "third-party" provider, or you can buy it from a "supplier," which includes travel companies such as cruise lines and tour operators. One note: Third-party coverage tends to be more thorough. You can compare rates at insuremytrip.com.