Our editor in chief tours the pristine wilderness, gorgeous beaches and a state-of-the art spa at a luxe resort in paradise.
By: Diane Forden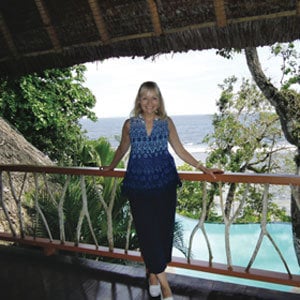 Who hasn't dreamed of flying off to a distant locale where a warm sun, soft breezes and magnificent views await?
When the opportunity arose to visit the Namale Resort & Spa, an all-inclusive enclave located on the edge of the Koro Sea in Savusavu, Fiji, I eagerly welcomed it. I imagined it would be a honeymoon perfect paradise, but I never expected it to be so thoroughly enchanting.
The five-star resort sits on 525 tropical, beachfront acres and offers exquisite dining, tons of activities and spa treatments. Rooms boast the utmost privacy along with stunning ocean views. Here you can unplug (Internet access is limited and there are no phones or TVs in guest rooms), unwind and immerse yourselves in the romance of Fiji.
A Tropical Treasure
After an 11-hour flight on Air Pacific from Los Angeles to Nadi, Fiji, I hopped on another one-hour flight to Savusavu and enjoyed the magnificent aerial views of some of Fiji's more than 300 islands. Upon arrival to the Namale Resort & Spa, I was greeted by the staff with a welcoming song and any air-travel weariness completely dissipated. The Fijians possess a genuine warmth and friendliness and at Namale, the personalized service reflects that. The resort's more than 120 staff members cater to a maximum of 44 guests at a time. They soon learn your name and you are cheerily welcomed with bula (a traditional local greeting literally translated as "life") as you stroll on the premises.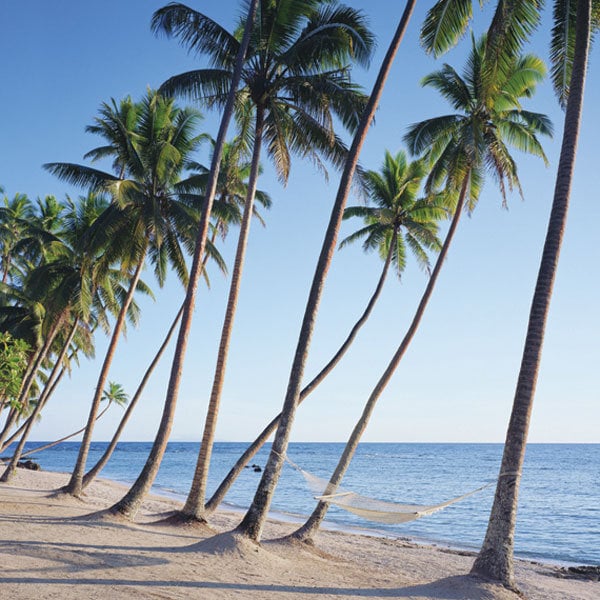 Namale Resort & Spa's scenic beach.
This villa boasts a private infinity pool.
The property houses just 19 villas and bures (traditional Fijian homes). Each is uniquely designed and decorated, fusing local architectural customs, such as palm wood floors and thatched roofs, along with luxe, comfy furnishings. They are also unbelievably private, surrounded by lush, tropical foliage with unforgettable views of the sparkling blue sea. The five honeymoon bures have private plunge pools, spa tubs, showers-for-two and oceanfront decks. Intercoms are provided in every villa, and you can request just about anything—from room service to transportation to another spot on the resort. A fully stocked mini-bar with coffee, tea and snacks (the best home-made cookies!) is an in-room (room rates at $975 per night, all-inclusive; namaleresort.com). 
Inside one of the luxe bures.
Out and About
Namale also houses a main dining bure (shoes are removed upon entering, as is the Fijian custom), a pool for all guests, a spa, a 24-hour gym, tennis courts and a nearby golf course. The kava bowl bure has an Internet room, pool table, bowling lane, golf simulator and arcade games. A self-service bar is on deck, as is a choice of over 400 movies. This bure is also available for private dining.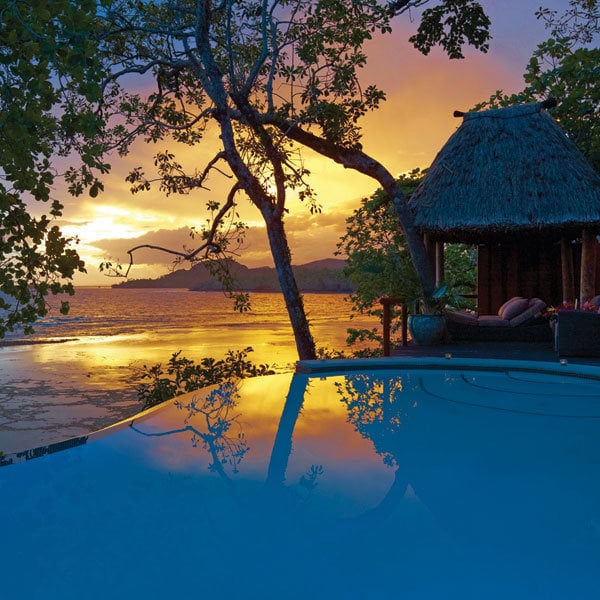 A picturesque sunset casts a golden glow.
Island Activities
As tempting as it is to loll in your villa every day, you won't want to miss out on all that Namale has to offer. Each night, the "coconut Telegraph," a listing of the next day's activities, meals, entertainment and excursions is provided at turndown service. Among the offerings are cultural outings to the town of Savusavu, where you'll find a marketplace teeming with produce and handicrafts. In the nearby villages, you'll be warmly greeted by the townspeople and can purchase souvenirs such as handmade jewelry, woodcarvings, baskets and sarongs. I also attended a church service in the village of Vivili, where the fabulous singing sounded like a choir of angels. Note: Local customs dictate that you keep your shoulders and knees covered when visiting the villages.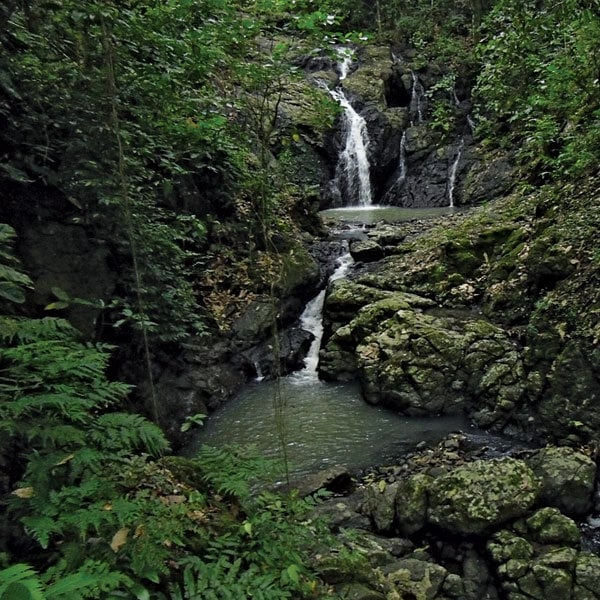 The Namale Waterfall is located deep in the rainforest.
Photo credit: Diane Forden
Make a Splash
There are plenty of water sports available including snorkeling and scuba diving, water skiing, wakeboarding and kayaking. I took a pre-certification course in scuba diving. And with the help of a very patient instructor, Sam, ventured into the ocean to discover a glorious world of undersea life and beautiful, soft coral formations. What a thrill! You'll also want to take a leisurely horseback ride on the beach and go for a hike in the nearby rainforest that leads to a scenic waterfall. Wear your swimsuit, take a dip and feel the therapeutic effect of the falls massaging your head and shoulders. Tip: Request a private dining experience at the falls for some extra romance.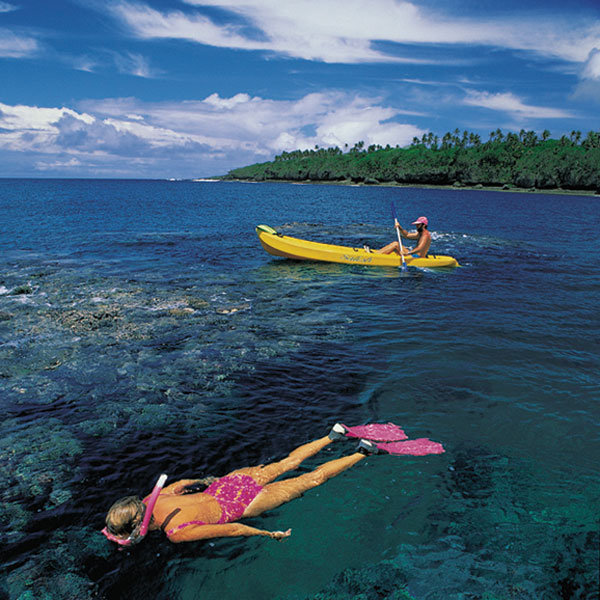 Fijian waters teem with excitement. 
Dining Delights
Foodies, rejoice! One of the unexpected pleasures at this all-inclusive resort is its incredible culinary offerings. Every day, a different menu is prepared for each meal featuring fresh seafood and meats along with soups, salads and mouth-watering desserts. Most of the herbs, vegetables and fruits are grown right on property. One of my favorite dining experiences was a private lunch on the Blowhole Deck, where I feasted on myriad barbecue options (chicken, beef, fish, shrimp, lamb and lobster tail), drank fresh coconut milk and watched the spouting geothermal hot springs on the sands below. Another honeymoon must is the private hanging-bed lunch on the beach, which takes place on a huge bed suspended from a rock. Don't forget to ask for champagne!
Enjoy dinner on the water.
At night, there's the option of dining in your room or on one of the many private decks nestled amidst the tropical foliage. Or venture to the main dining bure, where you can mingle with other guests at the bar. I met visitors from all over the world (one honeymooning couple was thrilled they chose bucolic Namale over a more itinerary-heavy trip). Each week, local villagers wearing traditional costumes provide entertainment with a meke (narrative dance) performance that tells the ancient stories of Fiji to the beat of wooden drums. Another Fijian custom is the kava ceremony, in which guests share drinks from a bowl of kava (the pulverized root of the pepper plant) as musicians sing traditional melodies. Be forewarned: Kava is a bit potent.
Slip into Bliss
No trip to paradise would be complete without a soothing spa treatment. The 10,000-square-foot, full-service Namale Spa & Sanctuary is a secluded haven, set upon a volcanic cliff near the lush rainforest. Treatment rooms offer garden or ocean views and the large hydro-aromatherapy area features hot tubs, a steam room, a plunge pool and a waterfall dipping pool with fabulous views of the Koro Sea. I tried the euphoric 75-minute Ultimate Fusion Massage, which combines Swedish, deep tissue and hot stones. And I enjoyed the equally blissful 75-minute Balinese Massage, which incorporates acupressure, strokes and percussion followed by a coconut back scrub. Before each treatment I received a 15-minute foot soak and coconut scrub—talk about pampering! Afterward, I was truly walking on air. 
A view from the spa—sweet serenity.
Photos courtesy of: Namale Resort & Spa