Enjoy the transparent waters and pristine beaches of the tropical island.
By: Mara Berkoff
It was no joke when funny-girl actress, Anna Faris, and actor, Chris Pratt, eluded the paparazzi to wed on the tropical island of Bali in July 2009. Ringed by coral reefs, transparent waters and pristine beaches, this paradise promises an A-list experience for all.
One of the most romantic spots is the Four Seasons Resort Bali at Jimbaran Bay, a full-service bayside resort set among tropical gardens. Guest rooms are housed in 156 private villas; each features a courtyard with personal plunge pool and sweeping views. Furnishings include handcrafted teak items and brightly colored fabrics.
Although lounging by your private pool and exploring the property's secluded beaches may be the most popular ways to pass the time, the resort offers an array of activities for those who just can't sit still. There are watersports galore, including snorkeling, kayaking, windsurfi ng and wake boarding, as well as surfi ng lessons for all levels. On land, you can tee off at the gorgeous Bali Gold and Country Club or learn the art of Balinese massage. During the taste-and-touch-of-Bali excursion, you'll accompany chefs to local markets and choose ingredients for the traditional dishes that you'll prepare at the resort's cooking school.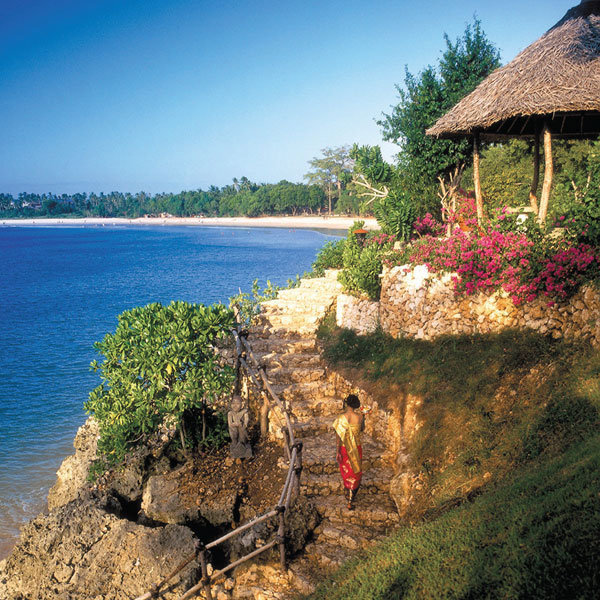 Immerse yourselves in the local culture with a visit to the spa, where treatments feature Balinese healing traditions, enhanced with endemic herbs and spices. Try the lular Jimbaran spa package, which includes a massage, a soak in flower-infused water and an application of lulur (a mild scrub made from turmeric, cinnamon, vetiver, rice and ginger root).
At the afternoon tea, sample sticky rice and tuna cakes in banana leaf with curried fruits, coconut scones with cream and pineapple ginger jam and a cup of lolah, an herbal tea-like drink. If you still have room for dinner, opt for the beds-on-the-beach special, which features dishes like green-tea soba sushi rolls and crabmeat and chorizo risotto, served at a canopied bed on the beach in a romantic candlelight atmosphere with live music. Now, that's a Hollywood ending to the perfect day (rates start at $680 a night; fourseasons.com).