Some of the world's most spectacular sceneries also produce the most magnificent wines. Where to tour, taste and even propose with a toast.
By: Becca Hensley
Galileo once said: "Wine is sunlight, held together by water." The libation feeds the soul and lightens the mood. And toasting with wine is a sign of jubilation. It should come as little surprise that the landscapes from which wine is born are gorgeous, welcoming and dripping in a special sense of place. Visit one of these spots and it will seduce you with kaleidoscopic landscapes, brilliantly flavored wines and delectable farm-to-table cuisine. Blend in a range of heart-racing activities (think bike rides and ballooning) for the ultimate vacation destination. So grab your true love, pack your ardor and prepare for some tasting tours. Guaranteed loss of inhibitions goes without saying.
Franschhoek, South Africa

Photo Credit: Delaire Graff Images
It's not the tower-of-giraffes, crash-of-hippos, parade-of-elephants South Africa you might imagine. Rather the winelands are entrenched in racy gold valleys that cut through jagged peaks just northeast of Cape Town. Franschhoek, one of the most popular, draws gourmands and connoisseurs for its artisan food products and scenery as much as for its wines. Here, French Huguenots took advantage of land ceded them by the Dutch East India Company in 1688, bringing their viticulture knowledge with them — as well as their decidedly French savoir-faire. The result is family-owned vineyards, some of them three centuries old, many manifesting indigenous Cape Dutch architecture, abounding with gables and thatched roofs. Many are multi-purpose, also comprising museums, farm stores, gardens and cafés. The Franschhoek region dabbles in everything from superlative whites (sauvignon blanc, chenin blanc) to velvety reds (merlot, shiraz). But, it's most praised for its festive sparkling wine, MCC (methode cap classique). Franschhoek, the village, with its galleries, cafés and boutiques, buzzes with an artsy vibe. For the most mobility, rent a car, but do consider hopping on the Franschhoek Wine Tram one afternoon during your stay. And try Franschhoek's Artisan Food Route, an alternative sojourn to mere wine tasting that stops at artisanal food producers, such as bread bakers, olive growers, charcuterie and cheese makers, plus outposts for smoked trout and herbal medicines.
Sleep: Poised at the highest point of Helshoogte Mountain Pass where Franschhoek intersects with Stellenbosch, another esteemed wineland, Delaire Graff Estate, is an opulent compound that includes two vineyards, two restaurants, a spa and a remarkable open-air tasting room. It's all adorned with stunning South African art, most of it from the owner's personal collection. The 11 guest rooms are situated over the vineyards with jaw dropping views of famous Table Mountain in the distance. Panoramic windows in the guest rooms and personal infinity pools create the illusion of floating in the clouds (room rates start at about $785 a night and include breakfast and some tastings; delaire.co.za). The sort of place that rouses all the senses at once, La Residence, an intimate hotel just outside of Franschhoek Village seems to be born from a fantastical dream. Full of color, a melding of colonial grandeur, local artistry and European chic, the mansion-style hotel is utterly romantic. Sommeliers hand-pick local wines to match the chef's festive farm-to-table dishes (room rates start at about $462 a night and include breakfast; laresidence.co.za).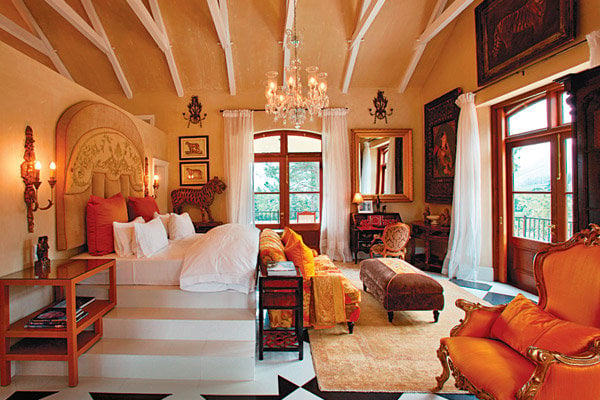 Photo courtesy of The Royal Portfolio
Eat: Chef Margot Janse conjures magic at The Tasting Room in Le Quartier hotel, with her surprise tasting menu, a changing mélange of African-inspired dishes. Possibly the most lauded restaurant experience in South Africa, for serious foodies, this is a must.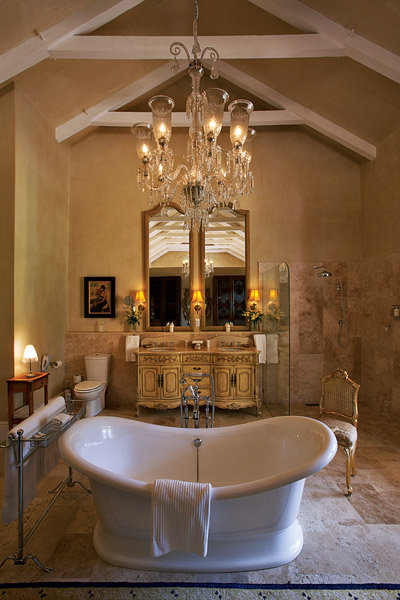 Photo courtesy of The Royal Portfolio
Texas Hill Country

Photo Credit: Steve Rawls
Cast aside your visions of tumbleweeds and cow dudes dancing the two-step. The Texas Hill Country, a swathe of hilly, wild-flower-studded land with scrubby, almost human-looking oak trees near Austin is equal to any of the world's powerhouse wine regions. In an expanse that rambles from San Antonio to Lampasas, amid countryside dotted with farmhouses, peach orchards and barbecue, you'll find 35 unique vineyards making wines from viognier to chardonnay to syrah to sangiovese — all from Texan-grown grapes. Many have garnered prestigious global awards. Besides sampling wine, the Hill Country offers an array of diversions. Go aerial in a hot-air balloon; bathe in a natural spring pool (like Hamilton Pool or Austin's Barton Springs); head to Austin for shopping in the cool SoCo nabe. Whiz through trees on the Wimberley Zipline. And seek out live music — it abounds in gin joints around the small town of Gruene.
Sleep: Base your stay in the rising gastronomic capital of Fredericksburg, a town settled by Germans in 1846. Though still manifesting some German nuances — including an archaic 19-century dialect spoken by old timers — the village now glitters with creative chic, which can be seen at the boutiques, galleries, bakeries, bars and eateries. Book into the Inn at the Creek, set in an 1880s structure. The Seventh Heaven Room vaunts a two-person Jacuzzi (room rates start at $99 a night and include breakfast; inn-on-the-creek.com). More rural, exceedingly elegant and somewhat bucolic, Inn Above Onion Creek has a pool, hot tub and 88 acres of rolling landscape, some crisscrossed with hiking trails. Check into the Nance Suite for its stunning views (room rates start at $199 a night and include breakfast and dinner; innaboveonioncreek.com).
Eat: At Cabernet Grill in Fredericksburg, chef/owner Ross Burtwell pairs the state's largest selection of Texas wine with his distinctly Lone Star cuisine. Dig into such Texan-accented dishes as buffalo enchiladas, jalapeno-stuffed quail and sesame-seared red snapper from the Texas Gulf Coast. On the main wine road, US 290, Rebecca Rather's The Pink Pig packs a primo picnic to take on your vineyard ramble. Don't miss her buttery, pig-shaped cookies.
Pages