Whether you've got six glorious days or a weekend, we have the perfect honeymoon road trip.
By: Sherri Eisenberg
Is there anything more classically American than a road trip — or more romantic? Driving down the open road with the top down, wind in your hair and no place you have to be but wherever you decide to stop on a whim is a day-dream for many travelers. Fortunately, many honeymoon destinations — both domestic and international — have great drives that can be incorporated into your vacation itinerary. Here are some of our favorite routes. Drivers, start your engines.
If you have 3 Days: Paia to Hana in Maui, Hawaii
The Scenery: Expect lush rainforests, multi-colored sand beaches, crashing pacific waves and plenty of waterfalls.
The Route: You may not associate Hawaii with road-tripping, but this twisty route is one of the most roller coaster-like trips in the U.S. Following along the edge of Maui's northern coast, the 68-mile drive can take anywhere from two to four hours each way, depending on traffic. Most do it round-trip.
Start: Paia
Play: Since you're renting a car for this portion of your trip anyway, be sure to drive upcountry on one of the days before you set off for Hana. You'll find everything from paniolo (cowboy) Western-style towns with general stores to a lavender farm on your drive up Mount Haleakala, a dormant volcano. Many couples go for sunrise or sunset.
Stay: The Inn at Mama's Fish House has a lot going for it, with hammocks near the shoreline, a barefoot-in-the-sand dress code, one of the best restaurants on the island and a chill, casual vibe. Some of the cottages offer full kitchens and private enclosed patios with grills (room rates start at $175 a night; mamasfishhouse.com).
Dine: If you feel like you can't eat at Mama's every night, consider Sansei in Kihei for sushi. The flavorful and inventive Maki rolls are the way to go here, and they come filled with some of the island's best seafood (ahi tuna) and produce (kula — locally grown — greens).

Photo courtesy of Hawaii Tourism Authority
Mid Trip:
Play: Don't leave without stopping at Waianapanapa State Park, which is located just a couple miles before you reach Hana along an ancient Hawaiian coastal trail. Follow the walking paths to see caves, blowholes and a black sand beach.
End: Hana
Play: The Kipahulu area of Haleakala State Park is 12 miles past Hana, and it's where you'll find the seven sacred pools, a popular waterfall attraction. Hike the four-mile round-trip route to Waimoku falls and enjoy the rich foliage and cliff diving at the end.
Dine: There aren't many places to choose from in Hana, but the roadside up in smoke BBQ café offers kalua pig, shrimp tacos and grilled fish. Just keep an eye peeled as you drive out of town. It's a small, casual place, and easy to miss.
Stay: There's only one hotel in Hana that's worthy of the effort to get there as a destination itself. Located at the end of the road, the Travaasa Resort feels appropriately remote and rustic. Horses roam the grounds, private cabins have balconies overlooking the pacific and there are no TVs or alarm clocks. The lovely little beach is just a short shuttle ride away (room rates start at $375 a night and include activities, parking and some snacks; travaasa.com).

Photo courtesy of Travassa Experimental Resorts
If you have 3 days: Dublin to Galway, Ireland
The Scenery: Look for turn-offs to little towns, tiny country churches and sheep-covered green hills. 
Route: The beauty of this trip is that you can fly into Dublin and out of galway, or pick the airport with the best price and drive round-trip. Either way, this is a relatively short drive that offers an opportunity to see two important cities. It's just 140 miles, or three hours if you don't hit any traffic.
Start: Dublin
Play: The Guinness Storehouse will separate the truly passionate beer lovers from the rest of the pack. Here, you can learn about the history of Guinness in a building that's formed around a seven-story pint glass. Fortunately, especially for the new spouse of a devotee who wants to read every placard, the tour ends in the top-floor gravity lounge, where there are 360-degree views of the city and, best of all, a free beer.
Dine: Irish breakfast (usually consisting of eggs, bacon, sausages, white and black pudding, toast, fried tomato and mushrooms) and tea (with scones and other sweet goodies) are Dublin's two defining meals. Queen of tarts is the place to go for both. The space is charming, with proper teacups, and the crumbly, buttery scones come in several flavors every day.
Stay: The Merrion may not have been around for centuries, but it certainly feels like it has. Enter this Georgian townhouse, and you'll feel a part of the city, rather than just a visitor. Windows are draped in heavy curtains, sheets are soft and the bathrooms are lined with marble; there may be no better place to take a nap at an inappropriate time of day to get over your jet lag when you first arrive. And, after all, who is going to question the honeymooners for hanging the "Do Not Disturb" sign midday? (room rates start at $736 a night and include breakfast; merrionhotel.com).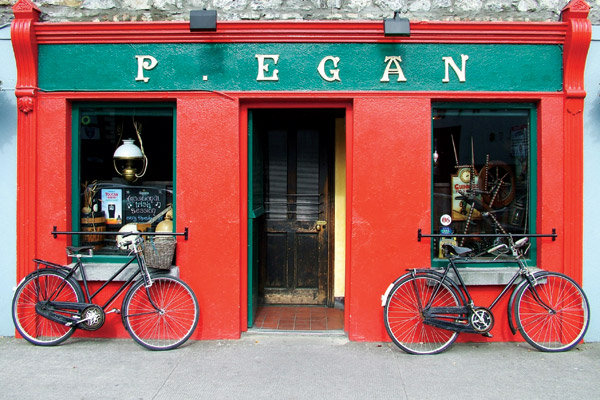 Photo courtesy of The Leading Hotels of the World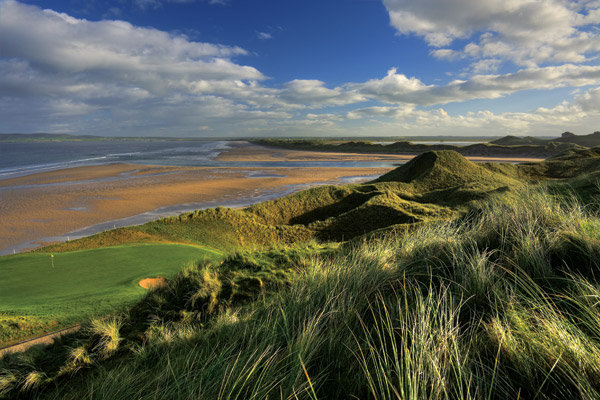 Photo courtesy of Tralee Goft Course
Mid Trip
Play: The 6th-century monastery of Clonmacnoise is worth a stop. Located on the River Shannon, it's made up of a series of well-preserved buildings, including temples and a castle.
End: Galway
Play: The Galway Market may be one of the best spots to shop for souvenirs. The centuries-old marketplace offers typical wares from cozy wool sweaters and gold claddagh rings to rustic unforgettable brown bread that won't make it much past the ride to the airport.
Dine: At the end of your trip, indulge with dinner at one of the best seafood spots in the country, 250-year-old-plus Moran's Oyster Cottage. Located outside of Galway, this restaurant has all the hallmarks of a memorable evening, even before you step inside: The entrance is paved with oyster shells, and the air is scented with saltwater. Fortunately, Moran's delivers on the promise — oysters come raw on the half shell, or topped with breadcrumbs and baked, but either way they're fantastic.
Stay: Galway's G Hotel feels as young and cool as this city itself feels historic and authentic. And for a couple of young honeymooners looking for a chic urban atmosphere, this is the place. The lobby is made up of a series of lounges in bright colors — picture hot pink walls and a zebra rug in one, a champagne bubble-inspired chandelier and beige velvet couch in the next (room rates start at $180 a night and include breakfast; theghotel.ie).

Photo courtesy of The G Hotel
If you have 6 Days: San Diego to San Francisco, California
The Scenery: The scenery on classic Highway 1 changes as you make your way north, from a veritable sunscreen ad (blondes in bikinis and board shorts playing volleyball on the beach) to the urban vibe of Los Angeles followed by vineyards and charming little towns edged in bougainvillea, all the while hugging the Pacific Coast.
The Route: Fly into San Diego and out of San Francisco (or out of Los Angeles if you only have three days).
Start: San Diego
Play: Spend a morning hiking the trails of Torrey Pines State Reserve. The protected area encompasses an expanse of towering pine trees, loads of hiking trails for all levels and a beautiful beach.
Dine: Whenever we're in San Diego, we find ourselves craving fish tacos. We want to eat them someplace casual, right near the surf, where we can watch the sun set over the pacific. And the South Beach Bar and Grill in Ocean Beach, just west of downtown San Diego, is just such a place. Here, you can get your fish grilled or fried and choose from mahi mahi, wahoo, pollock and shark, as well as lobster, calamari, oysters and shrimp. Locals love the happy hour, but we suggest coming on a Tuesday when the tacos are less than $3 each no matter what time of day you arrive.
Stay: Just outside of the city, in Del Mar village, L'Auberge Del Mar offers the one thing you must have in a Southern California honeymoon hideaway: a short walk down a little path to a charming beach. Of course, it also has the requisite registrar of Hollywood royalty who made this place, their place (room rates start at $295 a night; laubergedelmar.com).

Photo Credit: California Travel and Tourism/iStock
Mid Trip
Play: Stop in Santa Barbara for some wine. There are half a dozen wineries with tasting rooms, so if you want to take your time exploring the vineyards and caves we suggest spending the night here.
End: San Francisco
Play: This town is the home of the organic, artisanal and locally crafted movements that have swept the country. Its Ferry Building offers many of the city's hottest purveyors, all in one place. From great shops (a bookstore, a nice outpost of Sur La Table) to food boutiques selling a picnic's worth of ingredients, including sourdough, cheese and charcuterie, you can get lost here. Wherever you eat, start the morning with coffee from Blue Bottle, which you can take to the pier and sip while you watch the ships come in.
Dine: This town has a wonderful Chinatown that's worth exploring, but our favorite dim sum spot in San Francisco is down the hill. Head to the Rincon Center location of Yank Sing for a Chinese take on brunch — if you've never had dim sum (a celebration of dumplings and other finger foods), you're in for a treat. At your table for two, watch as a parade of carts marches past — Shanghai soup dumplings are some standouts, as are the steamed barbecue pork buns and shrimp rice rolls.
Stay: The Hotel Vitale has everything you would want in a San Francisco hotel: A location right near some local places to hang out, a rooftop terrace that you can use for all of your bridge-and-bay photo ops and patios to take in the bay breezes. Upgrade to a Terrace Suite and enjoy the outdoor lounge furniture and heat lamps (room rates start at $299 a night; hotelvitale.com).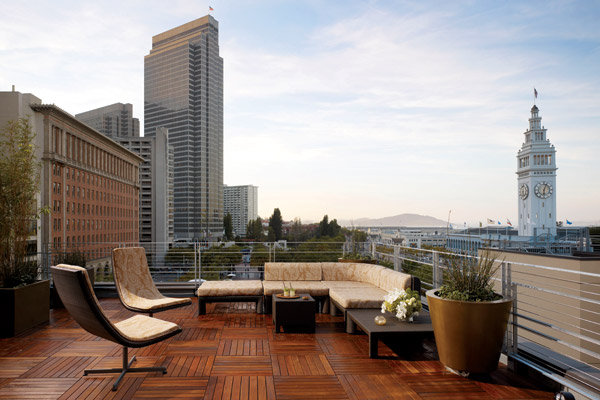 Photo courtesy of Joie de Vivre's Hotel Vitale
If you have 6 days: The Amalfi Coast, Italy
The Scenery: This part of Italy feels like summer — but not just any summer: Summer in a glamorous movie. Picture Mediterranean beaches tucked away in coves you can only reach by boat, waves that crash up on dramatic cliffs and long lazy seafood lunches complete with a bottle of wine and a Limoncello toast. Nothing will make you feel young and invincible the way making your way around the curves of this harrowing but gorgeous route can.
The Route: Drive from Sorrento, Positano, Amalfi or Ravello to Salerno. As you explore, you'll catch spectacular Gulf of Salerno vistas and brave hairpin turns with steep drops — it all has the feeling of a 007 caper.
Start: Positano
Play: While Amalfi itself is exclusive enough, once here it's hard not to want to up the ante, which means getting out on a boat. It doesn't have to be one of the magnificent yachts you see edging along the horizon, but whether it's a ferry out of Sorrento to Capri or a small fishing boat crew you can tag along with for the morning, you don't want to miss the chance to be out on the sea.
Dine: At Da Vincenzo, even the simplest dishes become part of your honeymoon memories, from grilled octopus to spaghetti with zucchini (that you may try your whole married life to replicate at home) to luscious berry-topped tarts. The secret to really seeing the Amalfi coast is to always reserve your table as high up and as far toward the edge of the balcony as you can go.
Stay: Le Sirenuse is an icon. Located atop a dramatic cliff, this 18th-century palace offers romance, with its crimson exterior to the vine-covered balconies, painted tile floors and canopied beds. The pool terrace is lined with lemon trees and the outdoor champange bar bursts with rose blooms (room rates start at $450 a night and include breakfast; sirenuse.it).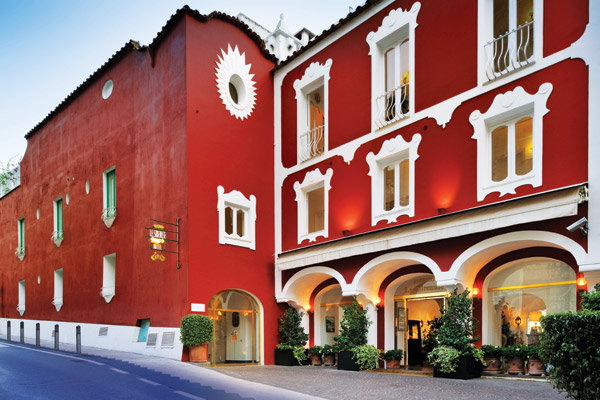 Photo courtesy of The Leading Hotels of the World
Mid Trip 
Stay: Stop at the Hotel Santa Caterina in Amalfi for lunch in the glass-walled dining room or on a terrace, if not for the night. Before you hop in the car again, ride perhaps the coolest elevator you'll ever see, which goes through the cliffs down to the shore (room rates start at $381 a night and include breakfast; hotelsantacaterina.it).
End: Ravello
Play: From here, you can set off on an excursion to Pompeii. The historic city is a marvel.
Dine: If you packed a spectacular dress that you're saving for one perfect night, a candlelit dinner on Rossellini's terrace is it. Start the evening with some prosecco at the Lobster and Martini bar before being shown to your table, which appears to be lit by the stars.
Stay: Hotel Caruso, housed in an 11th-century palace, is well-worth the splurge. While you can tour and drive and sightsee and shop for ceramics and limoncello and other souvenirs, you'll also want to set aside plenty of time to just relax together in the infinity pool, which seems to blend memorably into both the sea and the sky (room rates start at $398 a night and include breakfast; hotelcaruso.it).

Photo courtesy of The Leading Hotels of the World