Cruising offers dining options, tons of activities and a chance to see various ports. Bonus: You only have to unpack once!
By: Donna Heiderstadt
A honeymoon at sea can be relaxing, romantic and exotic, but before you book it's smart to put all fantasies aside and be practical. Choosing a cruise is a bit like buying a car: You need to know if you're in the market for a versatile SUV, a sporty convertible or a luxury sedan. Yes, cruise ships are that different. There are more than a dozen major cruise lines with over 100 ships at sea, sailing itineraries from Europe to Tahiti, and they range in size from 100 passengers to more than 5,000. Which one is right for you? Check out our selection of six romance-ready ships with a range of onboard experiences and prices from affordable to splurge-worthy and find out. Bon Voyage!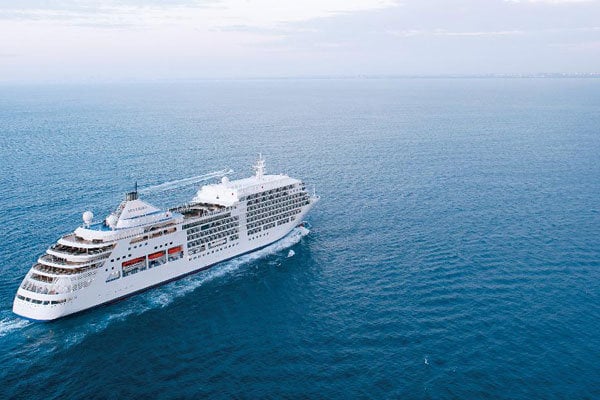 Photo Courtesy of Silver Sea Cruises
For Luxury Lovers: Crystal Serenity
Bigger ships may have more amenities—but you're also apt to find yourself elbow-to-elbow with thousands of fellow passengers as you try to enjoy them. At 68,870 tons, Crystal Serenity has a big-ship feel, but accommodates just 1,070 passengers. Do the math and it translates into exceptional luxury that offers something for almost everyone. Christened in 2003 and fresh from a $25 million renovation, Serenity sparkles with urbane energy, sophisticated itineraries, outstanding dining options and a feng shui-inspired spa. Other notable perks include a driving range and paddle-ball court, a movie theater and a colorful Seahorse Pool Deck lined with cozy circular pod beds for two and a pair of Jacuzzis.
Another great thing about Serenity is that 85 percent of its staterooms have verandas. And the striking decor inside is as chic as a designer penthouse in New York City, complete with leather, silk and velvet touches. In fact, some accommodations, called penthouses, are butler-serviced minisuites that make an ideal honeymoon hideaway. They're a major splurge. The deluxe staterooms with veranda are also more than comfortable, complete with marble bathrooms with a tub, as well as a flat-screen TV and large closet.
Photo courtesy of Crystal Cruises
Serenity has six restaurants, plus several cafés and bars. Favorites include The Crystal Dining Room (one of the top restaurants at sea with revolving menus of international specialties), Silk Road, by famed chef Nobu Matsuhisa, and Tastes, a poolside venue that serves amazing light fare. Good thing there's also a 360-degree jogging track—running or walking is magical just before sunset—and a fitness center.
Top Itinerary: Serenity cruises the world, but spends her summers in Europe, so this is the ship on which to sail through Northern Europe on the 10-night "Bounty of the Baltic" (summer 2013). Start in Stockholm, where the pristine waterfront is home to the Royal Palace and many museums— don't miss the Vasa, dedicated to a salvaged, circa-1628 wooden ship. Cruise on to Tallinn, Estonia, a medieval city dotted with charming turrets. In the jewel that is St. Petersburg, Russia, enjoy the artistic splendors of the Hermitage Museum and Peterhof Palace. Continue on to Helsinki, which is architecturally interesting and easy to explore on foot; Berlin (a three-hour drive from port, but worth it for its historic sights and hip art scene); and Copenhagen, home to the delightful Tivoli Gardens amusement park and an emerging gourmet food scene (cabin rates start at $6,350 per person, per 10-day sailing; all-inclusive; crystalcruises.com).
Pages