From Chile's Atacama to Arizona's Sedona, we've rounded up the best desert adventures!
By: Donna Heiderstadt
There's something about the desert that leaves you feeling rested, renewed and inspired. Perhaps it's the wide-open spaces and the soothing silence. Or maybe it's the constant contrast between the heat of day and the chill of night — a refreshing reminder of nature's power. Add in blazing sunsets, surreal landscapes, prickly cacti and quirky critters and you'll discover there are 1,001 ways to enjoy a desert honeymoon. Whether you opt to stay close to home in the Southwest or head for more exotic oases in Africa, Australia or South America, here are our suggestions for how to turn your desert dreams into reality.
Ayers Rock/Uluru, Australia
Australians call the heart of the Northern Territory the "Red Centre" and after just a single sunset you'll understand why. Monolithic Ayers Rock, known as sacred Uluru to the local Aboriginal people, glows an almost unearthly shade of crimson that when juxtaposed against the twilight sky is nothing less than magical. Outback nature and indigenous culture are both plentiful here, making it a great option for couples seeking romance and relaxation, plus adventure and education.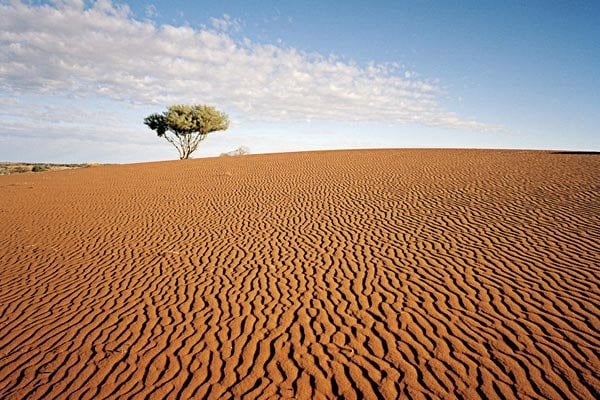 The country's vast "Red Centere" (photo courtesy of Australia's Coral Coast)

By day: Rise early to revel in this vast desert's silence and watch the sun awaken 1,142-foot-high Uluru's hues. Take hikes around the base of Uluru (about 4.5 miles) with a local guide or sightsee larger areas of rugged Uluru-Kata Tjuta National Park (including the magnificent Olgas) via jeep, motorcycle or even camel. For a bird's-eye view, you can book a scenic helicopter flight. The region's culture comes alive on day tours: See indigenous rock paintings at Cave Hill andlearn about daily Aboriginal life at cultural presentationsabout traditional crafts such as dot painting and didgeridoo carving. By late afternoon, you'll be ready for a massage.

At night: Once the sun has set (and viewing that spectacle in the open while sipping champagne is a must), you'd think the darkness would be anticlimactic. But nighttime here is filled with even more captivating sights and sounds as "star talkers" share insight into the vivid constellations above (including the Southern Cross) and a didgeridoo player coaxes haunting melodies out of a wind instrument carved from a hollow eucalyptus branch.

Where to stay: There's a room for every budget at 825-room Ayers Rock Resort, where four resorts-within-a-resort and a campground occupy a prime location not far from Uluru. Top accommodations are in the romantic Sails in the Desert Hotel, with 231 rooms featuring modern decor and Aboriginal art (rates start at $336 a night; ayersrockresort. com.au), while the Desert Gardens Hotel offers some of the best views of Uluru from its 218 rooms (rates start at $290 a night; ayersrockresort.com.au). For an unforgettably romantic splurge, book a two-night package at Longitude 131, an eco-resort that takes glam camping to its most indulgent in 15 distinctively white-peaked luxury tents, each with a kingsized bed positioned to enjoy sunrise views of Uluru (room rates start at $2,170 a night; longitude131.com.au).

The definition of "glamping" — Longitude 131 (photo courtesy of Voyagers Latitude 131)

Where to eat: Ayers Rock Resort offers 13 dining outlets, but one of the most unforgettable experiences you can have while sitting in awe of Uluru is the four-hour "Sounds of Silence" dinner, which begins with canapés and cocktails as the sun sets and continues with a wonderful al fresco buffet dinner during which you can try Aussie specialties such as barramundi, kangaroo and crocodile. During dessert, when the stars are shining brightly, you'll learn about the southern skies and be entertained by local song and dance.
More Amazing Deserts:
Sedona, Arizona ►
Marrakesh, Morocco ►
San Pedro de Atacama, Chile ►
Sossusvlei, Namibia ►
Pages