Our travel editor goes south of the border to find perfect places in the sun.
By: Jenna Mahoney
Given my title, it isn't uncommon for strangers, friends and readers to ask me: What's your favorite place? Having visited 30 countries in my career, countless islands and various American states, it isn't as easy a question to answer as one may think. Although I love a wide range of destinations for different reasons, places that perennially make my top list offer awesome experiences for every traveler. That means I've got to be able to enjoy a cool beach scene, yummy dining options, a plethora of cultural experiences and some good shopping.
Enter Mexico — particularly the east coast, which houses popular Cancun and the Riviera Maya, a region that I've visited four times in this past year alone. I love it for all those reasons, plus the fact that it has an outrageous party scene. Arriba!
The History Channel
The top reason the Yucatan (which is the Peninsula that houses Cancun and the Riviera Maya) gets my props is awesome ruins. Chichen Itza is the most famous — and crowded — site, which boasts a pyramid, an ancient ball court and a Mayan steam bath, among other structures. To get away from the crowds, I suggest checking out Coba. The ruins, which include a taller, central temple, are set deep in a jungle and you'll need to rent bikes (or take a rickshaw) to the main buildings. Personally, I prefer Tulum, an oceanfront outpost located at the edge of the region. Pack your swimsuits and hit the beach after you tour the site. Not only are the waves terrific for body surfing, but the vantage point in the ocean from under the main temple is absolutely mind-blowing.
Sandy Spot
Speaking of beaches, (and there are loads to choose from), I like the stretch of sand fronting IberoStar Cancun. The first property on Cancun's 12-mile beachfront hotel zone, the resort has the distinction of bordering a single neighbor, so the strand feels longer, wider and more private. I love to sit under one of the many palapas late in the afternoon when the sun isn't too strong. The rhythm of the waves lulls me into a pre-party siesta (room rates start at $233 per person, per night, all-inclusive; iberostar.com).
Photo Credit: IberoStar Hotels and Resorts

Photo Credit: Ibero Star Hotels and Resorts 
The Ultimate Fiesta
Cancun's reputation as a party town is certainly infamous, but that doesn't mean you're destined to do body shots on your honeymoon. The biggest Cancun disco — and the most advertised — is Coco Bongo, a multi-level club with over-the-top shows. Best described as mini-spectaculars, they feature righton-the- money impersonators of top artists such as Madonna, Beyoncé, Frank Sinatra and Guns n' Roses. The club also has an outpost in Playa del Carmen. For an actual live performance by the real Shakira, stay at the Hard Rock Hotel Cancun. Guests at the hip hotel get two tickets to big-name headliner shows during their stay (room rates start at $171 per person, per night, all-inclusive; hardrockhotels.com).
If you want to be treated like an A-lister, host a destination wedding at the Hard Rock. The group has recently launched exclusive wedding packages from celebrity planner Colin Cowie. All nine designs incorporate his marquee attention to detail and haute design sense. My favorites are Metallic Sands, a glittering white collection, and Sultry Sunset, a fiery blend of oranges, pinks and yellows.

Photo Credit: All Inclusive Collection
The Grand House
While across the region a barefoot attitude rules, The Ritz-Carlton, Cancun has a distinctly more formal approach to hitting the beach. And in a good way: The 365-room oceanfront hotel feels more like a grand home, offering its guests impeccable service, outstanding cuisine and a fantastic spa. Book into the concierge level for more personalized service and the best views of the beach. You'll also have complimentary goodies like a breakfast buffet, delicious lunch (ask for the veggie sandwiches), cookies whenever you like and more. Located on the pool level, the spa offers all you need to completely unwind, including an intimate outdoor Jacuzzi. For a more romantic experience, ask to have your couple's massage on the beach. Follow it with a starlit dinner for two in the sand at Casitas or in the fine-dining Fantino. Honestly, they are both such delicious and distinct experiences that you should try both during your stay (room rates start at $246 a night; ritz-carlton.com).
Photo Credit: The Ritz Carlton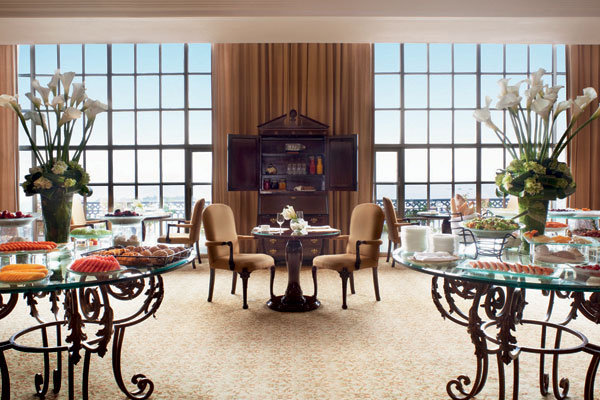 Photo Credit: The Ritz Carlton
Money Talks
One big advantage to visiting the region is that American dollars are widely accepted. Be prepared, however, to get change in Mexican pesos. Another customary practice is bargaining. The first rule is not to insult the seller. Offering a price that is radically different from the one quoted won't get you anything. Instead, counter with a 30% discount. You should haggle until you've found a middle ground. Taxi fares work in a similar manner. Once in the cab, ask the driver "how much." Answer with "Wow. That's expensive" and offer about 20% less. He should agree to that price and happily take you to your destination.