It may be one of the world's most popular honeymoon destinations, but Mexico still has a few tricks up its sleeve. Take a tour of our favorite off-the-beaten-path destinations.
By: Maya Vandenberg
You already know Cancun and Cabo are go-to honeymoon spots, but Mexico is full of hidden gems that offer all the authentic culture, cuisine and stunning beaches you could want, minus the crowds. these out-of-the-way, low-profile destinations are also genuinely romantic.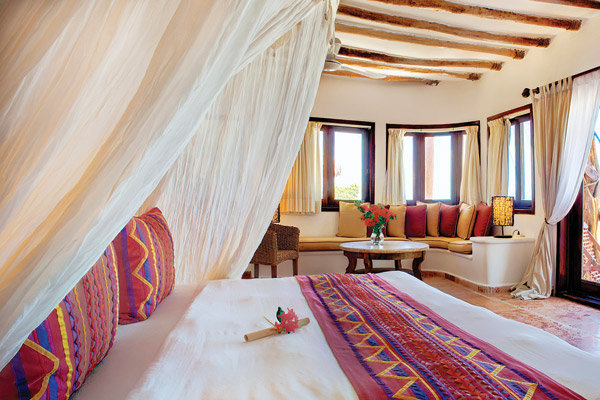 Photo courtesy of CasaSandra
Isla Holbox & Isla Mujeres
Located just off the coast of Cancun, these islands feel a country apart. The ferry to Isla Mujeres is just a 30-minute ride from downtown Cancun, but if you really want to get away, head to sister isle Isla Holbox, whose ferry is a two-hour drive from the airport (or you can reach the island via a short chartered plane ride).
Where to Play: While these two islands are really all about relaxing with a good book (and your husband) on the beach, rent a golf cart one day on holbox and head to either Coco's Point or Mosquito's Point, at opposite ends, for amazing sunset views. you can also swim with whale sharks May through September in nearby Contoy Island National Park. And at night, enjoy a couple of margaritas at Carioca's, a small beach bar with swings for chairs. On Isla Mujeres, take a snorkel tour of the world's second largest coral reef system. Don't miss a visit to Punta Sur, located on the southern tip of the island, to explore the ancient temple honoring the Mayan Moon goddess.
Where to Eat: CasaSandra's restaurant serves up the best food on the island, and the special fish fillet (aka grouper that was pulled out of the water hours earlier) is a must-try. Head into the main town area (just three blocks from the hotel) and hit up La Guaya at the entrance to the "shopping center" for tasty Italian or Edelyn for lobster pizza. Meanwhile, Casa Rolandi at Hotel Villa Rolandi on Isla Mujeres offers gourmet Swiss-Northern Italian eats with a view of the crystalline waters. Amigos, as its name suggests, is a friendly restaurant showcasing top-notch fish dishes.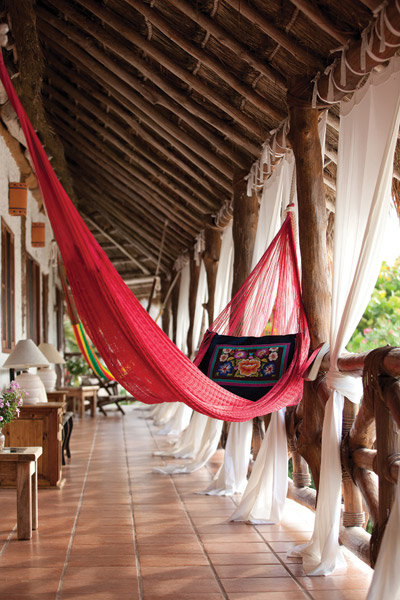 Photo courtesy of CasaSandra
Where to Stay: Holbox is the ultimate sandy-streets, island getaway and CasaSandra is the ultimate kick-your-shoes-off beach hotel. Super-relaxed yet elegant, it doesn't take long for you to feel right at home, which is exactly what owner Sandra Perez intended when opening the art-inspired, 20-room hotel 10 years ago. For the most seclusion and direct beach views, book suite 12, a second-floor accommodation with a private balcony (room rates start at $290 a night; casasandra.com).
On Isla Mujeres, the all-inclusive, beachfront Isla Mujeres Palace will get you the most bang for your buck. Each room at the sprawling resort has a deep Jacuzzi tub. Mention you're honeymooning at the adults-only resort, and they'll throw in free t-shirts, nightly petit fours, baths filled with bubbles and flower petals and a special dinner on the beach (room rates start at $185 per person, per night and are all inclusive; palaceresorts.com).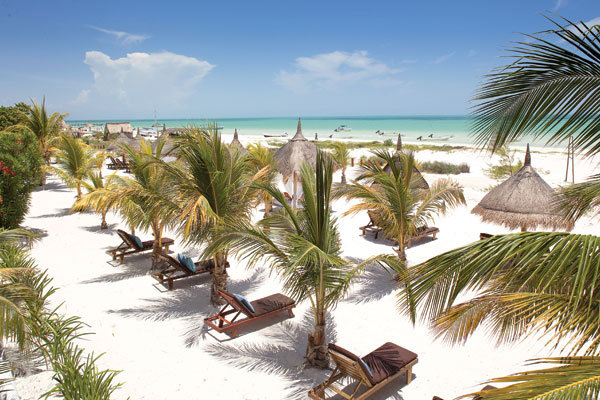 Photo courtesy of Isla Holbox
Mérida
A modern city with a colonial vibe on the Yucatán Peninsula, Mérida is a historical and cultural capital with palaces, cathedrals, archaeological sites and nearby beaches to boot.
Where to Play: Take a stroll around the city's central plaza to check out the San Ildefonso Cathedral (the continent's oldest) and the 16th-century Montejo House. If you find yourself there on a Sunday night, you can enjoy the weekly street festival with live music, dancing and street vendors galore. The area is also rich in Mayan culture, so consider an archaeological tour of the ruins of Ek Balam or explore the region's cenotes (limestone sinkholes filled with water) with a dive expedition.
Where to Eat: Rosas & Xocolate's indoor/outdoor restaurant is one of the most romantic spots in the city and features an ever-changing gourmet nuevo-Mexican menu. For some of the best fish tacos in the area, head to the tiny, blink-and-you'll-miss-it El Cangrejito. At the elegant Néctar Food & Wine, you'll find a modern take on traditional Yucatán-style dishes that look more like works of art than food.
Where to Stay: Right in the center of all the action is Rosas & Xocolate Boutique Hotel and Spa. Housed in two renovated mansions, the pink-hued property has 17 charming rooms with private terraces and outdoor bathtubs. And as you might guess from the name, chocolate is a main focus, so don't miss out on the cocoa-inspired spa treatments (rooms start at $235 a night; rosasandxocolate.com).

Photos courtesy of Rosas & Xocolate
Sayulita
On the Pacific coast, just 30 miles north of Puerto Vallarta, lies Sayulita, a town that may as well have invented the term "hippie chic." Though thanks to its pretty cove beach, it's become more popular in the past few years, Sayulita is still a fairly quiet spot in the bustling Riviera Nayarit.
Where to Play: Sayulita is known for its surf breaks, so grab a board (whether it be surf, boogie or stand-up paddle) and hit the waves. If you're into nature, book a whale-watching excursion November through March to get a glimpse of these majestic creatures or take a tour of the nearby Marietas Islands, a unique group of volcanic islands with a fascinating ecosystem. Then visit Galeria Tannaca, a nonprofit organization that supports the area's indigenous Huichol people, for some beautiful handmade wares, like beaded necklaces and threaded paintings.
Where to Eat: The cuisine of Riviera Nayarit is steeped in hundreds of years of culinary traditions. There are plenty of spots in town, including Don Pedro's, for right-on-the-sand dining (try the fish sandwich with chipotle-lime mayo and cactus salsa, with a shared giant margarita), Choco Banana for their famous frozen bananas dipped in chocolate, or Tacos on the Street for fresh corn or flour tortillas packed with grilled rib eye or the weekly fish special. And you can't leave without sampling Riviera Nayarit's most renowned dish, pescado de zarandeado (grilled whole fish with chili and garlic). While it originated on the small island of Mexcaltitan,about a three-hour drive north,the nearby Mariscos Tinos Punta de Mita has a worthy version.
Where to Stay: Accommodation options are mostly of the boutique variety, and one of the best for honeymooners is Playa Escondida. Billed as a jungle-beach hideaway and spa, right on a private stretch of sand protected by rock outcroppings (meaning you won't have to deal with hawkers) and just a five-minute ride from downtown, this 28-unit eco-resort is as laid-back as it is intimate (room rates start at $125 a night; playa-escondida.com).

Photo Credit: Cassaandra
Zihuatanejo
Zihua (as it's often called), on the southern Pacific coast, was once a sleepy fishing village, and while it's started to wake up a bit, it hasn't lost its traditional feel. You'll find quaint galleries, folk art shops, boutique hotels and low-key palapa-topped restaurants.
Where to Play: Take advantage of Zihua's natural beauty with a snorkel cruise around the bay. Fitness enthusiasts can enjoy a romantic bike ride along neighboring Ixtapa's ciclopista, a five-mile-long circuit that starts at the marina and crosses Aztlan Park, home to tropical vegetation, indigenous birds and even crocodiles. A leisurely sunset sail to watch the Pacific sun as it sinks below the horizon is a popular activity. Couples who want to get their groove on can head to Bandido's in downtown Zihuatanejo and dance to live music Mondays through Saturdays.
Where to Eat: Tentaciones, the restaurant within the hotel of the same name, offers casual international fare and local seafood specialties on an outdoor terrace overlooking Zihuatanejo Bay — reservations are required. Or try Amuleto, also a boutique hotel restaurant overlooking the bay, for alfresco garden dining. Get a taste of chef and owner Ricardo Rodriguez's renowned cuisine, like stingray in black butter sauce, at Kau-Kan Restaurant located above Playa La Madera.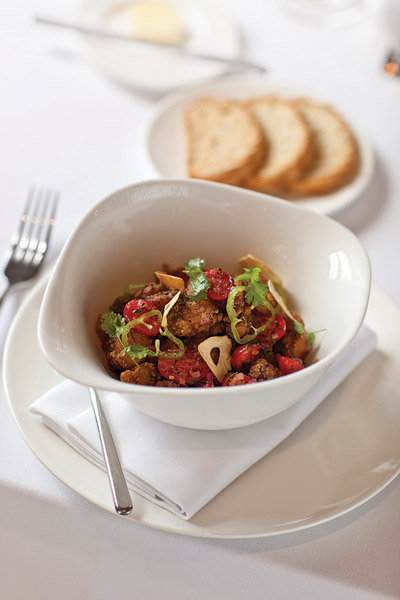 Photo Credit: Lester Gonzalez
Where to Stay: For an ultra-romantic experience, check into Hotel Cinco Sentidos, which is perched on a hillside overlooking gorgeous La Ropa Beach. The three-story building has just five guest rooms, all with Zihuatanejo Bay views and private terraces with infinity plunge pools. Go all out and stay at the Grand Suite for 180-degree bay views, an open-air living room and a sundeck off the king-size bedroom (room rates start at $195 a night; hotelcincosentidos.com).