The ultimate where, what and why guide to Mexico's wildly popular Riviera Maya.
By: Maya Vandenberg
With crystalline Caribbean waters and golden sand on one side and a lush jungle filled with ancient sites on the other, Mexico's Riviera Maya is a natural wonder that's perfect for honeymooning. Running along Mexican Federal Highway 307 on the Yucatan Peninsula from Puerto Morales, just south of Cancun, down to Punta Allen, this strip of paradise, which also includes the island of Cozumel, is chock-full of opportunities to enjoy the sea (snorkeling, kayaking and swimming) and land (horseback riding, hiking and sunbathing). And while the region is home to unparalleled beauty, it also boasts fantastic lodging, food and entertainment options. Here, our top picks around  Mexico's romantic Riviera Maya.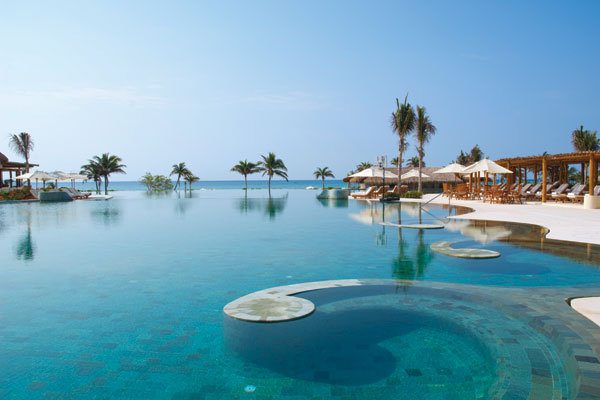 Grand Velas Riviera Maya (Photo Courtesy of The Riviera Maya Destination Marketing Office)
By Day
Mexico's Caribbean beaches are really worth a minimum of three days of lounging, splashing and swimming. Of course, at some point, you'll want to explore all the rest that the Riviera Maya has to offer. If you only do one sightseeing excursion, make it to the ruins of Tulum, the only known seaside archeological site. After strolling through what's left of an ancient Mayan city that was abandoned at the end of the 16th century, hit the beach. The awesome ruins stand high above a pristine cove that's splashed with waves that are perfect for body surfing. Note: Wear your swimsuit since there are no changing rooms or bathrooms once you enter the area.

Riviera Maya is known for its abundance of cenotes (giant sinkholes filled with groundwater) and the underground rivers from which they originate. A tour of Río Secreto, the longest system of underground rivers in the area, lets you check out the geological phenomenon for yourselves and it isn't much more taxing than floating along with a wet suit and a life jacket on, gazing at stalagmites, stalactites and coral. 
If you have the time, consider a trip down to Centro Ecologico Sian Ka'an, translated from Mayan as "where the sky was born" and the southern border of Riviera Maya, to check out the Biosphere Reserve, a world heritage site. Spanning a massive 1.3 million acres, this natural sanctuary is home to hundreds of mammal, bird and flora species, which you can get up close and personal via a boat or kayaking tour along the mangrove-flanked channels. Get there later in the day and stay to watch the spectacular sunset over the wetlands before heading back north.
Adventure-seekers should hightail it to Xplor
, a new adrenaline-inducing activity park of ziplines, amphibious drives through the jungle and underground caverns, as well as river swimming and rafting. The entrance fee to this area, slightly south of Playa del Carmen includes all activities, so spend the day to get more bang for your dinero.
  Tulum Ruins (Photo Courtesy of The Riviera Maya Destination Marketing Office)
At Night
After the requisite sunset horseback ride on the beach (how can you say no to this honeymoon staple?) and a romantic candlelit dinner, there are many Riviera Maya options for night owls. Ranging from raucous to tame, they're mostly found in and around happening Playa del Carmen.
For the party animals, there's the utterly entertaining Coco Bongo, sister spot to the Cancun club of the same name. Billed as a show-slash-disco, acrobatic performers and celebrity impersonators segue into a riotous all-night dance party. Adjacent to Coco Bongo is the slightly more tame and less touristy club, La Santanera. You'll want to come after midnight and stay until dawn at this two-story complex, whose DJs pump international house music infused with Latin flavor.
If discos aren't your thing, you two can enjoy a little quiet time at Fusion. Part of the hotel of the same name, this chilled-out Playa del Carmen beach bar hosts live fire shows and belly dancers—but you might want to sneak off to an oil-lantern-lit table to have a peaceful drink and listen to the sound of the waves instead. Honeymooners in Tulum will want to drop by hotel-bar-restaurant La Zebra on Sunday nights for their popular Salsa Party. Even if you've got two left feet, you can brush up on your salsa skills with free lessons starting at 6 p.m. And if lessons don't help, a few of the pineapple juice and ginger margaritas from the tequila bar may.
Of course, you can always take a late-night soak in your rose petal-strewn Jacuzzi tub at your hotel.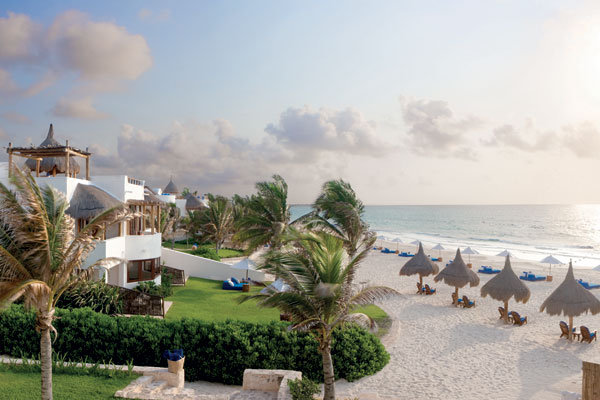 Maroma Resort and Spa (Photo Courtesy of Orient-Express Hotels)
Where To Eat
Most of the best restaurant options are in tourist-heavy Playa del Carmen, especially along Fifth Avenue, which is packed with myriad restaurants and bars to please just about every palate. However, Tulum's hotel zone also has some worthy up-and-comers, as does the quieter Akumal, located between the two.
For a quick mid-shopping pick-me up, stop in to El Bistro Bites on Playa del Carmen's busy Fifth Avenue. Score a seat out front on the terrace at this tapas-style restaurant and people watch as you nibble on the fish bites and red tuna nachos, accompanied by a specialty mojito. A relative newcomer to the Playa del Carmen restaurant scene, ComoComo has created quite a buzz. Also on Fifth Avenue, but slightly removed from the rowdier area, this Italian-Mediterranean eatery's interior is pared down, while the food is robust with flavor. The pasta is fresh and served alfresco on the wooden deck or in the inviting candlelit indoor space.
Located in Tulum's jungled hotel zone, the open-air El Tábano serves up authentic Mexican food with some international dishes in a romantic, laidback ambience. For just-caught seafood served beachside, hit up the casual, chairs-in-the-sand Lol-Ha Restaurant and Snack Bar in Akumal. Request a private romantic dinner when making a reservation and you'll dine under a thatched palapa on the beach surrounded by tiki torches.


                Above: A suite at the Grand Velas Riviera Maya; Below:  Maroma Resort and Spa (Photos Courtesy of Orient Express Hotels)
Where To Stay
From all-inclusives and luxury resorts to laid-back beach bungalows dotting the shore, the Riviera Maya has it all.True five-star all-inclusive resorts are rare, which is what makes Grand Velas Riviera Maya such a treasure. The 491-suite haven is split into three different areas so it hardly feels like the giant that it is. Book one of the Grand Class Suites and you'll be treated to amazing Caribbean Sea views plus a Jacuzzi and private plunge pool. And the resort boasts eight out-of-this-world gourmet restaurants, from Mexican to French (room rates start at $518 a night, all-inclusive; rivieramaya.grandvelas.com).
Where the jungle meets what is considered by many expert travelers to be one of the world's most beaut
iful beaches is the 65-room Maroma Resort and Spa. Barefoot elegance at its best, luxe digs await at this hacienda-style retreat that fronts a private stretch of stunning white sand. With two restaurants, two bars, a spa, three pools—plus cooking classes and tequila tastings—there's really no need to ever leave the property, especially if you nab Suite 40, which boasts a handmade tub that has the hands down, best ocean view (room rates start at $765 a night and include breakfast; maromahotel.com).
Al Cielo Hotel is a secluded rustic hideaway set right on gorgeous Xpu-Ha Beach, located halfway between Playa del Carmen and Tulum. The property has just four minimalist-chic rooms with mahogany furnishings offset by white bedding and gauzy curtains. There's also an adjacent open-air restaurant that serves fresh-from-the-sea meals. And once the palapa-topped beach beds are full, the owners don't allow anyone else on the strand so thankfully it's never crowded (room rates start at $170 a night and include breakfast; alcielohotel.com).
Stay in the heart of bustling Playa del Carmen at La Tortuga Hotel & Spa, a jungle-inspired boutique steal. The best of both worlds, La Tortuga is just two blocks from the beach and around the corner from the town's action. Encircling the free-form pool interspersed with palm trees and wooden walkways are 51 charming guest rooms, an intimate restaurant and quiet spa. Opt for the honeymoon-perfect, second-floor Suite 218, with an in-room Jacuzzi and cozy outdoor lounger for two (room rates start at $128 a night and include breakfast; hotellatortuga.com).