After testing the waters around the islands of Aloha, our panel reports on their favorites.
It may be difficult to fathom, but even in paradise not all things are created equal. Yes, it's true—and among Hawaii's endless postcard-perfect scenes of brilliant turquoise waters set against shimmering sands, there are a few beaches that shine just a bit brighter. Whether it's primarily for surfing, strolling or just kicking back, each of these strands has something special. Here, our favorite Hawaiian jewels.
MEET OUR EXPERTS
Samantha Brown
Samantha, host of several programs on the Travel Channel, spends over 200 days traveling each year. Viewers follow Sam's escapades as she discovers delicious food, fabulous shopping, architectural treasures and the kind of authenticity they won't find in a tourist guidebook. "Unlike any other tropical destination, Hawaii captures your soul and takes your heart on an intimate journey," says Samantha. "This isn't a vacation, but an exploration of stunning natural beauty created by volcanoes both sleeping and alive, an age-old culture and of course, yourself. You will not only see Hawaii, you will feel it."
Ellen Klugman
Ellen's career in travel began when she was eight years old and insisted on reviewing the rooms of every hotel her family visited. Hotel reviews remain one of her favorite types of pieces to write. A member of the Society of American Travel Writers since the 1980s, Ellen's articles and photos on Hawaii have appeared in over 100 publications, including The Los Angeles Times, The Chicago Sun Times, The Philadelphia Inquirer, The San Francisco Examiner, The Washington Post, The New York Post, Condé Nast Traveler and Travel & Leisure. She has also published in The Wall Street Journal, The New York Times, Glamour and Self.
Donna Marino Wilkins
Donna is a senior editor at Zagat Survey, and editor of Zagat Hawaii Eat/Drink/Stay/Play, World's Top Hotels, Resorts & Spas and Top U.S. Hotels, Resorts & Spas. She has covered tourism developments in Hawaii, Asia and Latin America for Leisure Travel News, Travel Counselor and Travel Agent. Donna has also written for Destinations, Historic Traveler and The New York Times, among others.
Jenna Mahoney
Of all the romantic destinations Bridal Guide's travel editor has visited in search of a story, Hawaii remains her favorite. Maybe it is the fantastic resorts, the amazing sunsets or the fact that she had one of her most memorable meals ever at the Hotel Lanai. But Jenna, a beginner surfer, former competitive sailor and all-round water baby, is convinced Hawaii's special quality comes from its gorgeous diversity of beaches. When Jenna isn't covering honeymoons for Bridal Guide, blogging at bridalguide.com and giving industry presentations on travel trends, she is busy planning her very own big, fat Spanish wedding.
Photography: Travel Channel
Best Sunrise…
Hulopo'e Beach, Lanai
From your perch on a red lava rock, adjacent to the nationally protected Holopo'e Beach on the tiny island of Lanai, you can watch the moon set and the sun rise behind legendary Sweetheart Rock, a steep rock island 150 feet offshore. Then look across the channel to Maui, as it turns remarkable shades of violet, pink and gold. Once the sun is up, take a morning dip, along with a pod of 200 acrobatic spinner dolphins that breakfasts in the cove. Bonus: This is a prime spot to see whales during their mating season (January through April).
Best Sunset…
Ka'anapali Beach, Maui
At dusk, someone blows on a conch shell, signaling that it's time to head to Pu'u Keka'a (Black Rock in English), the massive lava boulder that juts into the sea. This is the focal point for the nightly torch lighting and cliff-diving ritual. Shortly before sunset, a loincloth-clad "warrior" lights a series of torches all the way up to the rock's crest. As a tribute to tribal elders, as well as to the elements, he holds an orchid lei to the sky in all four directions. Just as the sun slips into the channel and the sky is painted in pink and yellow, the barefoot warrior dives 30 feet into the dark ocean.
Best for Stargazing…
Hapuna Beach, Big Island
Pitch-dark night skies and shimmering constellations make you feel as though you are swimming in a sea of stars on this Kohala Coast beach. Take a seat in the warm, superfine sand, and wish upon a shooting star. Or look out across the water at the low-slung moon casting a silvery glimmer across the cove. If you're staying at the nearby Hapuna Beach Prince Hotel, you can view your celestial favorites through a high-powered telescope.
Best for Long Walks…
Papohaku (Three Mile) Beach, Molokai
While there are many picturesque coves all across the islands, not many are long enough for day-dreamy, hourslong, hand-in-hand strolls. But on the small island of Molokai, you'll find this rare jewel. One of the grandest stretches of sand in Hawaii, Papohaku Beach is over three miles long and 300 yards wide. And since Molokai doesn't have a single resort, you are virtually guaranteed to have this picturesque place all to yourselves. Ferries from Maui go to Molokai twice daily.
Best to Laze in the Shade…
Kona Village Resort, Big Island
This picturesque setting is dotted with beachside hammocks slung between shady palms. Once you've had your fill of kicking back, use that complimentary snorkel equipment to check out the rainbow variety of fish and friendly green sea turtles that swim in the neighboring coves fronting upscale thatched-roof bungalows.
Best for a Low-Key Picnic...
Ai'opio Beach, the Big Island
Spread out your blanket on any of the crescent-shaped beaches that front the calm, lapping waters—Ai'opio is a lovely choice. The offshore reefs protect the area from strong surf, so swimming in the warm waters is encouraged. Afterward, explore the nearby fish ponds carved of black lava rock by Hawaiians in olden times.
Best Wine Bar…
Manta & Pavilion Wine Bar, Mauna Kea Beach Hotel, Mauna Kea Beach, The Big Island
Added as part of an enormous renovation project that reopened the historic Mauna Kea Beach Hotel, the Manta & Pavilion Wine Bar features 48 wines that can be sipped al fresco on a large terrace. Savor your favorite vintage, some award-winning pupus (appetizers), like grilled yakitori and freshly rolled sushi, and drink in the unbeatable views of one the most celebrated crescent beaches in America.
Best Beach Bar…
Duke's at the Outrigger Waikiki, Oahu
Located at the epicenter of Oahu's popular Waikiki Beach, Duke's is an indoor/outdoor bar that honors the guy who popularized the modern sport of surfing. The spot has some of the best views and the cheapest prices of any area bar. Indoors, enjoy rockin' live music while taking a look at surfing memorabilia. Or enjoy your local Longboard Lager at a table on the sand and listen to the sound of some of the best surfing waves in the islands as they roll into shore.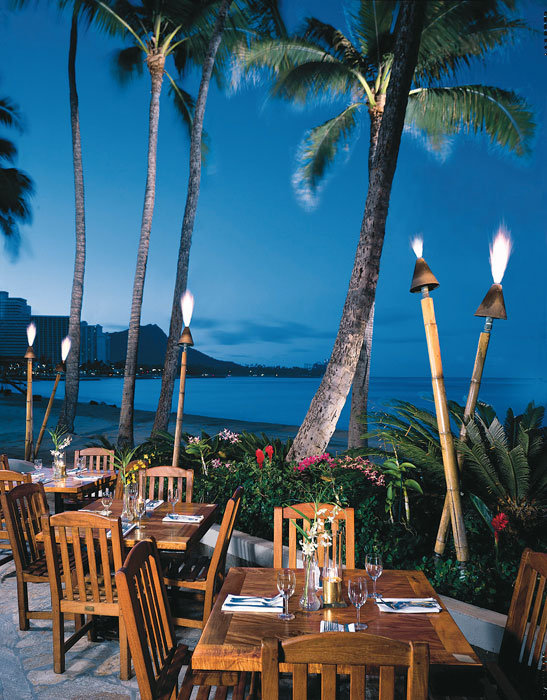 Duke's, on Waikiki Beach,
with Diamond Head in the background
Photography: Duke's Waikiki
Best Snorkeling…
Anini County Beach Park, Kauai
Picnic tables, stunning long strands of white sand, transparent waters, a mass of shade trees and one of the largest coral reefs in Hawaii make Anini a favorite with locals. And thanks to the shallow waters that extend along the sandy off shore shoal, beginner snorkelers can have an amazing experience. Gear rental isn't available here, so bring your own snorkel and mask, and splash around with the wonderful menagerie of friendly sea creatures.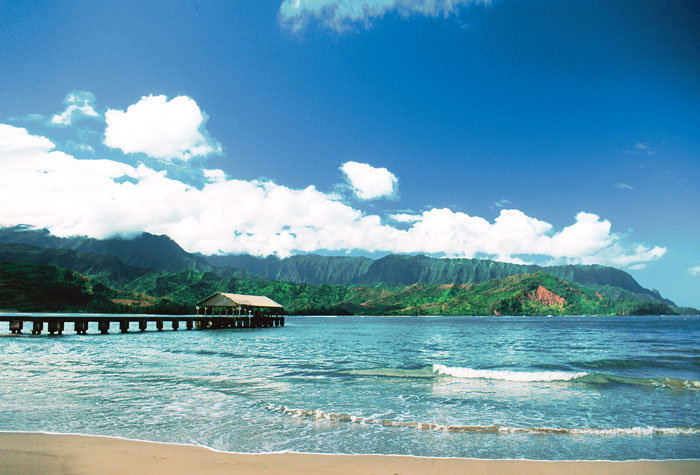 The diverse landscape of Kauai
Photography: Kauai Visitors Bureau
Best Scuba…
Honaunau Bay, Big Island
Divers of all levels love the network of underwater lava sculptures in this bay. And it's no wonder! More of Hawaii's native fish can be found in the waters of this beautiful bay than any other spot. There are parrot fish, tang, surgeon fish and moray eels, as well as turtles and dolphins. When you're done diving, check out the Place of Refuge, an ancient sanctuary that is now a national historical park.
Best Scenery…
Lumahai Beach, Kauai
This beach, made famous in the film South Pacific, is actually more gorgeous than you could ever have imagined. The sand literally shines in the sun and the water glistens. There are stunning lava rock formations, as well as a babbling fresh-water stream on the edge of the crescent-shaped cove. But this is a place to look and not touch: Swimming is a nono here, due to strong currents and fierce waves.
Honokalani Black Sand Beach, Maui
Nothing says Maui more than a black-sand beach, and this one, located in the Wai'anapanapa State Park, is a showstopper. The stretch of sand is cradled by prehistoric lava flows that formed walls, sea arches and caves. A steady flow of tour buses and fellow honeymooners in convertibles means the beach isn't necessarily a quiet place for a nap. But crowds aside, this is where you marvel at how beautiful our earth can be.

An emerald-hued beach on Maui
Photography: Hawaii Tourism Authothority (HTA),
Kirk Lee Aeder
Best for Romance…
Po'olenalena Beach, Maui
Often called the favorite island of visitors, Maui offers everything—natural beauty, loads of island entertainment and plenty of action. But that also means that your fantasies of being alone on a deserted island can be a little difficult to achieve. Enter Po'olenalena Beach, which is set away from the hubbub. And since it stretches nearly a half-mile, you'll have plenty of room to claim some space as your own.
Best for Sports Lovers…
Hanalei Bay, Kauai
You get a little bit of everything here: offshore coral reefs for snorkeling and scuba, as well as soft, lulling waves that attract windsurfers, sea kayakers and boaters. Anglers score big at the public fishing pier. And shutterbugs relish the photo album-worthy setting, complete with misty green mountains dotted with waterfalls.
Best for Windsurfing…
Ho'okipa Beach Park, Maui
Located on the southeast corner of Maui, this incredibly windy spot is home to some of the finest windsurfing conditions (and competitions) in the world. Stop here when traveling from the resort-studded side of the island, and watch the colorful ballet of sails as they move across the water.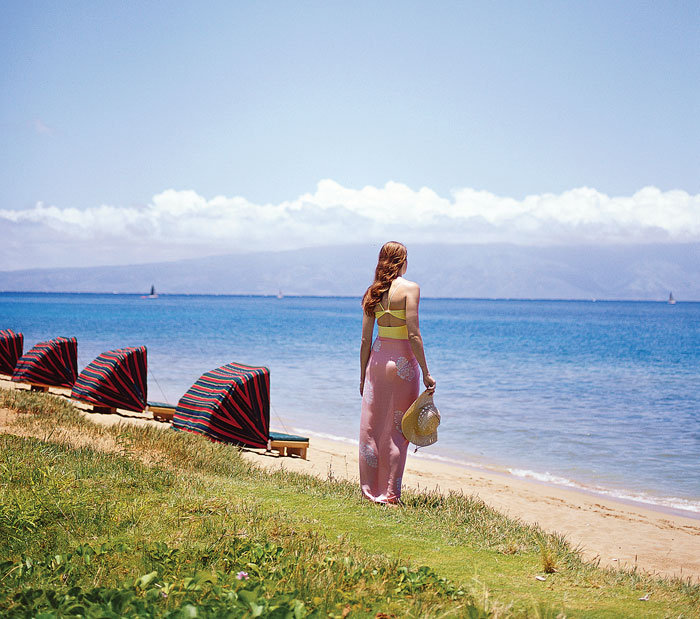 Looking for a shady spot at Ka'anapali Beach, Maui
Photography: Westin Maui Resort & Spa, Ka'anapali
Best for Learning to Surf…
Kihei, Maui
Long sets of gently rolling waves, friendly locals and a slew of surf schools make this one of the best places in the islands to learn the sport. The park that fronts the shore is the perfect place to practice pop-ups (the tricky skill of standing on a surf board). Since the swell tends to be steady and at its best in the morning, try to arrive before 10 a.m. Caution: The rocky bottom makes surfing booties a must.
Best for Watching Pro Surfers…
Waimea Bay Beach Park, Oahu
Each winter, Waimea Bay, on Oahu's North Shore, plays host to one of the world's biggest, baddest and most epic surf competitions. Held only if waves reach at least 25 feet high, the Quick Silver Invitational promises to lure the best big wave riders in the world. Of course, there's plenty of action all winter long, when the waves swell far overhead, and serious surfer dudes practice their moves. In the summer, more placid waters make this bowl-shaped beach a favorite with local kids, who dive off the huge rocks that stand sentinel around the bay.
Ehukai Beach Park, Oahu
Ehukai Beach Park actually comprises three separate areas renowned throughout the pro surf circuit. There's Pipeline (also called Pipe), where surfers look to "get in the green room," by riding inside treacherous tubular waves. Just to the west is Banzai Beach, home to what many consider the Superbowl of Surfing: the multievent Vans Triple Crown of Surfing held every winter.
Best for Kite Boarders…
Kanaha Beach, Maui
Consistent winds and surf conditions attract kite boarders of all skill levels to the western end of Kanaha (also known as Kite) Beach. Even if you aren't trying the aerial acrobatics, it is a super spot to stroll, picnic and laze about while watching the amazing—and colorful—action.
Best for Hikers…
Polihale State Park, Kauai
Getting to this postcard-perfect beach is part of the adventure. The trek includes a six-mile hike on a dirt road that cuts across abandoned sugar-cane fields and affords incomparable views of the nearby Na Pali sea cliffs. It's the longest stretch of undeveloped, sugar-white sand in Kauai (some would say in the state of Hawaii proper). Take advantage of Polihale's picnic facilities by bringing a basket full of goodies. Note: Strong currents make this stunner perfect for strolling and sunning, but not for swimming.
Best for Beachcombing…
Shipwreck Beach, Lanai
With the rusted hull of a 1940s oil tanker still beached here, stellar shellcollecting opportunities, awesome views of Molokai across the channel and stone petroglyphs a short walk inland, this eight-mile-long stretch is a beachcomber's bonanza. Tidal pools and small rock formations along the secluded coastline provide fantastic opportunities to spot sea creatures, while you marvel at the turtles and dolphins playing offshore.
Best Off-the-Beaten-Path Beach…
Kauapea (Secret) Beach, Kauai
Only reachable via a 10-minute climb down a 150-foot vertical path, this nearly 1.5-mile-long white-sand strand has waterfalls to the east and west, as well as views of Kilauea Lighthouse. Surrounded by sheer red and black cliffs, lush vegetation and ironwood trees, it feels blissfully secluded—hence, the name.
Papakolea Beach, Big Island
Located far from the Big Island resort area on the west coast and often overlooked by tourists, this secluded beach deserves mention for its location and its green-tinted sand. One of two greensand beaches in the Hawaiian archipelago, it gets its color from a semi-precious stone called olivine.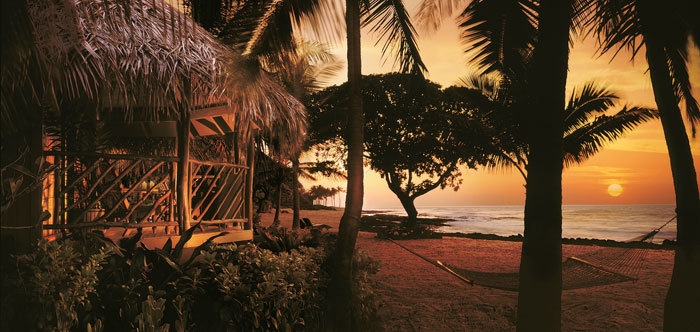 A brilliant sunset off the coast of the Big Island
Photography: Courtesy of Kona Village
Best Boardwalk…
Waikiki Beach, Oahu
With its dining outposts, shopping arcades and bustling night-life scene, it's no wonder that Waikiki is one of the bestknown stretches of beach on the planet. After its recent facelift, the city-centered beach is even better. Check out hula performances, traditional torch lightings and spectacular fireworks displays.
Best Kept Secret…
Hidden Beach, Kauai
Getting here is a bit of a challenge—you may have to cling to the tow rope set along a decaying set of stairs, which lead down the sheer cliffs of Princeville. And at the end of it all, you are rewarded with a pocket-size beach of exquisite sand, clear waters and dramatic boulders.
Best Spot for a Cocktail at Sunset…
RumFire at Sheraton Waikiki Beach, Oahu
You may not be able to wriggle your toes in the sand at this oceanfront bar, but with a menu of over 100 kinds of rum and unbeatable views of the dormant volcano, Diamond Head, and the expansive beach below, do you really mind? Tip: Get there early enough to grab a seat at one of the outdoor fire pits.

On the sleepy side of Oahu
Photography: Oahu Visitors Bureau
Best for People Watching…
Sandy Beach, Oahu
A good-looking crowd sporting the latest swimwear styles makes sunbathing extraenticing at this Hawaii Kai spot. And the expert-only body surfers who venture into the killer swells make for pretty good sightseeing as well. There are also food stalls, handicrafts stands and watersports kiosks that serve as gathering places for wandering beach strollers.
Best for the Unexpected…
Kaihalulu (Red Sand) Beach, Maui
Red and black sand line this stunning cove, which is reached via a dirt path carved into the side of a mountain. Swimmers can safely splash around here, thanks to a rock lava sea wall that forms a natural breakwater for the waves. And sun seekers can take advantage of the isolation to sunbathe in their birthday suits—state law be damned.
Best for Bird Watching…
Lanikai, Oahu
Lanikai means "heavenly beach," and this strand of soft sand, edged with impossibly turquoise waters, certainly lives up to its name. From the shoreline you can gaze out at two tiny islands and watch the hundreds of colorful tropical birds who are doing pretty much the same as you are—just sitting there and enjoying the peacefulness of Hawaii.
Best Natural Wonders…
Kehena Beach, Big Island
Created by a 1955 lava flow, this very private black sand beach attracts dolphins and sea turtles in the mornings. The strand is also a hit with wildlife lovers and bird watchers, since it is only accessible via an easy walking trail that winds through the coastal Kalapana area abutting Hawaii Volcanoes National Park.
More Favorites…
Kailua Beach Park, Oahu
With sublime talc sand, opal-colored water, a lagoon-like bay and a pair of enchanting offshore islands, it's no wonder this gorgeous beach is a favorite location for fashion shoots.
Duke Kahanamoku Beach, Oahu
Located on the northwest edge of Waikiki, this wide stretch of sand in the shadow of the dormant Diamond Head volcano offers stand-up paddle surfing and aqua bikes by day and unbeatable views of the Hilton Hawaiian Village Beach Resort & Spa's fireworks shows.
Waimanalo Beach Park, Oahu
Four uninterrupted miles of beach and azure waters, plus spectacular views of Oahu's coastal mountain ranges and Rabbit Island, will make you feel as if you've discovered an uninhabited island.
Makalawena Beach, Big Island
You have to stroll for a while along the rocky coastline to get to this uncrowded stretch of powder-white sand with shady trees and a snorkel-friendly coral reef.
Mokuleia (Slaughterhouse) Beach, Maui
Despite its name, this cliff-side, whitesand crescent remains among Maui's most picturesque (if not oft visited) beaches. In the summer, there is great snorkeling here.
Hanalei Beach, Kauai
Celebrated in the song Puff the Magic Dragon, half-moon-shaped Hanalei Bay's beach is a postcard-perfect place to enjoy a picnic lunch and admire the waterfall-laced cliffs nearby.