On a tight schedule? Try a destination filled with excitement and romance. You won't even need a passport.
By: Maya Vandenberg
________________________________________________________________________


Oregon Coast
Closest Major Cities
Portland: 1 1⁄2 hours; Seattle: 4 hours; San Francisco: 12 hours
The Oregon coast is where the mighty timber of the Pacific Northwest meets the beach stretching up from California, offering visitors the best of both worlds. Cruise from Cannon Beach south to Cape Perpetua and experience breathtaking scenery—waves crashing against cliffs and majestic beaches.
Where to Stay: Suites at the ultra-sybaritic Stephanie Inn overlook the shores of Cannon Beach and Haystack Rock, the towering pinnacle in the Pacific. Each of the 48 rooms and suites has a private fireplace and a Jacuzzi tub; many also have balconies overlooking the sea. The lodge is nonsmoking, and children under the age of 12 are not allowed (stephanie-inn.com).
By Day: Explore Ecola State Park, where the gnarly forest is coated with a slick layer of moss resulting from the state's notable rainfall. The woods give way to sandstone bluffs, rust-colored beaches and the vast expanse of the Pacific. Keep a lookout for centuries-old Sitka spruce trees, with trunks that may be as wide as a redwood's. Another don't-miss: the Sea Lion Caves, located a mile south of Heceta Head Lighthouse. Here, you'll take an elevator 200 feet down to a cave, and view hundreds of sea lions lolling on the rocks (sealioncaves.com).
At Night: After dinner, stroll Cannon Beach and count the stars in the night sky. Or if you're lucky enough to be staying at one of the six guest rooms in the Heceta Head Lighthouse, grab the flashlight from your room and trek up the tower stairs to watch the beacon flash across the rugged cliffs and out to sea.
Where to Eat: In the nearby fishing community of Bay City, head to the Pacific Oyster for small, tender Kumamoto oysters on the half shell (pacseafood.com). —Stephen Jermonack
Photography: Greg Vaughn.
The Berkshires, MA
Wheatleigh picturesque grounds
Closest Major Cities
Boston: 4 hours; New York: 5 hours; Philadelphia: 7 hours
The Berkshire Mountains in western Massachusetts are dotted with hill towns that offer an enticing mix of New England coziness and cosmopolitan culture. Long a getaway for creative types (Edith Wharton and Norman Rockwell had homes here), the area is a magnet for painters, potters and poets, who appreciate the area's rural charm and urban sophistication.
Where to Stay: While quaint New England B and Bs abound, Wheatleigh in Lenox takes its inspiration from a 16th-century Florentine palazzo. The inn's 19 rooms feature hand-blown glass fixtures and limestone floors, and most have fireplaces and terraces. Dine on extraordinary European cuisine, created by chef Jeffrey Thompson, then sip a cognac in the lofty Great Hall (wheatleigh.com).
By Day: At the Norman Rockwell Museum in Stockbridge, you can view the artist's 322 Saturday Evening Post covers. Or check out the impressive collection of works by Renoir, Degas, Monet, Winslow Homer and Frederic Remington at the Clark Art Institute in nearby Williamstown. Then pick your own fruit in any of the numerous orchards in the area, and spend the rest of the day antiquing in Sheffield on Route 7.
At Night: See a play at the Williamstown Theater Festival (Natalie Portman is often a performer); during July and August you can enjoy a concert of classical music at Tanglewood in Lenox (wtfestival.org). In addition to being the summer home of the Boston Symphony Orchestra, the pavilion always has an impressive array of performers, ranging from Yo Yo Ma to James Taylor (tanglewood.org).
Where to Eat: Bistro Zinc in Lenox, a French-style bistro with banquettes and a tin ceiling, serves classics like salad nicoise, steak frites and croque monsieur sandwiches (bistrozinc.com). —Jill Fergus
Photography: Courtesy of Richard Bryant.
Charleston, SC
The classic charm of Charleston
Closest Major Cities
Charlotte, North Carolina: 2 3/4 hours; Atlanta: 5 hours; Washington D.C.: 8 hours
Charleston, the beautifully preserved colonial city with cobbled streets and antebellum mansions, seems to elong to another era. Here, horse-drawn carriages still have the right-of-way over cars, and mint juleps outnumber cosmos. These are the kinds of things that make this charming city a blissful escape for honeymooners.
Where to Stay: The Market Pavillioin Hotel, the city's newest luxury hotel, has 66 rooms decorated in old-world style, with Frette linens and Hermès toiletries. Be sure to have a cocktail in the romantic rooftop bar, where you can enjoy views of the city's steepled churches and the marblestepped U.S. Customs House across the street (marketpavilion.com).
By Day: Ride by carriage through the city's Battery district, where the streets are lined with stately homes. Tour the Nathaniel Russell House, an 1808 Federal town house with period paintings and furnishings. And stock up on souvenirs at the four-block Old City Market, which sells everything from bags of boiled peanuts to grass baskets woven by local Gullah women.
At Night: Lean about Charleston's haunted past with an evening ghost tour (bulldogtours.com). If you aren't too spooked afterward, have a glass of pinot noir at the new wine bar called Social, the hip space with mood lighting, a long mahogany bar and a backlit wall of bottles; the bar offers 70 wines by the glass as well as a menu of small plates (socialwinebar.com).
Where to Eat: Located in a historic building with exposed brick walls, High Cotton serves sophisticated Low-Country cuisine like buttermilk-fried oysters, bourbon-glazed pork with fried green tomatoes, and corn-bread-crusted flounder with a sweet corn succotash (dinner for two $100; mavericksouthernkitchens.com). Mercato attracts a stylish crowd that favors fine wines and dines on such Italian fare as homemade pastas, gourmet pizzas, artisanal cheeses and osso buco (mercatocharleston.com). —JF
Photography: Charleston CVB.
Seattle, WA
Seattle's Space Needle
Closest Major Cities
Portland, Oregon: 3 hours; Boise, Idaho: 9 hours; San Francisco: 13 1⁄2 hours
Backed by snowcapped Mt. Rainier and bordering on the Pacific, this city's locale is a lure for anyone with an adventurous spirit. Bike the Burke Gilman rail trail (or BG as locals call it), kayak across Lake Washington and visit the innovative Hendrix exhibition at the Frank Gehry-designed Experience Music Project.
Where to Stay: Sitting on the pier of Seattle's waterfront is the rustic Edgewater Hotel, with interiors built of red cedar. Stay in a waterfront room, and you'll have spectacular views of Elliott Bay and the city's incomparable sunsets. The accommodations also feature wood-burning stoves, knotty-pine furniture and overstuffed chairs (edgewaterhotel.com).
By Day: The best time to hit Pikes Place Market is early in the morning, when the crowds have yet to arrive and the vendors are setting up. Stroll among fresh-cut peonies and lupines, taste the local rain-soaked cherries and marionberries and gaze at the bounty of Northwestern seafood (oysters, Alaskan halibut, king crab legs and two-foot-long copper river salmon) at Pikes Place Fish Company. Then explore the Seattle Art Museum's Olympic Sculpture Park, a nine-acre area, complete with works by Richard Serra among others, and views of the Olympic Mountains and Puget Sound (seattlemuseum.org).
At Night: Edgewater's bar, Six-Seven, has live music at night. Other hot clubs include The Pink Door at Pikes Place Market and Dimitriou's Jazz Alley in Belltown, the neighborhood that starts hopping once the sun sets.
Where to Eat: Cascadia pays homage to the food, wine and décor of the great Northwest, with interior columns fashioned from Douglas Fir and a semiopen kitchen sectioned off by a cascade of water. —SJ
Photography: Tim Thompson.
Savannah, GA
Savannah, the epitome of romance
Closest Major Cities
Atlanta: 2 hours; Jacksonville, Florida: 2 hours; Washington D.C.: 12 hours
Founded by British general James Oglethorpe in 1733, this city is known for its live oak trees dripping with Spanish moss, breathtaking architecture and haunted graveyards. Today, this Georgia peach also has a rich culinary scene.
Where to Stay: Many historic-district mansions have become charming hotels. One such is Planters Inn, whose 60 rooms are outfitted with four-poster beds and period furniture; some have private balconies and fireplaces. Located steps from the city's Reynolds Square, the inn is near the area's historic sites and restaurants (plantersinnsavannah.com).
By Day: Stroll through the city's landmark squares—little urban oases filled with flowers and fountains. You can also take all kinds of tours (ghosts, culinary, etc.), but one of the most popular is the movie tour. More than 85 films have been shot here, including Forrest Gump and Midnight in the Garden of Good and Evil. Or just unwind at the Greenbrier Spa, located across the river (westinsavannah.com).
At Night: Along River Street you'll find a lively bar scene in the historic district—former cotton warehouses have been transformed into pubs, clubs and restaurants. On weekends you can usually expect live outdoor entertainment.
Where to Eat: The Olde Pink House is among the city's best restaurants. It's located in, yes, a pink building, which dates from 1771. After a cocktail in the tavern, head to one of the elegant dining rooms with fireplaces and chandeliers, and relish such dishes as she-crab soup and crispy flounder in an apricot shallot sauce (dinner for two $100; 912-232-4286). For Southern cooking and star sightings, go to The Lady and Sons owned by Food Network Queen Paula Deen (ladyandsons.com). —JF
Photography: Attic Fire.
Coastal Maine
Tranquility reigns at the Inn at Ocean's Edge.
Closest Major Cities
Portland, Maine: 1 1⁄2 hours; Boston: 3 1⁄2 hours; New York: 8 1⁄2 hours
The coast of Maine is a rocky stretch of coves, harbors, islands and beaches. And the towns along the coastline—the longest in the U.S.—have a bygone sense of romance as well as traditional New England beauty.
Where To Stay: The Inn at Ocean's Edge in Penobscot Bay is a serene retreat, set on 22 private acres that border a secluded stretch of shoreline. Two spacious new Poolhouse Suites occupy a recently completed stand-alone building. Crowned by lofty cathedral ceilings, these suites incorporate all the inn's iconic amenities—the wood-burning fireplace, oversize bed and Jacuzzi for two—while taking full advantage of the dramatic proximity to pool and ocean. Open the French doors, lounge on your private balcony and enjoy the view of the property's green gardens as you listen to the sounds of waves crashing on the nearby beach (innatoceansedge.com).
By Day: At the hotel you can swim in the heated infinity pool, search for sea glass on the beach and indulge in an in-suite massage. Rent bikes, ferry across to Isleboro and explore the island's quiet countryside and beaches. Or go to nearby Camden and stroll along its quaint Main Street. Stop for a drink at the Sea Dog Brew Pub, located on the ground floor of a renovated wool mill (seadogbrewing.com).
By night: Snuggle together on your deck in the crisp evening air and stargaze.
Where To Eat: Maine is synonymous with lobster. In Camden there's an abundance of lobster shacks, cafés and restaurants offering crustaceans in a variety of ways. The best bet for food and atmosphere is Bayview Lobsters, where basic boiled lobsters are served right on the beach (bayviewlobster.com). For a more refined experience, savor the artful dishes and views from the restaurant at Inn at Ocean's Edge, perched high above Penobscot Bay. —Brenda Fine
Photography: Laura Toran.
Santa Barbara, CA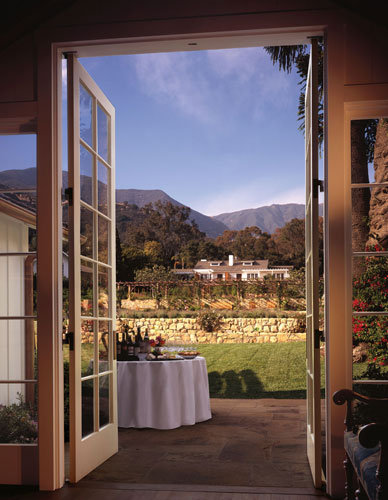 The posh San Ysidro Ranch in Santa Barbara, California
Closest Major Cities
Los Angeles: 1 3⁄4 hours; San Francisco: 3 1⁄2 hours; Las Vegas: 6 hours
This quintessential coastal California town, situated between the Pacific Ocean and the Santa Ynez mountains, has long been a favored hideaway for laid-back beach lovers and Hollywood heavyweights in search of some R&R. Enjoy outdoor offerings, like hiking and cycling, tour wineries and dine in gourmet restaurants.
Where to Stay: At the San Ysidro Ranch, where Gwyneth Paltrow married Chris Martin and JFK and Jackie honeymooned, you can hole up in a romantic cottage with a stone fireplace and a four-poster bed. You will want to emerge for a spa treatment on the terrace and a meal at Stonehouse, the property's restaurant (sanysidroranch.com).
By Day: For one of the most beautiful views of Santa Barbara, hike to the top of Hot Springs Trail. Then cycle past the wineries in the scenic Santa Ynez Valley, made famous by the movie Sideways, and shop along State Street, a wide pedestrian boulevard lined with bougainvillea as well as galleries, boutiques and specialty stores.
At Night: State Street is loaded with nightlife. Try microbrews like Pacific Pale Ale and Gold Coast Wheat at the Santa Barbara Brewing Company, play pool and sip martinis at Q Billiards (which also has a sushi bar) and hit the dance floor at Sandbar, a trendy area nightclub.
Where to Eat: Bouchon, with its French/California seasonal menus and California wine list, is one of Santa Barbara's most popular restaurants. Hint: Ask for a table on the patio (dinner for two $120; bouchonsantabarbara.com). Four Seasons Biltmore's Bella Vista is a showcase of California wine country cuisine, like panacetta and truffle-wrapped free-range chicken breast, and mango and lychee panna cotta (fourseaons.com).—JF
Photography: Courtesy of San Ysidro
Kohler, WI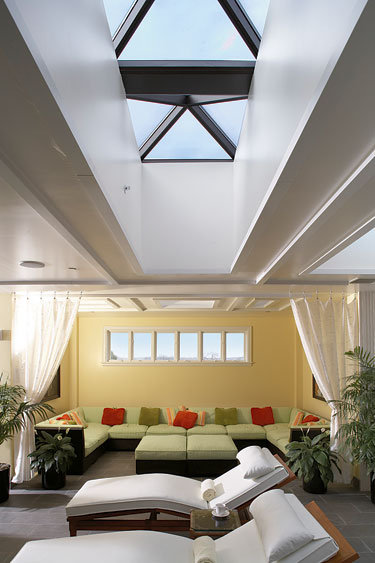 The mod and sleek Kohler Waters Spa
Closest Major Cities
Milwaukee: 1 hour; Chicago: 2 hours; Madison: 2 hours
Nestled in the picturesque village of Kohler, just two miles inland of Lake Michigan, Wisconsin's Kohler Waters Spa is the epitome of beauty and simplicity. True to its name, this sanctuary emphasizes the healing powers of H2O in its treatments. A striking 30-foot central soak pool beckons guests to unwind beneath its giant waterfall, while the signature Riverbath Room—one of many treatment areas—invigorates the mind and body.
Where to Stay: The spa is housed in the 55-room Carriage House, a wing of the renowned American Club hotel. Stay in one of the 10 new suites and you'll have a complimentary breakfast and tea as well as access to the spa. Or you can always just stay put—these rooms are the only ones that offer in-suite treatments (destinationkohler.com).
By Day: With 52 treatments and services on the spa's menu, from massages and facials to exfoliations and rejuvenating baths, there's no shortage of spa-ing to be had. Try the H2O Inspiration and you'll enjoy a fireside footbath and shoulder massage, followed by a deep soak. The 50-minute Warm Hydro Wrap promises to rejuvenate, thanks to the effects of being swathed in a blanket filled with warm water.
At Night: Retire to your Immersion Suite and turn on the romance with a vintage Brut and a soak in your Jacuzzi. The uberluxurious bathtub is outfitted with waterfalls, multiple heat settings and a variety of whirlpool levels. Then slip beneath the Frette sheets of your sleigh or four-poster bed for a blissful night's sleep.
Where to Eat: Ease into your evening with a sampling of Wisconsin cheeses at The Winery Bar at The American Club. Then wander next door to The Immigrant Restaurant for a candlelight dinner in one of six intimate dining rooms (jackets required for gentlemen). —Natasha Dillahunt
Photography: Courtesy of Kohler Co.
Hill Country, Texas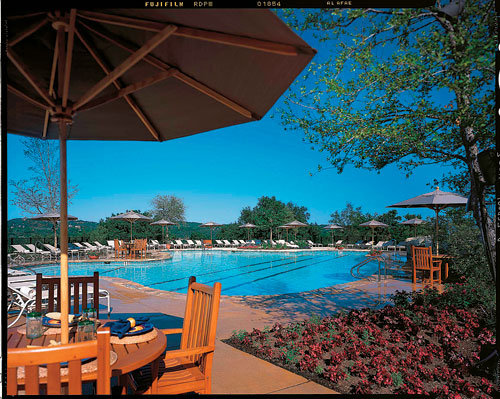 Barton Creek Resort takes pampering seriously.
Closest Major Cities
San Antonio: 1 hour; Austin: 11⁄4 hours; Dallas: 4 hours
Texas Hill Country is a collection of small, quirky towns, barbecue joints, roadhouse bars and some of the Lone Star State's most stunning natural scenery. Meadows are dotted with wildflowers like the Texas bluebonnet, the state flower, and more than two dozen wineries, most of which are on the outskirts of Fredericksburg, the main tourist town.
Where to Stay: At the gateway of Hill Country is Barton Creek Resort, a full-service property, spread over 4,000 acres. Golfers will love the two Tom Fazio-designed courses, while relaxation seekers will enjoy cool treatments like the invigorating Texas Citrus Wrap (bartoncreek.com).
By Day: Explore Fredericksburg, settled in 1846 by German immigrants. The small city is filled with charming antiques stores, bakeries and historic churches. Stroll along the main street and stop in the shops, where you'll find everything from peach jam to antler chandeliers. Or hit a few of the tasting rooms along the Texas Wine Trail—try the syrah and merlot varietals in Becker Vineyards.
At Night: Visit some of Fredericksburg's beer gardens, such as the Auslander in the heart of downtown, where you can kick back with pints of Spaten beer and nosh on bratwurst while you listen to live music Thursday through Saturday nights.
Where to Eat: For a down-home barbecue joint, hit the family-owned Cooper's Old Time Pit Bar-B-Que in Llano. Join the line at the pit and point to your choice (local favorites include beef brisket and slow-cooked pork ribs). Everything is served with sides of cole slaw and potato salad (coopersbbq.com). For more sophisticated fare, try Navajo Grill, which features Southwestern cuisine like grilled quail in a cider balsamic vinaigrette (navajogrill.com). —JF
Photography: Courtesy of Barton Creek.
Northern California
A sunny guest room at Stevenswood Spa Resort
Closest Major Cities
San Jose: 3 hours; San Francisco: 3 1⁄2 hours; Portland, Oregon: 7 hours
Just a 10-minute walk from northern California's dramatic Mendocino Coast and flanked on three sides by the vast 2,400-acre Van Damme State Park, the intimate Stevenswood Spa Resort is a perfect respite for guests seeking stylish tranquillity. Originally built in 1987, the rustic lodge underwent a complete transformation in 2004, when the owners added earth-friendly and high-end touches, including recycled cork flooring and hand-rubbed red oak ceilings, buttery-soft leather furniture and exquisite Venetian vanities.
Where to Stay: Just 10 suites comprise Stevenswood, ensuring you an entirely secluded—and peaceful—stay. Each room promises all the luxuries expected at a spa resort—plush Italian microfiber furnishings, premium Egyptian cotton linens, wood-burning stoves, Italian espresso machines—but an extra-special occasion calls for the 500-square-foot Grand Owner's Suite. It's replete with a fireplace and great views of the ocean, meadow, gardens and forest (stevenswood.com).
By Day: After breakfast, hike through the stunning redwood forests of Van Damme State Park (trails are at your doorstep), bike across Mendocino's grassy meadows or go sea kayaking along the property's shoreline. Come afternoon, retreat to Stevenswood's eco-friendly Indigo Eco/Spa. Choose the indulgent Love in Paradise massage for two, and you'll be treated to an intimate soak in the outdoor mineral-infused whirlpool (it's perched on a canyon rim and concealed by forest), followed by a fireside tandem body rub. Aromatherapy, tranquil music and chilled champagne complete the package.
At Night: Grab a blanket, a bottle of California wine and head out beachside to take a gander at the stars. Request the Bath Butler service before you leave, and you'll return to a drawn bubble bath or milk bath, sprinkled with rose petals and lit candles.
Where to Eat: Grab a table in the cozy Restaurant at Stevenswood and create your own three-, four- or five-course tasting menu from a sampling of coastal wine-country dishes, such as pan-seared white sea bass with manila clams, summer squash and pistou. Most ingredients are sourced locally, so the menu changes daily (stevenswood.com). —ND
Photography: Courtesy of Stevenswood Spa Resort.
Pagosa Springs, CO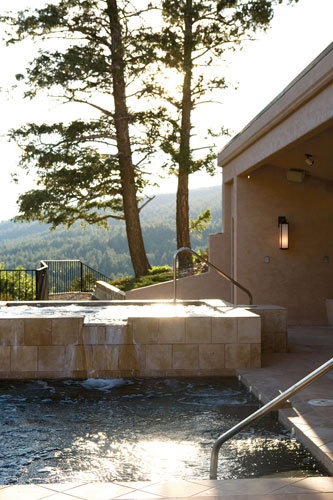 Keyah Grande is a lavish eight-room mountaintop resort in Pagosa Springs, Colorado.
Closest Major Cities
Santa Fe: 3 hours; Telluride, CO: 3 1⁄2 hours; Albuquerque: 3 1⁄2 hours
This natural wonderland has mountain hiking paths, rushing rivers for kayaking and hot springs for relaxing those adventure-taxed muscles. Antiques stores, art galleries and fantastic restaurants satisfy those who prefer more indoor activity.
Where to Stay: At Keyah Grande, a lavish eight-room mountaintop resort on 4,000 acres in Pagosa Springs, Colorado, you'll feel like a guest at a private hideaway. All rooms are outfitted with digital TV, WiFi and whirlpool tubs, and each is decorated in a different theme. In the China and Japan rooms, streamlined décor in subtle shades reflects the peacefulness associated with the philosophy of Zen. The American room boasts sturdy wooden furniture and splashes of red, white and blue (keyahgrande.com).
By Day: The daily rate includes a guided activity per each guest. Hike or horseback ride amidst the property's fragrant pines and whispering aspens, then test your skill at fly-fishing in a stocked pond (you're pretty much guaranteed to catch something). In winter, make tracks with snowshoes or snowmobiles, or head to the Wolf Creek Ski Area for some downhill action. Other resort activities include hopping on the historic Durango-Silverton Narrow Gauge Railway and visiting the ancient cliff dwellings of Mesa Verde National Park.
At Night: After a hard-day's play, sip cocktails while you soak in Keyah Grande's outdoor hot tub or take in the amazing view from the flying deck (it's suspended high above the canyon). Or ask the ever-accommodating hotel manager to build a fire in the outdoor fire pit so you can settle into deck chairs and stargaze. If you're looking for more action, Scoot 'n Blues in nearby historic downtown Durango has a pub menu, live music and a happening crowd.
Where to Eat: Dining at Keyah Grande is spectacular. Start your morning with a Keyah Grande omelet, featuring smoked Gouda and local elk sausage. For lunch, Chef Pamela Hubbell will gladly pack a meal to take on your day's adventures, or you can linger over market-fresh feasts on the sun-drenched patio. Dinner is a five-course extravaganza, often starting with spicy gazpacho and concluding with burgundy-soaked Bartlett pears. —Sophia Dembling
Photography: Courtesy of Keyah Grande Guesthouse.
Santa Fe, NM
Located near Santa Fe, Sunrise Springs Resort is an eco-friendly, Zen-like hideaway.
Closest Major Cities
Albuquerque: 1 hour; Colorado Springs, Colorado: 4 hours; El Paso, Texas: 4 1⁄2 hours
Sunrise Springs Resort Spa, located minutes from the heart of Santa Fe, includes a tranquil maze of spring-fed ponds, walking trails and organic gardens. The 58-room property offers an eco-experience to guests who relish the peacefulness of yoga and tai chi sessions held among gorgeous natural surroundings.
Where to Stay: A casita with contemporary décor and earth tones offers maximum privacy. Fire up the gas log, pop in a meditation CD and om together, or bask in the sunshine on your very private patio. You also have complimentary WiFi, but why not try to unplug for a couple of days (sunrisesprings.com).
By Day: Hatha yoga classes for all levels are offered in the Clouds Studio, a sunny second-floor space overlooking the Tea Garden. Try a Raku pottery class and create your own souvenirs before attending a tea ceremony. This experience begins with a quiet time, spent listening to trickling water in the tea garden. Guests then enter the wee teahouse for the traditional ceremony. The property's Spa Samadhi (the Hindi word means "transformation toward wholeness") offers a menu of "Transformative Treatments," many of which include chanting and medicinal herbs. If you're more traditional than mystical, you can always opt for a couples massage.
At Night: Take a soothing soak in one of the Japanese-style baths at nearby Ten Thousand Waves spa. The private space has a mountain view and a wet/dry sauna.
Where to Eat: Dining is equally lovely, indoors or out, at Sunrise Springs' own Blue Heron Restaurant, where chef Malik Hammond uses local and organic ingredients in compelling combinations, such as pistachio brioche French toast and entrées like dried-apricot and curry-encrusted salmon. —SD
Photography: Douglas Merriam.
Canoe Bay, WI
Wisconsin's 20-room Canoe Bay is the ultimate lakeside honeymoon retreat.
Closest Major Cities
Minneapolis: 2 hours; Madison, Wisconsin: 3 1⁄2 hours; Chicago: 6 hours
Nature spent eons creating the virgin forest and glacier-carved lakes here. And now, human ingenuity has added the dramatic wood-and-stone cottages of Canoe Bay, an ultraupscale retreat nestled into the great North Wisconsin woods. It's a kids- and smoke-free haven, dedicated to romantic serenity.
Where to Stay: Canoe Bay extends over 280 acres and encompasses three lakes, six guest rooms and 14 private cottages. Some of the rooms feature a personal sauna, a steam shower and a Jacuzzi for two overlooking the lake. Stone fireplaces and large private decks complete the accommodations. The two Lakeside Cottages with their giant emperor bed—a six-foot-square giant swathed in custom English linens and duvet—are the ultimate honeymoon escape (canoebay.com).
By Day: Explore the property's pristine waterways by rowboat or canoe and hike the dozens of marked trails through the resort's forest (in winter those paths host cross-country skiers). And in all seasons, the resort's wood-paneled library is a comfort-magnet, drawing you in to enjoy the open bar and the romantic warmth of the crackling fire.
At Night: Take a moonlight paddle and evening stroll through pine-fragrant woods. Or sit on the dock and listen for the call of night birds as you count more stars than you may have ever seen before.
Where to Eat: Canoe Bay's exceptional cuisine features a different prix-fixe every night, accompanied by a vintage from the hotel's 5,000-bottle cellar. Special occasion private dinners in the wine cellar and in-cottage dining are also available. —BF
Photography: Courtesy of Canoe Bay.
Lake Tahoe, NV
Closest Major Cities
Reno, NV: 1 1⁄2 hours; Sacramento, CA: 2 1⁄2 hours; San Francisco: 3 3⁄4 hours
Ringed by majestic snow-capped mountains and towering alpine forests, Lake Tahoe draws outdoor enthusiasts to its shoreline all year long. The 191-square-mile body of water is so pure that it reflects all the colors of the sky and surrounding landscape. When Mark Twain visited the area in 1861, he described the area as "the fairest picture the whole earth affords." Visit the Nevada side and you'll also experience the best in glittering casino entertainment.
Where to Stay: Situated on 26 gorgeous waterfront acres is the full-service, 422-room Hyatt Regency Lake Tahoe Resort, Spa and Casino, which boasts five eateries, a luxury spa, a 24-hour casino and a private beach. For a truly dreamy honeymoon, choose one of the Lakeside Cottages, just a stone's throw from the crystal-clear water. Cuddle up next to the wood-burning fireplace with a cup of hot cocoa, or sit out on the private deck and marvel at the natural kaleidoscope of colors dancing across the enormous lake (laketahoe.hyatt.com).
By Day: From boating, deep-water fishing, paragliding, horseback riding and golfing in the warm months to skiing, snowmobiling, ice skating and sledding in the snowy season, there's no shortage of activities to fill your days.
At Night: Watch the spectacular mirrored sunset from Hyatt's new Pier 111 Bar, located at the end of the 275-foot-long pier. Then try your chances with Lady Luck in the casino.
Where to Eat: Cruise over to Crystal Bay, just a 5-minute drive from the Hyatt, to savor the fusion flavors and rustic atmosphere of The Soule Domain. Housed in a log cabin dating back to the 1930s, this spot serves up a creative take on American cuisine with dishes like ahi ceviche with a spicy jalapeño avocado cream and cucumber relish, and sea scallops poached in champagne with a sweet kiwi and mango cream (souledomain.com). —ND
New York City
A chic room at the Grand Hyatt New York
The Commodore Grill
Closest Major Cities
Philadelphia: 1 1⁄2 hours; Boston: 3 1⁄2 hours; Washington D.C.: 4 hours
The city that never sleeps is the perfect spot for activity-seeking honeymooners. With no shortage of sights, plays, sporting events and restaurants, it's not a question of what to do, but what to do first.
Where to Stay: Offering great views and swish interiors, the Grand Hyatt New York is at the center of it all—Grand Central Station. The 1,311 guest rooms and suites, sleekly decorated with modern furnishings in neutral tones, accented by rich purple and yellow, feature ultra-plush pillows and bedding. There's also a luxurious granite and imported-stone bathroom, complete with Portico bath products (grandnewyork.hyatt.com).
By Day: Take a stroll down Fifth Avenue, New York's shopping mecca, visit nearby Rockefeller Center, a national historic landmark, tour Radio City Music Hall and explore the imposing St. Patrick's Cathedral. Then admire the paintings at the Museum of Modern Art, which houses the world's largest and most comprehensive collection of major artists and movements from the late-19th century to present day. Then take the subway uptown for lunch at the Boathouse Restaurant in Central Park.
At Night: As the sun goes down, the lights go up; head to the Empire State Building and ride the elevators up to the 86th floor observatory for an unbeatable night view of the entire city.
Where to Eat: For a culinary delight, settle into posh plum and chestnut suede chairs at the Grand Hyatt's Commodore Grill. Bathed in soft light and surrounded by cherry-oak columns, the atmosphere is perfect for enjoying innovative cuisine, like the grand seafood martini served in an oversize martini glass on ice, and lobster mac-n-cheese.
—Maya Vandenberg