For high level pampering, head to this secluded and famed honeymoon hotspot.
By: Naomie Jean Louis
Country singer Shania Twain and businessman Frédéric Thiébaud began 2011 on a high note, when they wed in an intimate sunset wedding on the beach in Rincon, Puerto Rico. The surf town's barefoot feeling is paired with the highest level of pampering— and no location embodies both more than the famed Horned Dorset Primavera.

A view towards the sea.

Set on endless gardened acres, this 39-room oceanfront hideaway guarantees serene luxury. Although split into Residences and Suites, all rooms feature canopy beds, mahogany furnishings, marble floors, oversize tubs and showers, as well as outdoor space for soaking up the tropical views. The Residences, located on the eastern side of the property, have a Moroccan feel with arches and white linens, set beside such modern amenities as WiFi. Unplug with a stay in one of the Primavera Suites, which boast Oriental rugs and tiled interiors that are blissfully electronics-free.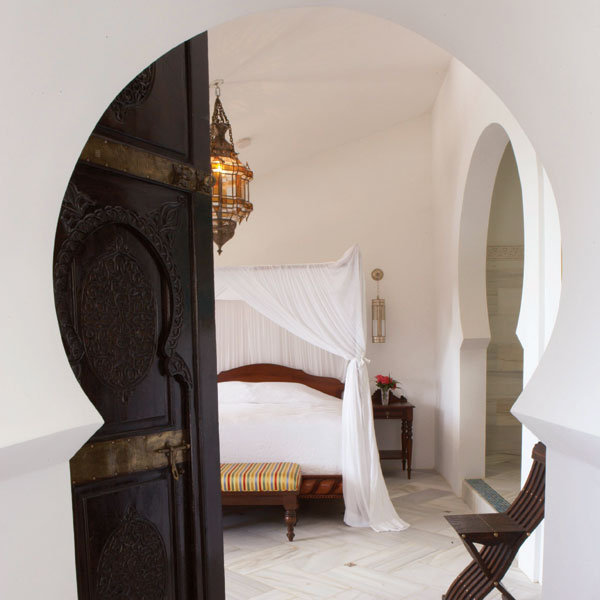 A simply elegant guest room at the Horned Dorset Primavera.

The resort's pool and adjacent beach are just as secluded. As you stroll hand-in-hand along the golden sand, you may spot a fishing boat or two moored in the inky water. Then stop in the shade of a palm tree simply to watch the waves. If you're craving more action, nearby beaches buzz with activity. The waves of Rincon are famous for their surfing conditions, and the snorkeling at the reefs of Isla Descheo is tops. Fishing, kayaking and windsurfing are also popular, as are cave tours and golf. While you're out and about, grab a meal. Area restaurants feature menus of delectable local cuisine—plantains, crunchy cod fritters and empanadas filled with fresh-caught seafood—served at tables in the sand. Enjoy similar offerings, accompanied by live jazz, at the resort's Blue Room. For a more romantic meal, partake of the formal yet tropical menu and ambience at Restaurant Aaron. And savor the romance of it all with an evening champagne toast under a canopy of stars (room rates start at $360 a night; horneddorset.com).
Photos courtesy of the Horned Dorset Primavera