Want to honeymoon where the celebs go to get away? Here is a peek at this beautiful, star-studded hideaway.
By: Naomie Jean-Louis
After Reese Witherspoon wed Hollywood agent Jim Toth, they snuck away from the paparazzi with her two children, Ava and Deacon, for a familymoon at the Francis Ford Coppola Resorts in Belize. It was not only a vacation to celebrate the commitment to each other, but to the kids as well. And it's a memorable trip that many new blended families are opting for these days. The clan split their time between the romantic, yet family-friendly Blancaneaux Lodge in the lush western Belize Cayo District and the beachside treasure Turtle Inn. The earth-friendly properties offer tons of organic food and spa experiences as well as loads of fun activities for everyone.

 A deluxe cabana at Blancaneaux
The wooded Blancaneaux Lodge's 20 rooms are tucked into private corners of the tranquil rainforested property. In addition to native palm and palmetto trees, the area also includes an organic garden from which 80 percent of the produce for both resorts is sourced. Accommodations are divided into cozy cabanas, larger villas and the family friendly Coppola Villa, with an enormous deck, private plunge pool and cool water views (the property abuts crystal-clear Privassion Creek). Locally sourced furniture, handwoven linens and individual antiques create the hideaway's decor. Area activities highlight the surrounding natural beauty. There's hiking to the Pine Ridge Forest, a moonlight jaguar-spotting excursion and sunrise horseback riding. At the Xunantunich, Cahal Pech & Green Hills Butterfly Farm, kids can see different species of butterflies—and swimming is always a hit.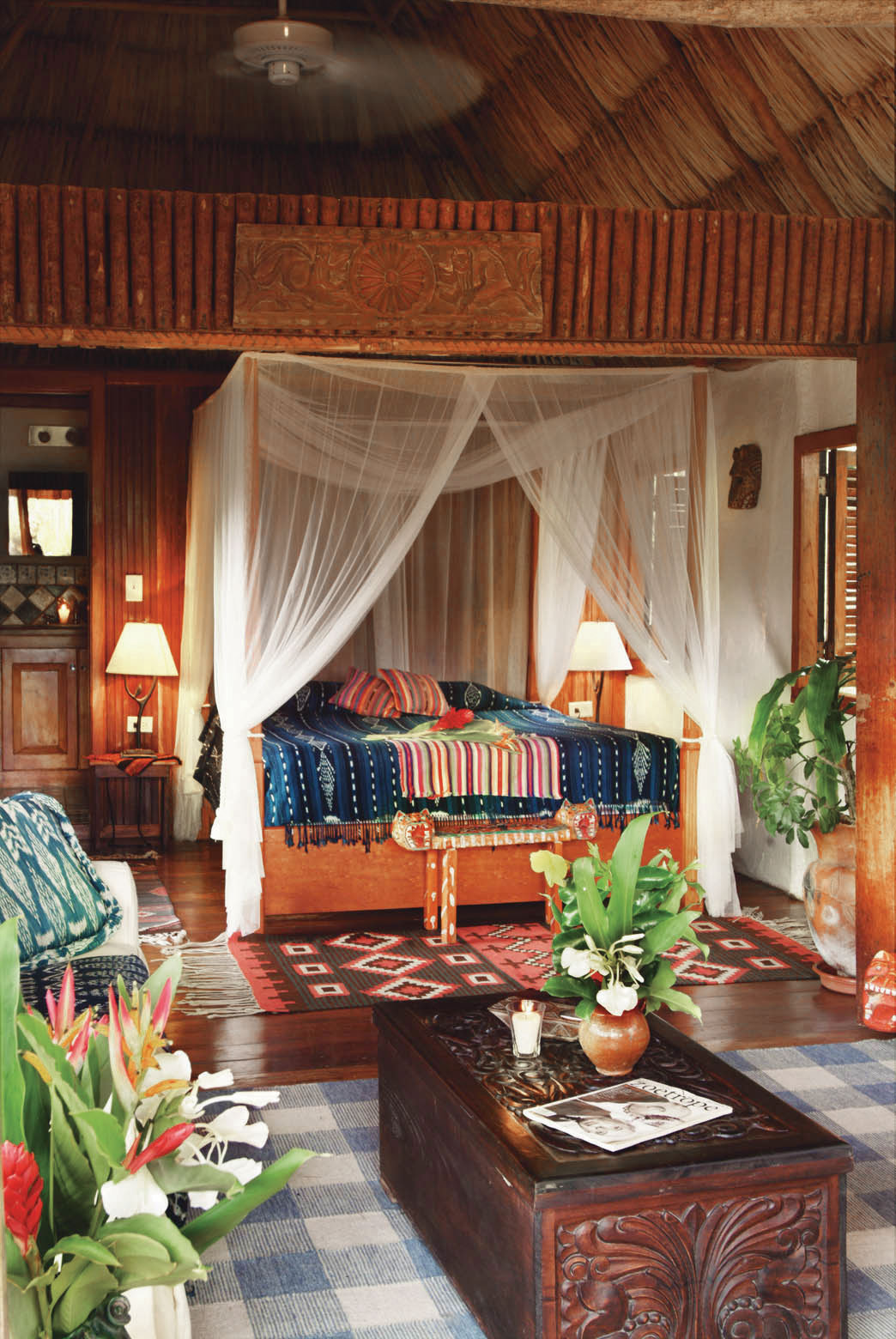 Inside a cozy guest room at the Blancaneaux
The nearby sister property, Turtle Inn, has 25 thatched accommodations steps from the sea, including two-bedroom villas and a Chinese Matrimonial Suite, which features an outdoor shower in the garden and a 200-yearold, hand-carved Chinese Fertility Bed, an ancient traditional wedding gift that was said to enhance fertility. Activities include snorkeling, fly-fishing and savoring the resort's fresh Italian cuisine. Children will enjoy the locally made gelato on offer at the Kid's Gelato Bar and made-to-order pizzas cooked in a wood-burning stove. Adults will love the hotel's spa (room rates start at $230 a night; coppolaresorts.com).
(Photos Courtesy of Francis Ford Coppola Resorts)