Expedia.com's Brett Minzner shares his best island tips.
By: Jenna Mahoney
Bridal Guide: Why is Puerto Rico a great honeymoon destination?
Brett Minzner: Puerto Rico has it all—glorious tropical weather, a rich cultural heritage, incredible natural beauty, fascinating wildlife, friendly people and fantastic food. The island's location in the central Caribbean makes it a hub for the region, which means there are many direct flights from across the country. Another convenience: Since Puerto Rico is an American territory, the currency is US dollars and there's no need for a passport.
BG: What's the first thing you do when you arrive?
BM: Kick off my shoes, enjoy a piña colada and take a stroll along the shore. Nothing beats the feel of the warm sand between my toes.
BG: What are some island must-dos?
BM: Horseback riding on the beach is very romantic. I also enjoy half-day catamaran cruises to inhabited out islands. It's fun to anchor and snorkel around the clear waters. You should visit El Yunque National Forest, which was just nominated to be named one of the seven natural wonders of the world. The hike to a waterfall called La Mina is one of my favorites because it ends at a beautiful natural pool. Don't forget Coca Falls, a spot with moss-covered boulders and rushing water, where it's a tradition to make a wish. Of course the cobblestone streets of Old San Juan are incredibly romantic, and the El Morro fortress, built by the Spaniards in the 16th century, is an impressive site.
BG: Where are great places to eat?
BM: Puerto Rican cuisine is fantastic, so it's best to go local. For a breakfast, check out La Bombonera, a tradition since 1902. My favorite lunch spots include Café Manolín, which offers a tasty mixta (rice and beans served with meat and fried plantains). If you want to try our mofongo (mashed plantains), Barrachina Rest is the place; they also claim to have invented the piña colada. And for dinner you can choose among many eateries in SOFO (south of Fortaleza street), which is filled with amazing restaurants that offer an array of food styles, from tapas at Toro Salao to Caribbean Latin fusion at the Parrott Club and international cuisine served at Marmalade.
BG: Do you have a favorite sweet treat?
BM: Locally made coconut or pineapple ice cream is delicious. A limber (frozen juice) is refreshing, as is a piragua (snow cone).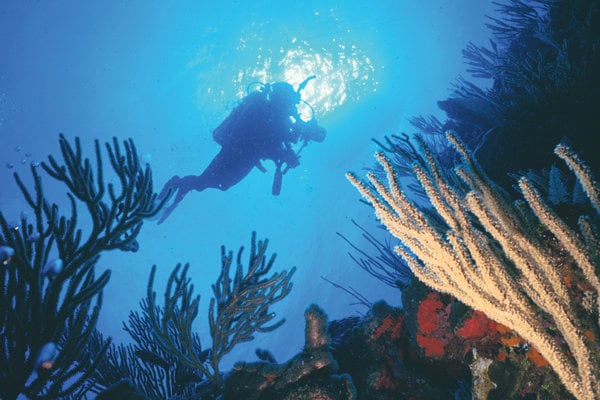 BG: What Puerto Rican beaches do you prefer?
BM: In the San Juan area, I like Ocean Park, set between Old San Juan and Isla Verda, where many of the intimate guest houses are located. You can rent a chair or an umbrella on the beach and spend the entire day people watching. For lunch, wander into any of the nearby restaurants. On the southwest there's Gilligan's Island, which is accessible via a fishing boat.



BG: What's your favorite spa?
BM: The gardens at the Remede Spa at the St. Regis Bahia Beach make it the most serene escape. The pool there is another favorite feature—and I can't forget the delicious Jacques Torres chocolates.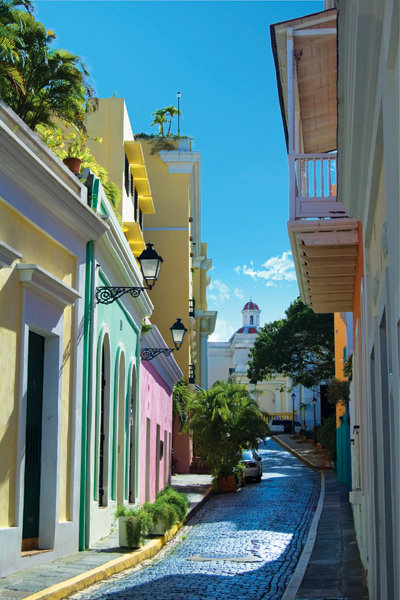 BG: Where do you like to stay?
BM: Set in the heart of Old San Juan, the boutique El Convento is a cozy hideaway. Its location makes it a great base camp for those looking to explore the surrounding cafés, galleries and historic monuments (room rates start at $160 a night; elconvento.com). La Concha Renaissance is best for trendy travelers; the decor is minimalist chic and it's within walking distance of clubs, shops and hot restaurants—definitely a place to see and be seen (room rates start at $179 a night; marriott.com). For a more resort feel there's the mountainside El Conquistador, boasting spa, golf, loads of restaurants, water sports and even a water park (room rates start at $239 a night; elconresort.com).
BG: Where is your preferred perch to watch the sunset?
BM: My top spot would have to be the lawn area in El Fuerte San Felipe del Morro. Bring a blanket and stop at the local supermarket for some wine and cheese. Enjoy the view of the Atlantic from your spot on the grass. Another great place is on the west coast, in the town of Rincón.
BG: What are the best island souvenirs?
BM: Local foods are at the top of my list—coffee, Puerto Rican rum, spices and candies. Hand-rolled cigars are also popular to take home.
Photos Courtesy of the Puerto Rico Tourism Board