Puerto Rico has a culture all its own that beckons honeymooners.
By: Maya Vandenberg

Photo Courtesy of Puerto Rico Tourism Board
Nicknamed the "island of enchantment," it's hard not to be enthralled—and romanced—by Puerto Rico's bucolic beauty, Caribbean flair and the fact that it's a no-passport-needed getaway. While PR—and its three offshore islands, Vieques, Culebra and Mona—may be part of the U.S., the island territory has a culture all its own and an undeniably sultry vibe that beckons to honeymooners.
Beachside Retreat

Photo Courtesy of W Retreat & Spa, Vieques Island
Mix sexy and serene and you've got 156-room W Retreat & Spa, Vieques Island. An oasis within an oasis (since Vieques, just a 20-minute flight from San Juan, is a little slice of island heaven all on its own), the tranquil atmosphere here is the definition of secluded bliss.

Photo Courtesy of W Retreat & Spa, Vieques Island
Divide your time between two nearly deserted beaches (Whisper Beach is, ahem, clothing optional), two pool areas (the somewhat-hidden circular infinity pool is almost always empty) and your comfy, pillow-topped feather bed. Tip: Keep your balcony door open a crack so you can fall asleep to the most natural of noisemakers—the crashing waves.

Photo Courtesy of W Retreat & Spa, Vieques Island
Everything you need is on property, including Away Spa, an Alain Ducasse eatery, a water-sports complex and a car-rental outpost. If you do decide to venture out (but really, why would you want to?), hit the tiny town of Esperanza and some of the south shore beaches, namely the super-remote Blue Beach (room rates start at $289 a night; wvieques.com).
Natural Wonders

Photo Courtesy of Puerto Rico Tourism Board
Puerto Rico is home to El Yunque Rainforest, the only tropical rainforest in the United States. While you can drive through most of it, there are some trails worth hiking. Try the Big Tree Trail that leads to La Mina Falls—bring your bathing suit, so you can take a refreshing dip in the cascading water.

Photo Courtesy of Puerto Rico Tourism Board
The La Coca Waterfall and Yokahu Observation Tower, where from the top you can spy a fantastic view of the area, are worth stops as well. Puerto Rico is also home to three of the world's five bioluminescent bays, located in Fajardo, Lajas and Vieques. Take a night kayak ride in the least crowded and brightest of the three, Vieques's Mosquito Bay. You'll witness bursts of light in the water caused by dinoflagellates, microscopic organisms that emit a blue blaze when agitated. In this case, the water rocker is your oar, so you'll see the brilliance with every stroke.
 
A Cliffside Haven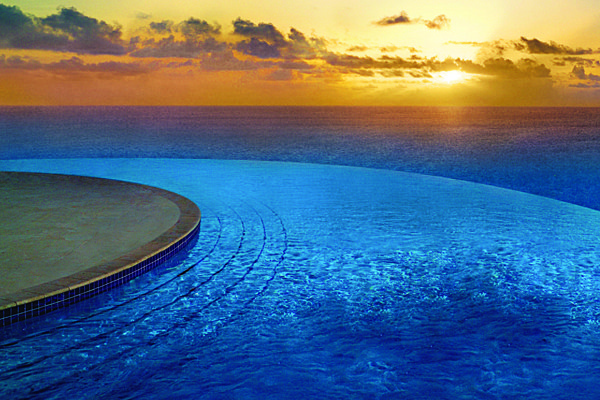 Photo courtesy of El Conquistador Resort, a Waldorf Astoria Resort 
Fajardo is where the Atlantic Ocean and Caribbean Sea meet and where you'll find El Conquistador Resort. Set atop a 300-foot cliff with a never-ending view of the water, this property is a massive 500 acres and has just about every amenity you could think of: a casino, water park, seven tennis courts, an 18-hole golf course, plus the private 100-acre Palomino Island, and 984 (mostly seaview) rooms spread across five areas. Your best bet for privacy is Las Casitas Village, which has 24-hour butler service, three private pools, two exclusive restaurants, and has hosted both Johnny Depp and Penélope Cruz. Start your honeymoon bliss with a Double Happiness treatment at the Golden Door Spa, a placid tri-level sanctuary (room rates start at $179 a night; elconresort.com).
Back In Time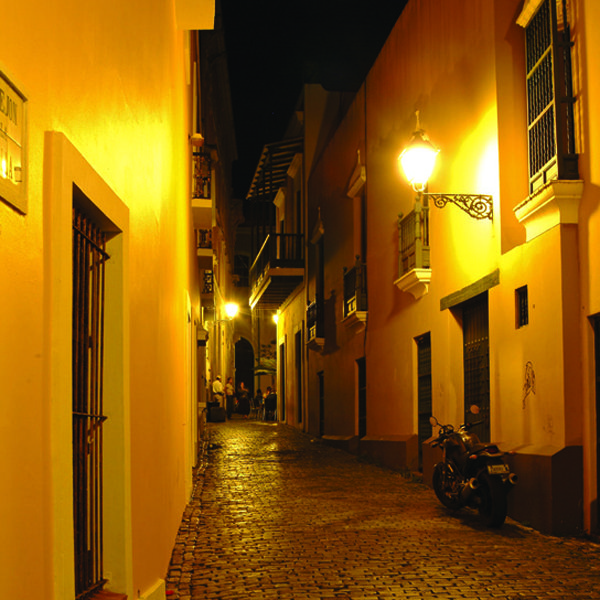 Photo Courtesy of Puerto Rico Tourism Board
A visit to the 16th-century city of Old San Juan is a must. There's a free trolley that will take you all around the area, but the best way to see it is to get lost among the narrow cobblestone streets. Most of the buildings have been restored and maintained in the original Spanish colonial style and serve as a colorful ode to the island's heritage. Check out both El Morro and San Cristóbal forts, head over to the beautiful St. John the Baptist Cathedral where Juan Ponce de Leon (the island's first governor) is buried, and sip a daiquiri at the bar of the gorgeous 300-year-old Hotel El Convento.
Culinary Delights

Photo Courtesy of Puerto Rico Tourism Board
Puerto Rico's cuisine is a mélange of spanish, Afro-Caribbean and Latin-infused flavors—or in other words—delicioso. While in old San Juan, check out mallorquina, the oldest continuing eatery in San Juan, or el Jibarito, which serves authentic Puerto Rican cuisine. Parrot Club, a lively Nuevo Latino bar and bistro, is on the quieter side during lunch, but hits its stride come dinnertime. Sample the fresh and lemony rainbow ceviche and the steak empanadas. And make a pit stop at Restaurant Barrachina on Fortaleza Street, where the piña colada was invented back in 1963—the original truly is the best.