Feel like a pampered castaway at one of these luxe, remote retreats.
By: Jill Fergus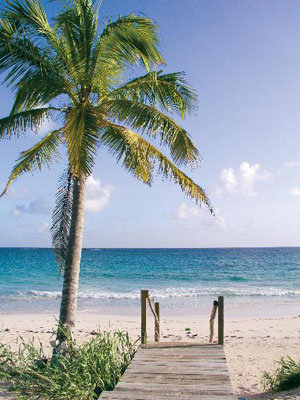 Chances are you may be considering honeymooning in the Caribbean — and with good reason. This island region, located just south of Florida, offers glorious cuisine, a storied culture and — you guessed it — gorgeous beaches. Other pluses include easy accessibility, diverse settings and activity choices à go-go. Of course, there are the popular islands — Jamaica, Puerto Rico, Nassau —which always draw a crowd, but don't overlook the quieter alternatives to the flashing casinos, big-name chefs and glitz on golden sands. If you enjoy traveling off the beaten path, consider spots like Culebra, Barbuda and private island resorts. Though small in size, such secret places offer miles of deserted beaches, undiscovered natural attractions and upscale, yet relaxed, accommodations. Go to one of these not-oft-explored areas for all that and the bragging rights to having discovered honeymoon paradise.
Fowl Cay
A collection of more than 100 islands, the Bahamas, with its proximity to the States (many of its islands are less than 200 miles from Miami) and endless untrammeled beaches, has become a magnet for honeymooners. While some of the islands bustle with excitement, there are plenty of remote outposts to be found throughout the archipelago. One of the most exclusive is the 50- acre Fowl Cay in the Exumas. With just six fully stocked villas on the entire spit, you'll feel like a houseguest — a very pampered houseguest, that is. Each hideaway comes with its own golf cart and 17-foot boat to motor around surrounding cays like Honeymoon and Compass. Go behind the bar and mix your own rum concoctions, play a game of darts or pool in the pub and partake in nautical pursuits ranging from deep-sea fishing and wreck diving to feeding nurse sharks. Unwind under a thatched umbrella on South Beach and when the sun fades, mingle with fellow guests during cocktail hour and dinner in the main Hill House. Or simply have your villa host set up a three-course dinner on your sea-facing deck and toast each other with champagne (room rates start at $9,500 for seven nights accommodations, all-inclusive; fowlcay.com).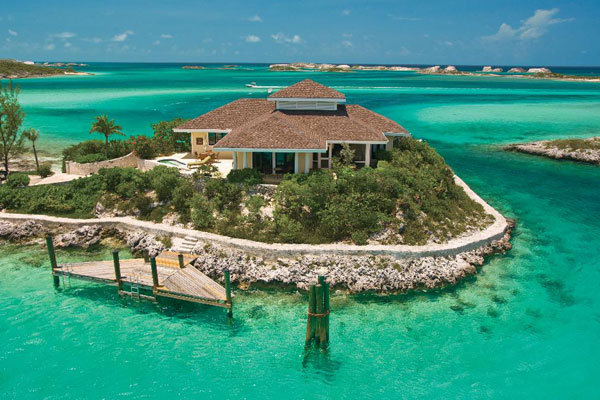 Photo Courtesy of Fowl Cay Resort
Eleuthera
One of the Out Islands of the Bahamas, 110-milelong Eleuthera is as far as one can get from its neighbor, the cosmopolitan Harbour Island with its pastel-colored houses and high-end boutiques. Folks who find their way here — bonefish anglers, low-key millionaires, dreadlocked surfer dudes and lots of honeymooners — are looking to slip off the grid for a little while and not worry about Facebook updates or whether the hair-dryer will work. Spend your days chilling out on beaches with names like Twin Coves and Ten Bay, lunching alfresco on Bahamian staples including lobster, coconut shrimp and conch fritters, and listening in on the latest island sip sip (gossip). Stay at Pineapple Fields, a low-rise 32-unit condo resort across from the beach in the capital of Governor's Harbour with the popular Tippy's waterfront restaurant. Don't expect much of a nightlife on Eleuthera, although the Friday night fish fry with music attracts an eclectic crowd. You must sample the curiously strong rum bubba! The Kalik beers, where Lenny Kravitz, who has a house nearby, has been known to jam on stage (room rates start at $220 a night; pineapplefields.com).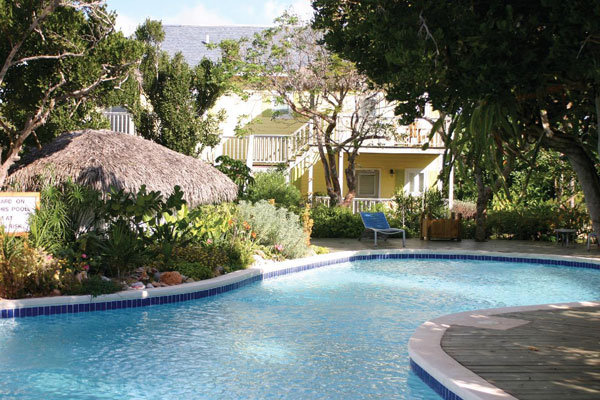 Photo Credit: David Barlyn
Scrub Island
Set among the already sleepy British Virgin Islands is Scrub Island, a private island resort. Such a secluded spot is a natural fit for honeymooners — an idyllic setting, maximum privacy, high romance factor, luxe accommodations and, in many cases, the resort is close enough to the main island if you should crave a bit of shopping or nightlife. Located a 10-minute ferry ride from the B.V.I.'s main island of Tortola, the retreat offers 50 plantation-style rooms featuring teak furniture, stone floors and sea-facing verandas. There's the secluded North Beach, a lagoon-style pool with a waterfall and swim-up bar and the Ixora Spa for hot-stone massages, coconut-milk baths and aloe-and-sugar scrubs. You'll also find activities ranging from hiking to kayaking. At the resort's full-service marina, book snorkeling trips to famous beach bars like Foxy's and Soggy Dollar on Jost Van Dyke. Scrub Island has several dining options including the casual Tierra Tierra for seafood and salads, the barefoot One Shoe Beach Bar at North Beach and the elegant Caravela, with a Euro-Caribbean menu and global wine list (room rates start at $299 a night; scrubisland.com).
Photo Courtesy of Scrub Island Resort
Barbuda
Though you've no doubt heard of Antigua, Barbuda, 27 miles off its northern coast (reached via a short flight from Antigua's airport) keeps a decidedly lower profile. A trip here is like stepping back to a bygone Caribbean era — there are few paved roads and goats and donkeys roam freely. But you won't be roughing it, as there are several upscale lodgings such as Lighthouse Bay Resort, a nine-suite hotel set between the sea and a lagoon, with its own helipad. There's on-site tennis and kayaking and the staff can arrange sailing excursions, his-and-her aromatherapy massages and fishing charters (the chef will prepare your catch for dinner). Loll about on sugar-soft pink-sand beaches, scuba dive to 17th-century shipwrecks, visit Darby's Cave, a 70-foot sinkhole and snap photos of the hilltop ruins of Codrington estate, named for the family who leased the island from the British in 1685. You can even birdwatch in Frigate Bird Sanctuary (accessible only by boat), home to some 5,000 winged creatures. At the hotel, savor a frothy rum cocktail in the bar cooled by trade winds before settling in to a romantic dinner of Barbuda lobster and blackened snapper on a torch-lit private section of beach (room rates start at $250 a night and include meals and beverages; lighthousebayresort.com).
Photo Credit: Natural Expressions NY for Lighthouse Bay Resort
Culebra 
Off the eastern coast of Puerto Rico sit Culebra and Vieques. And while Vieques, with its famous bioluminescent bay and eco-hotels, gets its fair share of visitors, seven-mile long Culebra (reached via puddlejumper from San Juan) is virtually unknown. You won't find the casinos, bustling nightclubs and golf courses of San Juan but rather, some of the region's most unspoiled beaches and a super-friendly laid-back vibe. The best strand for swimming and strolling hand in hand is Playa Flamenco, a crescent-shaped beauty with crystalline waters and kiosks selling piña coladas and empanadas. Snorkelers can head to nearby Carlos Rosario Beach while nature-lovers can explore Culebra Natural Wildlife Refuge, home to roseate terns, laughing gulls and other wildlife. For a Robinson Crusoe type experience, hop in a water taxi then spend the day lounging at Tortuga Beach on offshore Culebrita Island. Come dinnertime, enjoy pollo con arroz (chicken with rice), fresh fish and fried plantains at charming mom-and-pop restaurants in the tiny town of Dewey before heading back to Club Seabourne, a 12-villa hotel overlooking Fulladoza Bay with a swimming pool and plenty of hammocks set amid tropical foliage (room rates start at $219 a night and include breakfast, some activities and transfers; clubseabourne.com).