The everything-you-need-to-know guide to the Caribbean's most popular island chain.
By: Maya Vandenberg
Seven hundred islands ringed with white sand and turquoise waters make up the archipelago of the Bahamas. And though most visitors flock directly to the capital island, Nassau, its neighboring Paradise Island and the popular Grand Bahama, there's way more to this Caribbean retreat than the mega-resorts and well-known Straw Market. The real charm of the Caribbean country lies in the Out Islands, each with its own flavor and appeal, so consider an island-hopping honeymoon for an authentic Bahamian experience.

The beautiful — and challenging — seaside golf course at Sandals Emerald Bay on Great Exuma Island (photo courtesy of Sandals Resorts).
Where to Stay
No matter which island — or islands — you choose to visit during your stay, you'll find a range of honeymoon-perfect accommodations in every budget. Beach lovers should head straight to the Exumas, a group of 365 cays and islands surrounded by aquamarine water in shades as varied as a peacock's feathers. On main Great Exuma Island, Sandals Emerald Bay is the only real resort option with 245 tropical colonial rooms that have exclusive concierge or butler service. The property boasts an 18-hole Greg Norman-designed golf course, a mile-and-a-half-long white sand beach, plus three fine dining options: Il Cielo, La Parisienne and the newly revamped Bahama Bay, which serves upscale Caribbean eats (room rates start at $300 per person, per night and are all inclusive; sandals.com).
The 120-mile-long island and cay chain of the Abacos is a haven for boating enthusiasts, and you can easily ferry between the cays (or rent your own boat) to experience all the area has to offer. Stay in Marsh Harbour on Great Abaco Island, a main hub with ferry service, and book into Abaco Beach Resort & Marina at Boat Harbour. The 89 comfy, breezy rooms all have balconies overlooking the private beach and marina, and the front desk staff is as friendly as can be. For the most space and amenities, choose to stay in one of the marina-view residence rentals, which have full kitchens (room rates start at $290 a night; abacobeachresort.com).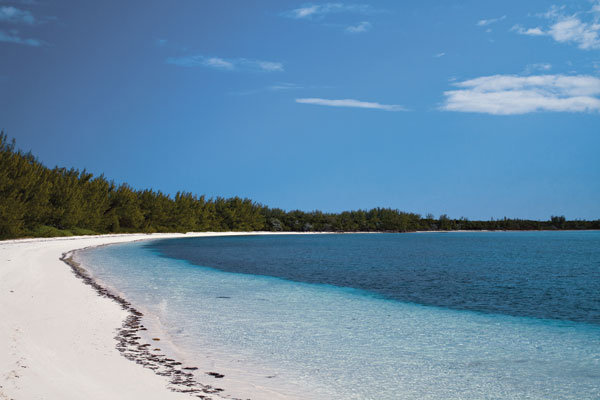 The mini archipelago is made up of two islands and numerous cays (photo courtesy of The Bahamas Ministry of Tourism).
For a quaint colonial town feel, Hope Town is a top choice, and the recently refreshed Hope Town Harbour Lodge is the place to stay, especially if you reserve one of three oceanfront cottages. From the private patio, there's nothing between you and the hotel's powdery two-mile-long beach and the offshore coral reef (room rates start at $180 a night; hopetownlodge.com).

The island's colorful homes are a famous sight (photo courtesy of The Bahamas Ministry of Tourism).
The famed rose-tinted sands of the Bahamas can be found on Eleuthera and nearby (just a 10-minute water taxi ride away) chichi Harbour Island. Known for its pineapple fields, Eleuthera is a quiet yet sophisticated locale, and the laid-back Pineapple Fields is the ideal place to unwind.

Pineapples grow on bushes, not trees  (photo courtesy of The Bahamas Ministry of Tourism).
There are 32 condo-hotel rooms to choose from, but an upstairs suite with a balcony overlooking the beach offers maximum privacy (room rates start at $170 a night; pineapplefields.com). Though Harbour Island is only three-and-a-half miles long and one-and-a-half miles wide, this tony hideaway has an abundance of hotel options. 
On the ocean side, Pink Sands Resort is the premier luxury choice. Twenty-five spacious cottages, each with a private patio, dot the lush 20- acre property that presides over the world-renowned pink sand beach (room rates start at $495 per night; pinksandsresort.com). A more affordable boutique option lies on the harbor side in the circa-1800s plantation-style The Landing. Designed by India Hicks, the 12 guest rooms plus a standalone cottage are done up in crisp white and feature handmade four-poster mahogany beds (room rates start at $225 a night; harbourislandlanding.com).

Kayaking is a great way to explore the crystalline Bahamian waters  (photo courtesy of The Bahamas Ministry of Tourism).
Where to Eat
Of course every resort has a restaurant or two (or six in the case of Sandals Emerald Bay), but to savor local Bahamian cuisine, go off property. While in the Exumas, spending an afternoon at husband-and-wife-run Chat 'N' Chill is an absolute must. An Elvis Water Taxi will take you straight to the Bahamian classic on Stocking Island, set right on the beach with outdoor picnic tables and a menu of local staples. Don't miss the made-right-in-front-of-you conch salad. Be sure to ask for a piece of the leftovers to feed the stingrays that frequent the beach. Most visitors plan to stay just two hours, but after a few goombay smashes (Bahamas's signature rum drink), tell Elvis to pick you up in three.
At Marsh Harbour on Great Abaco, head over to Curly Tails along the main tourist strip. Here you can dine on local specialties like cracked conch or plantain- crusted grouper in the downstairs dining room or on the outdoor deck adjacent to the marina (bring your camera for phenomenal sunset pics). After dinner, stick around and join the late-night local crowd in the upstairs bar. Take a drive one evening to Treasure Cay for dinner at ultra-romantic Treasure Sands Club, where you can enjoy just-caught fish while taking in the crescent-shaped alabaster sands of Treasure Beach. And don't worry—though it's called Treasure Cay, it's part of Great Abaco so a ferry ride isn't necessary.
Tippy's Restaurant, right across the road from Pineapple Fields, is your go-to spot in Eleuthera. Sit in gazebos right on the sand and choose items from a chalkboard menu that changes daily. On Harbour Island, quality restaurants abound but make sure to make a lateday stop at beachfront Sip Sip — you can't miss its lime green façade — for their delicious lobster quesadilla. At night, take a golf-cart drive over to Acquapazza for tasty Italian cuisine accompanied by a heavy-hitting wine list and sunset view.
Where to Play
It's hard to resist camping out on pure white talcum sands day after day, but you can work on your tan in other ways. The Exumas are best experienced by water, so reserve a full day for cay hopping with Four C's Adventures. You'll pass Sandy Cay, where Pirates of the Caribbean was filmed; Big Major Cay, where you can see the spotted swimming pigs (yes, swimming pigs); and Musha Cay, home to magician David Copperfield's private island resort. Adventurous couples can dive for conch and have the captain make a fresh conch salad with the catch. Not-so-adventurous couples can watch while the captain does the diving himself.
When in Abaco, take the ferry over to Elbow Cay and visit the landmark candy-striped lighthouse where from the top you'll be treated to a gorgeous panorama, and then take a stroll around brightly colored, hopping-in-high-season Hope Town. At night, hit up Snappas on Marsh Harbour's tourist strip for a rowdy local scene and live music every Friday and Saturday night. Or for a really epic time, take the ferry over to legendary Nipper's on Great Guana Cay, which doesn't close until the last man standing can stand no more. Tip: Plan to stay the night if possible since the last ferry back to Marsh Harbour leaves at 6:30 p.m. in high season.
On Friday nights, join the locals at the Governor's Harbour Fish Fry on Eleuthera for some island barbecue along with music and dancing in the street. If you're in town on Saturday, drop by Tippy's to experience "Rake 'n' Scrape," authentic Bahamian music. While on Harbour Island, get in on the typical party circuit—start out at Gusty's, which has a sand dance floor and wraparound deck; then make your way to Daddy D's, an upstairs bar and club whose DJ keeps the party going all night long; and finish off at Vic-Hum, a dive bar that has both the world's largest coconut at 33 inches in diameter and an indoor basketball court.