On your Caribbean honeymoon, take a walk on the wild side and enjoy romance, adventure and pampering in these rich, tropical environments.
By: Jill Fergus
A lounge chair and frozen cocktails may be essentials for those honeymooning in a beach destination, but if you're the type that likes to get a bit more adventurous, you're in luck. These Caribbean Sea-facing countries boast lush rainforests and tropical jungles in addition to gorgeous beaches. In these nature-rich places, you can take a walk on the wild side — literally. Hike amid tropical foliage to waterfalls, zipline above mango trees and swim in sulphur springs beside an active volcano. Here's where to climb to new heights.

Photo Credit: Conch Creative
Belize 
Tucked beneath Mexico, this small Central American country has the world's second largest barrier reef, attracting snorkelers and divers. It's also home to a rich Mayan history with fascinating stone ruins set in remote corners of the jungle.
What to Do: 
On day-long tours of Caracol, the largest Mayan site in Belize (rediscovered in 1937), you'll explore its central pyramid-shaped temple called Caana (or Sky Palace), which rises 135 feet, excavated tombs and other unique Mayan structures. Marvel at the natural beauty in the Mountain Pine Ridge Forest Reserve, Belize's oldest national park. First stop is 1,000 Foot Falls, Central America's highest waterfall, followed by a visit to Rio Frio Cave, an ancient Mayan place of worship with stalactites and stalagmites.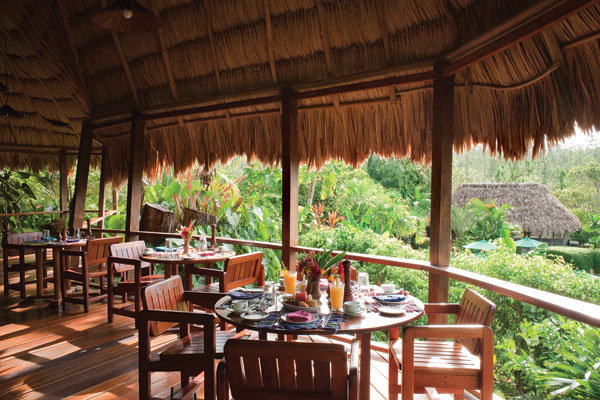 Photo courtesy of Blancaneaux Lodge
Where to Stay:
Owned by Oscar-winning director Francis Ford Coppola, Blancaneaux Lodge is a luxury 20-room jungle outpost in the Cayo District. After a day climbing up Mayan ruins, treat yourself to a Thai massage in the spa and sip wine from Coppola's vineyard (room rates start at $279 a night; coppolaresorts.com).
Hit the beach at Ramon's Village Resort, a Polynesian-style resort with thatched cabanas on the nearby laid-back island of Ambergris Caye (room rates start at $145 a night; ramons.com).
Pages