We take a hop, skip and jump across the Caribbean for the best in action-packed getaways.
By: Abbie Kozolchyk
For certain honeymooners, action means pretty much one thing. But if you'd also like a little exertion on the side, these four Caribbean islands should make your shortlist. While they're all sufficiently gorgeous and romantic that you could spend your entire honeymoon taking in the views—and each other—every place is also a hotbed of hiking, surfing, diving or snorkeling. Think jungle trails that open onto bubbling thermal lakes; life-size aquariums outside your front door; or pro-surf-worthy swells alongside monkey-filled forests.

Scott Beach at this St. John resort offers prime turtle spotting. (Photo Courtesy of Caneel Bay, A Rosewood Resort)
Snorkeling in St. John
The smallest of the U.S. Virgin Islands, St. John has another distinguishing characteristic: an idyllic each around almost every corner. And on an island whose roads have innumerable twists and turns, that's saying something. While Cinnamon Bay is probably the most famous—with thousands of postcard cover credits to its name—Francis Bay and Hawksnest Bay are just two of the other beauties. And at each, just beyond the palm-fringed stretches of sugar sand lie some of the Caribbean's most snorkel-worthy areas. Here, the best and the brightest of the undersea offerings—from massive brain corals to Manic Panic parrotfish—can easily be viewed just below the surface. While the above-mentioned beaches house some of the best local snorkeling, the sightings get even more impressive at a few of the less visited spots. At Salt Pond, you'll likely be greeted by flotillas of little—eerily beautiful—squid. Or head out to the islet Waterlemon Cay. While circumnavigating its fan coral- and fish-rich waters is snorkeler nirvana, getting there often feels like more than half the fun. First there's the 10-minute, shore-hugging walk between the road and Leinster Bay. Then there's the 15-minute swim—through turtle, ray and starfish territory—between the beach and the cay. Allow for delays if the turtles are feeling showy.

Startling clear waters are perfect for snorkling. (Photo Courtesy of U.S. Virgin Islands Departement of Tourism)

Tie off your kayak and jump in! (Photo Courtesy of U.S. Virgin Islands Department of Tourism)
Where to Stay: Check into the remote Caneel Bay, a Rosewood Resort, whose own snorkel-able beaches (Scott, in particular) harbor sea turtles and starfish, among other undersea Alisters. And a candlelight dinner amid the resident sugar-mill ruins isn't bad either (room rates start at $495 a night). At the Westin St. John Resort & Villas, the proximity to town and the legendarily laid-back bar scene is a big draw. Recharging ops abound, whether at the pool, restaurants or spa, and the hotel offers day trips to some spectacular sights (room rates start at $299 a night).

Two-thirds of the island of St. John is a national park. (Photo Courtesy of Caneel Bay, A Rosewood Resort)
Diving in Curacao
Take a centuries-old Dutch city center; paint its signature gables pink, blue, yellow or green and ring the entire scene with a thousand gradations of warm, rippling turquoise, and you'll start to get a picture of the island of Curacao. Though the beautiful water teeming with marine life is an attraction unto itself—drawing a stream of underwater enthusiasts—the bonus beauty above the surface is what makes Curacao perfect for honeymooners. The fact that you can be strolling among 17th-century Dutch colonial buildings by morning, and diving among giant rays by afternoon is one draw. Also particular to this place is the abundance of local shore dives. On Curacao, you can find nearly every kind of dive (beginner, intermediate, advanced, shore, boat, drift, wall), as well as a host of schools if you're looking to get certified or move up a level. Though the island has more than 60 sites, a few favorites include: Barracuda point (aka Punt'i Piku), where—not surprisingly—the neighborhood barracuda serve as your dive buddies; Basora, where the profusion and variety of corals and fish make the shifty currents seem a small price to pay; and Superior Producer (often cited as one of the best wreck dives in the Caribbean) whose cast of characters features grouper, anemones and more barracuda, among others.
Where to stay: Lodge Kura Hulanda is a secluded, cliff-top spread with sweeping sea views, an on-site dive shop, and a reef that you can access directly from the hotel's beach. One of the favorite shore dives here is Playa Kalki, where lobsters, moray eels and star corals, among others, await (room rates start at $175 a night). Also consider spending a night or two of your honeymoon in town for easy access to the historical highlights of Willemstad. The Avila Hotel, a blend of traditional and modern, sits on its own beautiful little cove, where—by night—locals are as likely as hotel guests to turn up for dinner (room rates start at $240 a night).

The brilliantly painted colonial buildings. (Photo Courtesy of U.S. Virgin Islands Departement of Tourism)
Hiking in Dominica
On the large yet sparsely populated island of Dominica the words "lush" and "unspoiled" seem almost inadequate in the face of the interior's jungle-upholstered and cascade-laced peaks. And though the coastline is absolutely worth checking out, hiking around the island is the ultimate experience.
Boasting more than 300 miles of trail, the Caribbean's most mountainous island offers enough hikes to fill not only your honeymoon, but also future visits as well. Still, you can see the greatest hits in the span of a single visit: The don't-miss trek of the trip, if you're serious hikers, is Boiling Lake. As the name would suggest, the main attraction here is a vigorously bubbling pool of blue-gray water, which is believed to be one of the world's largest. The sight is crazy-otherworldly with ever-shifting vapor clouds to underscore the effect. The hiking itself is hard but gorgeous, and can take six hours roundtrip. A more moderate, hour-and-a-half trek that also culminates in extreme beauty is Victoria Falls, where the massive, forest-surrounded cascade empties into a swimming hole. For panoramic views, walk across the island: On the Chemin Letang trail, you can traverse Dominica in about three hours. Depending on the weather, views span from the ocean to misty mountains.

Take a hike in this island's interior. (Photo Courtesy of Jungle Bay)
Where to Stay: With tree houses for guest rooms, volcanic stone for a pool basin and Atlantic waves for a soundtrack, Jungle Bay is a nature lover's heaven on tropical fruit-bearing earth. And while getting up to your treetop accommodations is a trek unto itself, there's also an official trail on the property: Zom Zom, which leads to an old fishing point. But perhaps the most rewarding hike you'll take is the one up the cliff that houses Jungle Bay's Spa Du Soleil, where the therapists use natural, local ingredients (room rates start at $188 a night and include breakfast).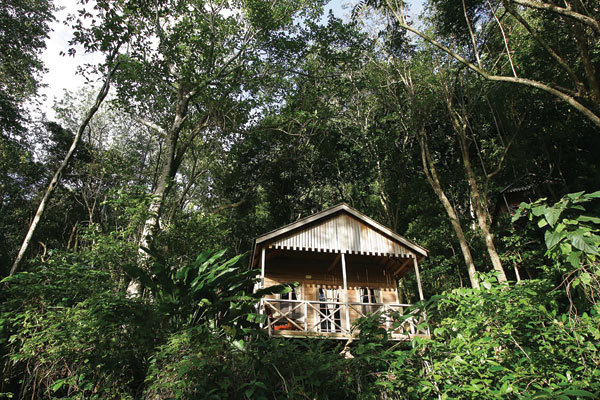 The rustic Jungle Bay. (Photo Courtesy of Jungle Bay)
Surfing in Barbados
Barbados is widely known for many things, among them, pink beaches, green monkeys, and loads of centuries-old architectural riches. But only in certain circles is this windy island also known for its swells. Turns out that between its position (as far east as you can get in the Caribbean)—and shallow reef system—Barbados is a veritable wave machine. In fact, reigning surf champ Kelly Slater—who's ridden pretty much every notable wave in existence—considers Barbados to have one of the top three: Soup Bowl, a giant barrel that rolls toward the town of Bathsheba. Not that you need mad skills to enjoy Barbados's stoke factor. The island has a reported 35 surf breaks, many of them beginner- and intermediate-level. The south coast, for example, includes beginner-friendly Freights Bay; the west  coast, intermediate Fryers Well; and the east coast, the aforementioned Soup Bowl.
Where to Stay: Near Soup Bowl, the hilltop Sea-U Guest House offers surf views, lush grounds, copious hammocks and tree-loving green monkeys. Tiny and totally removed from the island's tourist drags, Sea-U is inherently romantic, even if the accommodations are simple and minimalist. You can book lessons and surf tours at the hotel (room rates start at $159 a night and include breakfast).