After celebrating their wedding three years to the date after their engagement, these winners of The Amazing Race crossed another travel milestone — their honeymoon in one of the most world's most magical destinations.
By: Jenna Mahoney
-AS SEEN IN BRIDAL GUIDE MAGAZINE-
When you've raced around the world together — literally — how do you choose the destination for your ultimate adventure, your honeymoon? For season 32 Amazing Race winners William (Will) Jardell and James Wallington, who got engaged on the show and celebrated their marriage with a memorable party in New Orleans, that answer came in the form of witnessing some of the world's most spectacular wildlife in an untouched environment. "The animals that call the Galapagos Islands home are some of the most unique in the whole world and we wanted to be able to see them in their natural habitat, especially the famous blue-footed booby," they say.

Photo: John Chardine
The couple, who are currently based in Los Angeles, explored the "otherworldly" locale — a collection of protected islands and islets off the coast of Ecuador — aboard the inaugural nine-day sailing of Hurtigruten Expeditions, a small ship cruise company that excels in once-in-a-lifetime shore excursions, personalized service, pampering amenities, luxurious accommodations and excellent onboard dining.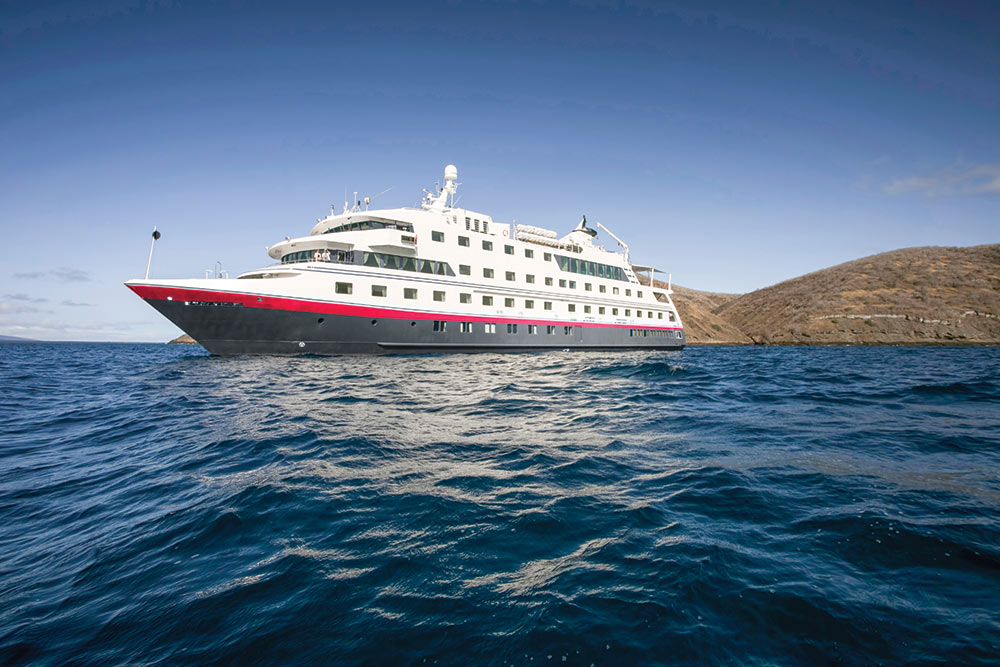 BRIDAL GUIDE: After crisscrossing the globe, how did you decide on your honeymoon destination?
WILL JARDELL & JAMES WALLINGTON: The Galapagos Islands have always been on our list of places we wanted to visit. The wildlife stands out as a huge factor in helping us make our decision. Each island has a unique topography, flora and fauna that is completely unique and only found among these islands. The fact that Hurtigruten Expeditions' new nine-day itinerary allowed us to make stops at each of the islands and see such beautiful places was a huge part of our decision.

Photo: Dennis Ballesteros
BG: What were your days like on your honeymoon?
WJ & JW: Each island offers a different landscape to experience, different animals to see and a completely new view of the islands' natural beauty. Every day, Hurtigruten Expeditions offers hikes and excursions with naturalist guides. The hikes were a perfect way to see the animals. It is incredible to see how unphased they are by humans. It is rare that an animal will run away from you, which is unlike anywhere else in the world. Another excursion we really enjoyed was kayaking around a number of island bays. A few times, we saw sea turtles breaching near the kayak, and very often a sea lion would pop their head above the water. Snorkeling was also a highlight. We saw reef sharks, sea lions, sea turtles, sting rays, and so many beautiful and colorful fish.

Photo: Dennis Ballesteros
BG: Did you have any favorite animal encounters?
WJ & JW: We made a stop on the island of Santa Cruz, where we saw roaming giant tortoises grazing. It was incredible to be driving along and see so many enormous animals around the island. Here in the States we have tons of squirrels running around but in the Galapagos Islands, the giant tortoise is just as free and just as numerous. We particularly enjoyed seeing the sea lions. We kept calling them dogs because their behavior towards humans and towards each other reminded us of dogs. They weren't scared of people and would swim right by us. When we looked into their eyes we really felt the similarities to dogs, the masters of puppy-dog eyes.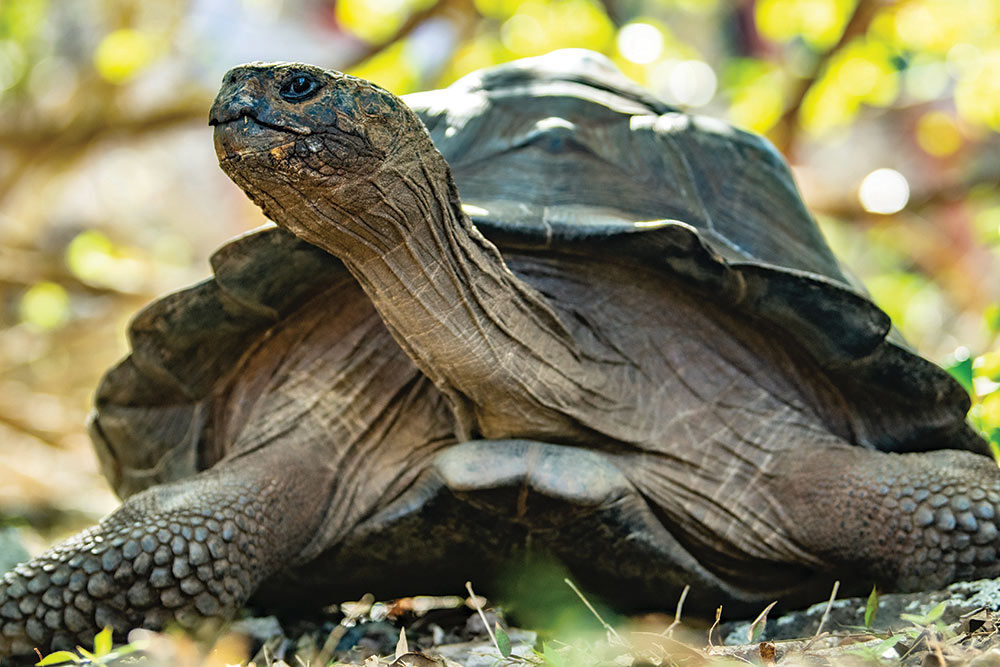 Photo: Dennis Ballesteros
BG: Were there any other standout moments from your visit to the archipelago?
WJ & JW: The peace and quiet — the Galapagos is one of the most remote places in the world. There is very little light pollution and not a ton of travelers coming in and out. Just listening to the animals, the waves, the wind, the trees and every little detail that exists there, you can't help but be completely at peace and enjoy the quiet. We all need to slow down a bit and this was the perfect place to do that.
BG: What did you enjoy about being aboard the ship?
WJ & JW: The MS Santa Cruz II was recently refurbished to be luxe and comfortable. It welcomes just 90 passengers per sailing. Our cabin, The Darwin Suite (with its panoramic windows) was the perfect place to pause and celebrate being together. We spent most of our spare time in the luxurious common spaces. There we watched the islands pass by, talked with other passengers at the bar, and enjoyed coffee as the sun rose or set each day. And the food on the MS Santa Cruz II was incredible. It featured many local dishes.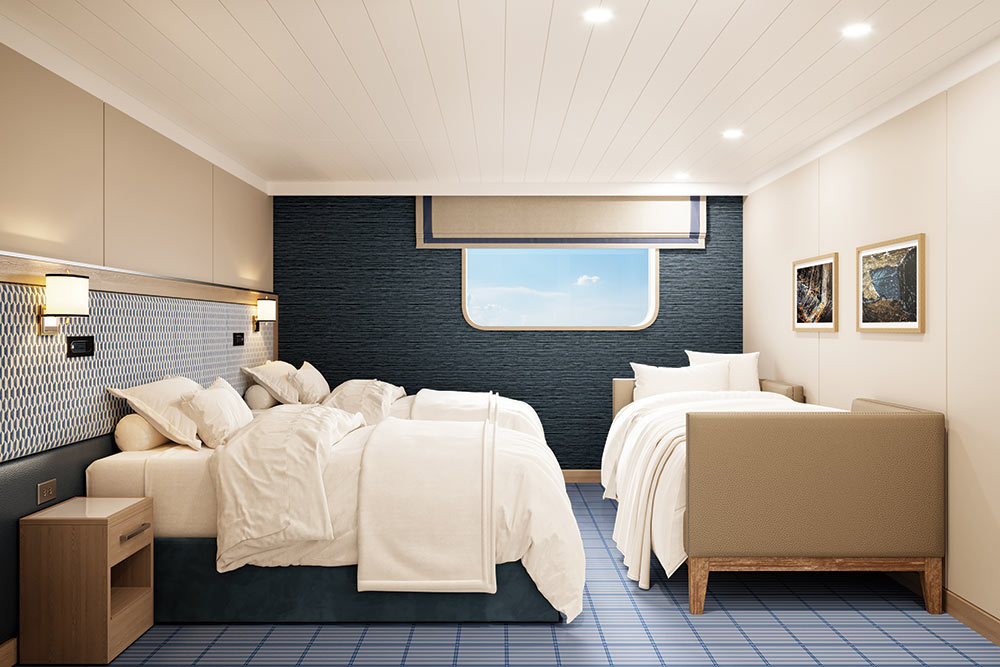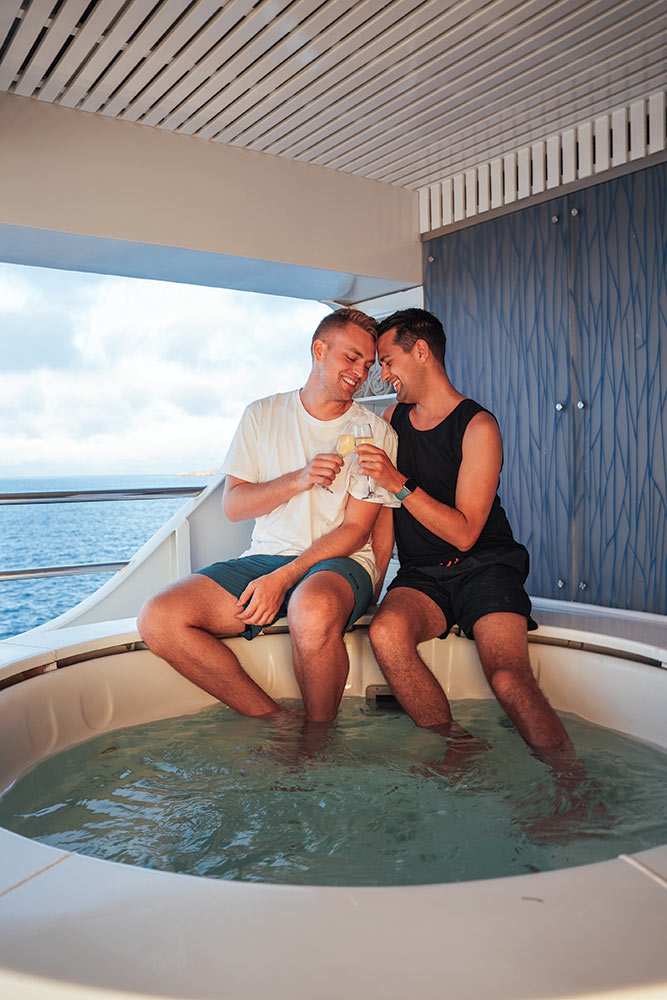 BG: What should every traveler have in his suitcase?
WJ & JW: For anyone traveling to the Galapagos Islands, here are 5 things to pack: sunscreen (you are on the equator, and it is incredibly easy to get burnt quickly), a camera (these are pictures and memories you can't make anywhere else); comfortable shoes (for hiking and walking around the ship); water bottle (a reusable one is necessary for off-ship excursions); respect. Definitely bring respect with you when you travel to the islands. Respect for the people, respect for the animals, and respect for the land: These are all incredible, unique places and for others to be able to see the beauty for many years to come you must show the utmost respect.
BG: What is your most romantic memory of your trip?
WJ & JW: The top deck of the Hurtigruten ship has a 360 panoramic view where you can see the islands and watch the water stretching for miles. One night, we brought champagne to the deck and looked at the stars. When you are out in the open ocean, you can see more stars than anywhere we've ever experienced (staterooms start at about $11,000 per person for a nine-day sailing and are all inclusive; hurtigruten.com).